Rohit Sharma – Talented or hardworking?
Updated - Sep 21, 2015 8:02 am
61 Views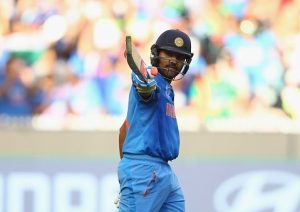 Rohit Sharma – Talented or hardworking?: The Indian opener is trying to justify his "Talent" since the inception of his international cricketing career. From his debut at Belfast to a Kangaroo curry in Bangalore and more recently his world record 264 against the island nation, Sri Lanka. Some how, his talent tag has overshadowed the hard work the middle order batsman turned opener has put in.
Rohit Sharma's biggest enemy has been his lack of consistency. Recently he scored a well crafted half century against Bangladesh but faltered in the next tie to walk back with a duck. He got a start in the 3rd ODI only to lose his wicket for a gritty 29. It took Sharma six years to play the red cherry, but the wait was worth as he celebrated the occasion with a classy 177 against West Indies. Since then, he played 13 more Tests without consolidated contribution.
He has a knack of finding the gaps and has that edge of having an extra micro second to read the delivery, which makes his batting look effortless. When on song, he can tear past any bowling. But there were times when he didn't put a price on his wicket and ended up looking silly, even today he is nervy on occasions to let down after promising.
Rohit has been given ample opportunities and now is the time to make a mark as a complete cricketer, the difference between him and Virat (who is now the Test skipper and heir for limited overs cricket as well) is the approach, whenever Kohli gets to the 20s he makes sure to convert it into the 50s and a 50 for Kohli certainly gets closer or beyond triple figures. Rohit Sharma has shown signs of maturity of late and would like to play a consistent role in India's coming assignments.
"Whatever I have achieved is because of my hard work. All these terms like 'lazy elegance' have been coined by you guys. Maybe on TV it comes across like that, but that's not the right way to judge anyone. One must get to the root of the matter. I became a serious batsman during my under-17 days. I broke the middle finger of my right hand during a 50-over match against the visiting Sri Lankans in 2005. It was difficult for me to grip the ball after that injury. That's how I became a regular batsman." Rohit was recently quoted saying.
Sharma will look to cement his place in the Test side and continue his tryst with opening in the shorter formats. He recently said "Honestly, as a batsman, there is a lot more I have to do". He added "That's very, very clear to me. Fourteen Test matches is nothing. I have nothing great in Test cricket. This is just the start. In ODI cricket, yes, I know i have done well, especially after becoming an opener."
He was recently seen practicing bowling seam up in the nets at the training camp ahead of the series against the Proteas. When asked about it Rohit said, "I have started practising seam bowling at the nets. It's not an old thing as I started bowling seam-up stuff recently at the nets during our Test series in Sri Lanka. I am just bowling seamers and I need to speak to our bowling coach Bharath Arun to see how I can further improve,"
He is now eager, more curious than ever before to be the X factor of the team; not only with his batting, but is trying to go the extra mile to ensure that the skipper looks up to him whenever thinking of a plan B. "My idea is to add value to the side. If I can bowl 10 to 12 overs per day and could be that third or fourth seamer of the side according to the conditions, my captain could be relieved. It is just that you need to constantly grow and add things in your armoury."
With the South Africa series coming up, Rohit will look to get a tenacious grip over his place in the XI in all formats. And with that he can certainly clear the air, that he is not just lucky to be roped in with the team for the run he has been, but it is his hard-work that makes people believe he has it in him to deliver the expected.