Rohit Sharma will be cheering for Spain in FIFA World Cup, 2018
The 30-year old India opener knows who he will be rooting for in the World Cup.
Updated - Jun 1, 2018 4:32 pm
2.3K Views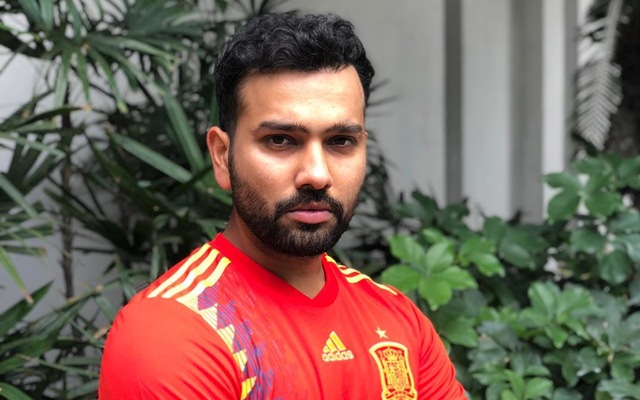 In a recent interview, Rohit Sharma spilt beans about his poor performance in the IPL and tests, the England series and whom he will be supporting in the upcoming FIFA World Cup, 2018 to be held in Russia from June 14. In the middle of the questions and answers, his team India opening partner Shikhar Dhawan joined in for a quick photo session. They were also joined by Chris Gayle, who tried to teach a dance step or two to the Indian openers, leaving the audience in splits.
But soon the attention was back to the interview, but Sharma was still in a playful mood. So when the interviewer from India Today introduced him as 'India's champion opener', he chipped in saying "middle order yaar, not opener."
IPL and being back to the opening position
When asked which position he would rather prefer, as expected, Rohit's answer was along the lines of 'I will bat where the team needs me to.' Coming to the topic of IPL, he batted down the order for the Mumbai Indians instead of his usual position of an opener, which might have affected his performance. But Rohit Sharma is not very worried about it and is looking forward to opening for India.
Test Struggles and ODI success
Rohit did not say much when confronted with the question of his struggles with the white ball but says that he is keeping the process simple and waiting for the right time.
But he goes back to being chatty when the topic of the England tour came up. ODIs are Rohit Sharma's more comfortable turf with three double hundreds under his belt, and he is also the vice-captain of the team.
In his opinion, the England series will be important to find the right players and the combinations for the ICC World Cup next year. The cricket world cup will be played in England and Wales, so naturally getting used to the conditions there will be an important target, especially for the newer members of the team.
Supporting Spain in FIFA World Cup
But as of now, Rohit has some free time on his hands which he hopes to make use of by holidaying with family and catching up on some football action in the FIFA World Cup. He has always been a supporter of Spain and he even uploaded a picture wearing the new jersey of the Spanish team around six months ago on Instagram.
"I will watch some action for sure. No hesitation, my favourite team is Spain," he said laughingly.
For more cricket news and other updates, please visit Crictracker.com.