Sachin Tendulkar and MS Dhoni: Two Icons, two contrasting paths to greatness
Sachin Tendulkar and MS Dhoni are two of the most adored sportsmen in a cricket-mad nation.
Updated - Aug 25, 2020 5:08 pm
1.2K Views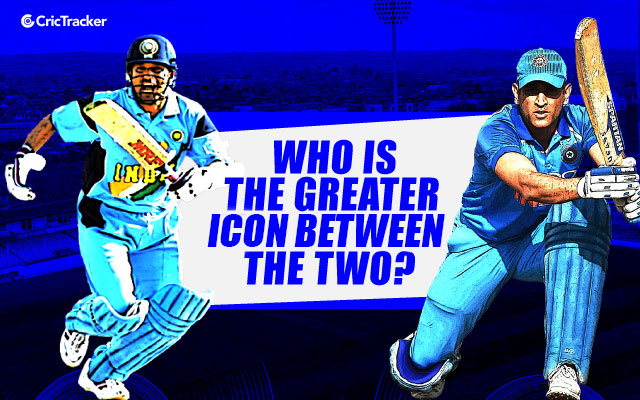 The 74th Independence Day was going on in a normal manner for millions of Indians until 19:29 IST. At exactly 1929 IST, a piece of news on Instagram read.
"Thanks a lot for ur love and support throughout. From 1929 hrs consider me as Retired."
And just like that, India's greatest captain, MS Dhoni drew the curtain down on his illustrious international career with just a post on Instagram.
Now, let us pause here for a while and move to a different place, a few years back in time.
Let us travel to a different setting, Mumbai. Let us go to the Wankhede stadium and relive the scenes on the 16th of November 2013. The legendary Sachin Tendulkar, with the mic in his hand, made the entire nation weep as he delivered his farewell speech. On that day, nothing else mattered.
It was in that series against West Indies that Rohit Sharma had announced his arrival in Tests with a hundred on debut. Pragyan Ojha had got a ten-wicket haul in Tendulkar's 200th and final Test. But then, all that was reduced to a blip, and the entire attention of the nation was on Tendulkar.
Every shot he played en route to his 74 in his final innings was cheered with deafening applause, every run that he scored was greeted with vociferous screams. For millions, that series was the one where their 'God' departed from their midst for the final time.
The Glory of Tendulkar
Right throughout the master's career, the focus was on his exploits with the willow. Tendulkar arrived onto the international scene in 1989 at a time when Gavaskar had just walked away from the game when Kapil Dev's powers were fading, and India needed an icon to look up to.
The Indian side of the 1990s rarely used to triumph abroad, but they found solace in Tendulkar. There were many valiant Tendulkar moments where he shone through, amidst the gloom of the Indian side. He scored a valiant 136 in Chennai in 1999, considered by many as one of the greatest from the master's willow, but India fell short by 12 runs. Even though India lost to their arch-rivals Pakistan on that day, Tendulkar had won the Indian public's hearts.
Fast forward a decade later to 2009. India are battling Australia at Hyderabad. And, chasing 351 for a win, Tendulkar almost gets India across the finish line. He plays like a Genius and makes the Aussies wilt under his sorcery. But, a tired scoop shot with India less than 20 runs away from victory ends the master's knock. Tendulkar departs for 175, and after he fell, India crumbled too. The 'Men in Blue' fell short by 3 runs.
Even his final international hundred (his 100th) did not result in a win for his side. But then, the loss was reduced to a background, and the attention was on a landmark that immortalized him on that day. The 100th hundred was a feat that no mortal man had achieved before, and the fact that their 'Master Blaster' had scaled that rare peak was enough for Indians to escape the gloom that the Indian side found themselves in, having lost to Bangladesh.
Also Read
In Tendulkar, India had a man who could rival the world. Here was a man whose numbers made him tower over some of the all-time greats of his era like Ricky Ponting and Brian Lara. Here was a man who could rival The Don, as even Bradman saw shades of himself in Tendulkar. And, here was a man who, with his individual conquests, had conquered the world.
Indian fans could rattle out numbers from Tendulkar's career, and these numbers were so bright, that you could bask under its glory and get illumination.
The Glory of Dhoni
Now, let us focus our attention on the man who retired on 15th August 2020. When someone speaks about Dhoni, the first thought that would come to them are those of him throwing the ball casually to Joginder Sharma against arch-rivals Pakistan in the 2007 T20 World Cup final. It would be that six from his willow that gave the nation their most blissful sporting moment of the new millennium. As MS Dhoni smashed Nuwan Kulasekara into the stands on April 2nd, 2011, a country leaped up in joy, as India lifted the World Cup after almost three decades.
When you speak of Dhoni, it is the image of the man jumping up in ecstasy after India defeated England to win the Champions Trophy in 2013. Dhoni will not be defined by the numbers, but by the success that the team experienced under his stewardship.
Yes, he scored more than 17000 international runs and is the only wicketkeeper to cross 10000 ODI runs at an average of above 50. But then, the numbers will not bind him when his greatness is talked about.
In Dhoni, India had a man through whom the team conquered the world. He was a man whose deeds as the skipper of the Indian side made him tower over most of his contemporaries. He is hailed as India's greatest captain and led India to every possible title imaginable. And here was a man, who left the game with just a single post on Instagram, with absolutely no fanfare and at a time when the country is in the middle of a pandemic.
Two Icons, two contrasting paths to greatness
Sachin Tendulkar and MS Dhoni are two of the most adored sportsmen in a cricket-mad nation. But their paths to the top were vastly different. And, this was epitomized even in the way they left the game. And, while Tendulkar's individual glory brought India collective pride, Dhoni's conquests with the side made India fall in love with him.
Who is the greater icon between the two?
Let us talk about it on another occasion.
Follow us on Google News