Sachin Tendulkar confident about India's chances against Australia, hails Federer and Nadal after their epic fight
Updated - Jan 30, 2017 9:31 pm
62 Views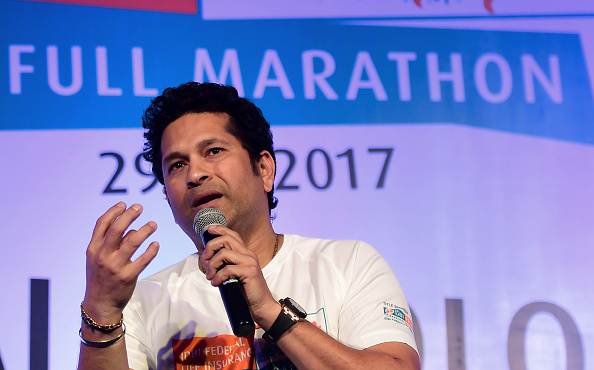 Legendary batsman Sachin Tendulkar is confident of India beating Australia in the upcoming 4 match series at home. The series kick off on 23rd February at Pune. While speaking at an event organised to launch the 'Sachin by Spartan' range of sporting equipment, Tendulkar sounded confident about India's chances in the upcoming series but warned them not to take Australia lightly. He also spoke about the Australian Open Final where Roger Federer edged past Rafael Nadal in a thrilling encounter yesterday which handed Federer his 5th Australian Open's title.
"The last thing you would want to do is to underestimate your opposition," Tendulkar was quoted as saying by the Deccan Chronicle. "Australia is a strong side. It will be different to play in Indian conditions and Australian players have also acknowledged that, which is a compliment to the Indian team and the way they have been playing," he further added.
The "Little Master" urged the Men in Blue to play to the best of their abilities and not take things for granted. "You cannot take things for granted and you need to prepare yourself. Australia are going to be tough to handle as they have always been, but I am confident of the Indian team," added Tendulkar.
While speaking about the thrilling match between Nadal and Federer in the Australian Open Final at Melbourne, Tendulkar conceded that he never wanted the match to finish. He congratulated both the legends for playing an exceptional brand of tennis. "Tennis was exciting. I have always been a huge fan of Roger Federer. I was one of those guys who did not want the match to get over," Sachin said.
"We enjoyed their tennis, they (Federer, Nadal) have given us remarkable moments and that's always going to stay with us," he further added. The duo of Nadal and Federer made inspirational comebacks following injury lay-offs despite being written off by many experts and critics. Tendulkar who represented India successfully for 24 years had innumerable injuries during his career which helps him relate to these players more.
"The quality of tennis was just incredible. More so, I enjoyed because I could relate myself with both those athletes (Federer, Nadal).  There were some tough times along the way when I had a lot of injuries. In 2005-06 in one of the press conferences I was asked that when am I going to retire and my best years came after that. The biggest thing in my life happened after that, the 2011 cricket World Cup. I could understand what both those athletes (Federer and Nadal) were feeling," Tendulkar concluded.