Sachin Tendulkar provides financial help to ailing bat-maker Ashraf Chaudhary
Chaudhary's close friend, Prashant Jethmalani confirmed about Sachin lending his helping hand.
Updated - Aug 26, 2020 9:11 am
594 Views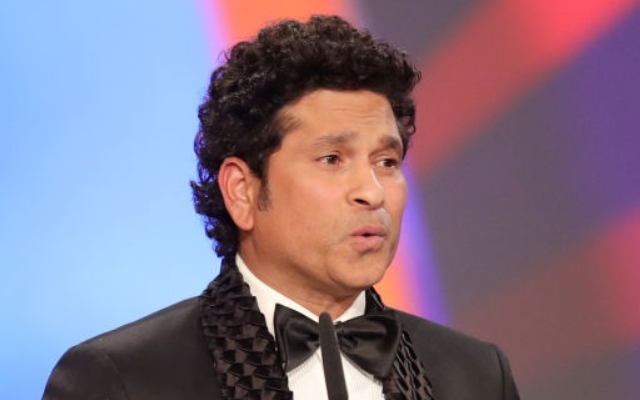 Former Indian cricketer Sachin Tendulkar has provided financial help to bat-maker Ashraf Chaudhary, who's currently hospitalised. The latter has gone through a rough time in the coronavirus pandemic after facing financial crisis due to loss of business. On and around the month of March, cricket tournaments came to a halt owing to the deadly COVID-19 virus.
Even the cash-rich Indian Premier League (IPL) had to be postponed and will now take place in the UAE, starting September 19. Recently, Chaudhary's plea had gone viral on social media platforms where the fans requested each other to help out the bat-maker. Chaudhary, who's also known as 'Ashraf Chacha' in the Mumbai circles, is current admitted in the Savla Hospital for the past 12 days.
The veteran has been suffering from pneumonia-related problems and diabetes. In the tough times, he and his family have found it difficult to pay the hospital bills and hence asked for help. Chaudhary's close friend, Prashant Jethmalani confirmed about Sachin lending his helping hand. He has also been asking other cricketers to come forward and donate.
Sachin Tendulkar comes forward
"Tendulkar came forward and has spoken to Ashraf Chacha. He has also helped him financially. A major chunk of the finances has been donated by the legendary batsman," Jethmalani, on Tuesday, August 25, was quoted as saying in Times Now.
On Monday, August 24, Sonu Sood, the popular Bollywood actor, asked for Chaudhary's address on Twitter. Sood has been a messiah for the underprivileged in the last few months. Recently, he shared about how he tries to reach out to the ones, who contacts him for help in the grave global situation.
In the pandemic situation, Sachin has helped out a number of people. The legendary batsman had donated 50 lakhs to the PM Cares Fund, an initiative by Prime Minister Narendra Modi, and Maharashtra CM's fund. He had also promised to feed at least 5,000 needy people in the lockdown.
As far as Chaudhary is concerned, he owns an ancestral shop named M Ashraf Bro in South Mumbai. He has mended bats of a number of cricketers around the world, including that of Steve Smith and Chris Gayle. He has also helped out MS Dhoni and current Indian captain Virat Kohli.