Who said What in the cricketing fraternity as Floyd Mayweather defeated Conor Mcgregor
Murali Vijay, Parthiv Patel, Ravi Bopara, Shane Warne, Adam Gilchrist and many other tweeted in their views
Updated - Aug 27, 2017 8:47 pm
342 Views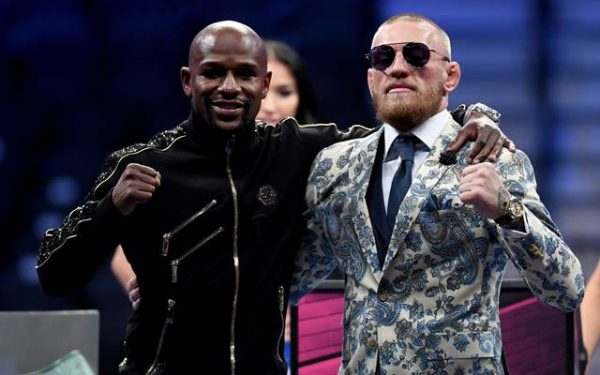 Follow us on Google News
It was finally the day of the most anticipated game of the century in a boxing ring. The day MMA world champion Conor McGregor and Boxing lightweight champion Floyd Mayweather clash against each other at Las Vegas. This one of a kind boxing match saw an MMA star, famous for his vanquishments in Ultimate Fighting Championship, take on an undefeated boxer who came out of a 2-year retirement to accept the challenge.
Prior the match, Floyd 'Money' Mayweather held an unbeaten streak of 49 matches. With this win, he brought up the 50th win of his boxing career. The first three rounds saw the Irishmen Mcgregor dominate the legendary boxer as opposed to the fact that many expected the match to end in the first few rounds with a knockout punch from Mayweather. However, it was the next few rounds where the boxer made a comeback and soon he had the upper hand.
It took 10 rounds for Floyd Mayweather to win the match via TKO. The match came in the aftermath of an unbelievable hype surrounding which segregated masses into two teams by the names of Team Mcgregor and Team Mayweather. Popular sportsperson also came in support of their respective team. Virat Kohli was in support for "The Notorious" and later applauded the efforts of reigning UFC Lightweight Champion for surviving 10 rounds as opposed to people expecting a knockout in the first round.
That said, the Irishman could not use his moves he is renowned for in the Boxing ring due to the rules of the game where one cannot anything but a range of punches. The likes of Murali Vijay, Parthiv Patel, Ravi Bopara, Shane Warne, Adam Gilchrist and many other expressed their views on the fight similar to the plot of Batman vs Superman.
Let us look at how the others reacted
Ok, all you MMA, boxing fans, how far do you think Mayweather would go against McGregor at MMA? @chinmaybhogle

— Harsha Bhogle (@bhogleharsha) August 27, 2017
What a bout it was!!well done to @TheNotoriousMMA who fought till 10th..lesson for all..CRITICS ARE NOT CORRECT every time..#self-belief

— parthiv patel (@parthiv9) August 27, 2017
It was raining Hard, Concussive & Accurate punches. Defining the Champion he is. 50-0??Floyd You Legend!! #McGregorVsMayweather

— Murali Vijay (@mvj888) August 27, 2017
To all those who said @TheNotoriousMMA won't even last 1 round, he went through 10!!!! A legend & an epitome of self belief. Hats off man ?

— Virat Kohli (@imVkohli) August 27, 2017
Well I actually enjoyed that ?#MayweathervMcgregor

— Darren Gough (@DGoughie) August 27, 2017
Best part of the fight for me was seeing @MikeTyson there? #goat

— Herschelle Gibbs (@hershybru) August 27, 2017
That is the greatest post fight comment I have ever heard from @TheNotoriousMMA "I turned @FloydMayweather into a Mexican" ???

— Adam Hollioake (@adamhollioake) August 27, 2017
50-0 @FloydMayweather G.O.A.T what a career

— Kyle Jarvis (@KyleJarv89) August 27, 2017
Hats off to the #TBE nice to see mutual respect at the end.. Can't wait to see @TheNotoriousMMA back in the octagon where he belongs

— Brendan Taylor (@BrendanTaylor86) August 27, 2017
MAYWEATHER!!!!! #

— Ravi Bopara (@ravibopara) August 27, 2017
He's nackered!! Save some energy!! #ConorMcGregor

— Isa Guha (@isaguha) August 27, 2017
It's time to rumble in Vegas . Let the show begin #MayweatherVsMcGregor

— Niall John O Brien (@niallnobiobrien) August 27, 2017
Here we go ??????#McGregorVsMayweather #Buzzing

— James Taylor (@jamestaylor20) August 27, 2017
Good old @jamestaylor20 has his iPad up and running. Macgregor should get pasted but remember this is a batshit crazy world we live in!

— Graeme Swann (@Swannyg66) August 27, 2017
Why did @FloydMayweather just walk out dressed up as the gimp?!?! ? pic.twitter.com/jPd90yzNTA

— Adam Hollioake (@adamhollioake) August 27, 2017
Come on #mcgregor ! Bring it on @rossdesmond https://t.co/Wvr4YCrtbN

— Shane Warne (@ShaneWarne) August 27, 2017
Connor loves crow peck! #MayweatherMcGregor

— Adam Gilchrist (@gilly381) August 27, 2017
Follow us on Telegram