Sarfraz Ahmed: A captain who has given Pakistan stability & success
The 31-year old has led Pakistan to the no.1 position in the T20I rankings.
Updated - Jul 10, 2018 10:25 am
406 Views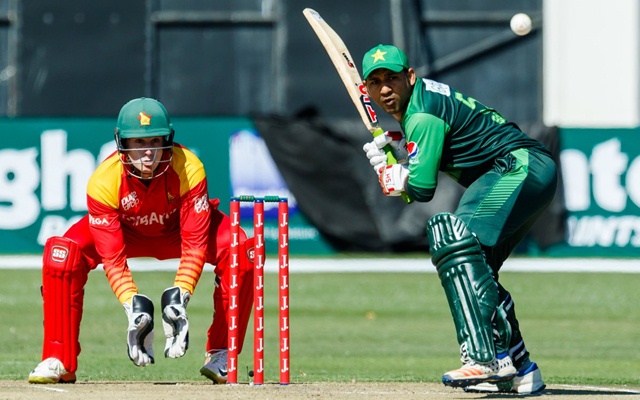 Follow us on Telegram
Australia's Glenn Maxwell may have snubbed Pakistani captain Sarfraz Ahmed after the Asians won the final of the tri-series in Zimbabwe on Sunday, July 8, by 6 wickets, but that doesn't reduce Ahmed's significance as a captain by an iota.
This is Pakistan's ninth title win (bilateral and multilateral) in the Twenty20 Internationals (T20Is) since 2016 when Sarfraz Ahmed took over as the captain after the side failed in the World T20 in India that year. Since then till the final against Australia in Harare, Ahmed's Pakistan have won 23 matches and lost just four – a success rate of above 85 percent, the highest for any captain. Afghanistan's Asghar Stanikzai (78.04 percent) and India's Mahendra Singh Dhoni (59.28 percent) are the next in the list.
Pakistan was not being considered as potent a force after some of its great players retired and its place in the world of cricket took a further nosedive after they lost their home as hosts of cricket matches and tournaments. With a team without an appealing captaincy, little star names in its ranks and even a home venue, Pakistan were considered almost outsiders in the cricketing fraternity, deemed only a pale shadow of their rich past.
But then came Ahmed. With no charisma – a factor which is often associated with Pakistan's captains – and also identified more as a utility cricketer than a specialist, Ahmed took up Pakistan's reins after Shahid Afridi was sacked and in the one-day internationals as well after Azhar Ali resigned from the captaincy.
Ahmed has also been successful in the ODIs, winning against the West Indies in the Caribbeans; hammering favorites India in the final to win the Champions Trophy in England also routing Sri Lanka 5-0 in the UAE, but it is his track record in the T20Is that stands out. In the shortest format of the game, Ahmed has led Pakistan to beat England, West Indies, Sri Lanka, New Zealand, Scotland, Zimbabwe, Australia and a World XI in the last two years, even whitewashing and brownwashing the opponents at times, to become the No.1 T20I side in the world.
Thirty-one-year-old Ahmed, who became a national hero in Pakistan after his side thumped India in the final of the Champions Trophy last year at Lord's, has done better as the captain of his country in the T20Is better than anybody else by far. The likes of Afridi, Mohammad Hafeez, Shoaib Malik, Misbah-ul Haq and Younis Khan (captained a minimum of eight T20Is) have nowhere been near Ahmed's record in captaincy.
What makes Ahmed a special captain?
The first reason is Ahmed's experience in captaincy. The man had led Pakistan to win the Under-19 World Cup in 2006 and also gave evidence of his captaincy skills while taking the Quetta Gladiators to the final of Pakistan Super League twice – in 2016 and 2017. The wicket-keeper captain is known for his energetic approach towards the game which boosts his team-mates beside chipping in with the bat when required.
The second reason that makes Ahmed a special captain is his aggressive take on the game. Looks may be deceptive but Ahmed is one of the best strikers of the ball in the current Pakistani side in the T20Is (129 plus). Only Fakhar Zaman with a strike rate of 143.55 has a better figure than Ahmed in the team. Besides his own game, Ahmed also inculcates an aggressive approach in his players – a quality which was once common in Pakistan's accomplished captains – and this transforms the team's performance on the field.
Ahmed's added advantage lies in his wicket-keeping. His ability to score not only gives flexibility to Pakistan's batting order (he has scored two ODI hundreds batting at positions 2 and 5 while in the T20Is, he has done consistently well at No. 4) but also his ability to read the pitch and his bowlers from a key position makes him more effective as a fielding captain. Simply put, Ahmed has been to Pakistan what MS Dhoni has been to India and Kumar Sangakkara to Sri Lanka. As a wicket-keeper, too, Ahmed has been instrumental and stands as Pakistan's second best in the T20Is and fourth best in the ODIs.
Ahmed though is not as frequently compared with captains like Virat Kohli and currently banned Steve Smith when it comes to performing while captaining but he has done the job effectively but silently for his country.  He has given proof of his ability to rise to the occasion with the bat when Pakistan needed it most, something that the great Imran Khan had done during his playing days.
In 2016, he slammed a ton against England in an ODI after Pakistan were reduced to 2 for 3 wickets while in 2017, he scored an unbeaten 61 at No. 6 to guide his team to victory against Sri Lanka in the Champions Trophy and qualify for the semi-final. This capacity of Ahmed to deliver under pressure, something his immediate predecessors did not always succeed in doing, has made him a special skipper for Pakistan.
Pakistan had been experimenting far too long with over-aged players to captain it at the highest level.
Though it is not to say that those players were not on par the age factor meant that Pakistan was never getting a stability at the helm which was affecting their overall performance. But with Ahmed taking charge at 29 and performing consistently well since his tenure started, it is only doing Pakistan a favor as the players and the management are able to concentrate on the on-field aspects and not on a managerial crisis that often haunts the Pakistani side.
Ahmed's partnership with Mickey Arthur, the side's experienced coach who has been with big teams like South Africa and Australia in the past, has also clicked. Arthur is a coach who believes in guiding the players in the right direction through pep talks and putting in the right infrastructure and culture instead of just keeping busy with wins and losses.
The current Pakistani side is also less infested with gigantic ego clashes as it used to be the case often in the past and that perhaps works to the favor of the Ahmed-Arthur duo.
Captain Ahmed's big test will be the 50-over World Cup in the UK in 2019 and the World T20 in Australia in 2020. If he can pull off success (Pakistan were last world champions in 50 overs in 1992 and in T20s in 2009) in both those mega-events, then he will be remembered as one of his country's best skippers or else, his Championship Trophy win of 2017 could be seen as a one-off big success.
Stay updated on 'today's cricket news' with CricTracker.com.
Follow us on Google News