Selectors were against me but Sourav Ganguly backed me: Harbhajan Singh
Harbhajan Singh's best performance of 31 wickets in three Tests against India came under Sourav Ganguly's captaincy in 2001.
Updated - Jun 16, 2020 2:28 pm
199 Views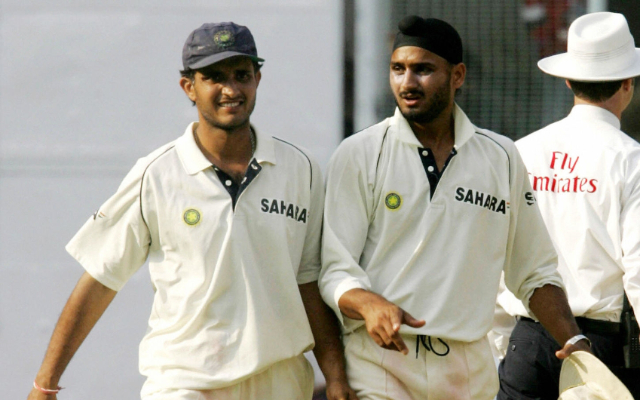 Follow us on Google News
Sourav Ganguly is one of the most inspirational captains in Indian cricket history. During his reign, we saw a plethora of young cricketers emerge. He built a team on his own. His team was definitely world-beaters in both ODIs and Tests. Having said that, it should be noted that players like Harbhajan Singh, Ashish Nehra, Zaheer Khan, Yuvraj Singh, Virender Sehwag and Mahendra Singh Dhoni, all made their name under Ganguly's captaincy.
In an interview, Harbhajan has revealed that the Indian selectors were not ready to back him during the initial stages of his career. The Punjab off-spinner expressed his gratitude towards the former Indian captain for backing him and giving him opportunities initially which helped him.
I was once at a stage in life where I didn't know who was with me and who was not: Harbhajan Singh
The 39-year-old has often praised Ganguly for his abilities to lead a team. Harbhajan also said that there are certain things which the spinner was told by the selectors which he can't even reveal. He said that Ganguly was the only person to back him.
"I was once at a stage in life where I didn't know who was with me and who was not. Because people on my face were saying that they are with me, but many of them were not with me at the time. But at the time, Sourav Ganguly backed me when I had zero backings. The selectors were against me, they told me a lot of things on my face which I cannot disclose. No amount of praise I could give Ganguly would be sufficient. If he was not the captain at the time, I don't know if any other captain could have backed me as much," Harbhajan said during a YouTube interview with Aakash Chopra.
Harbhajan had made his debut in 1998 but dropped from the side after that. However, after Ganguly took over as the captain, he introduced some new players. One of them was the young Jalandhar off-spinner. Harbhajan explained that the Bengal player would allow him to bowl with freedom. He recalled what Ganguly would tell him on the field when he was the captain.
"If you want 4-5 fielders in front to take catches, he would let you place them. Sometimes, we would ask ourselves if we should push back a fielder, but he would say, 'no, let him be in front. If we put him in front, we would create chances. If he hits boundaries, let him hit boundaries. We are looking to get him out'. You need captains who would back you. This was his best quality."
Harbhajan has played 103 Tests and picked up 413 wickets. He also has 269 wickets in 236 ODIs.
Watch the video
Follow us on Telegram