Shabaash Mithu Trailer Review: A glimpse of a promising film that will take you through the legend of Mithali Raj
The Taapsee Pannu-starrer movie will be released on July 15.
Updated - Jun 21, 2022 12:44 pm
286 Views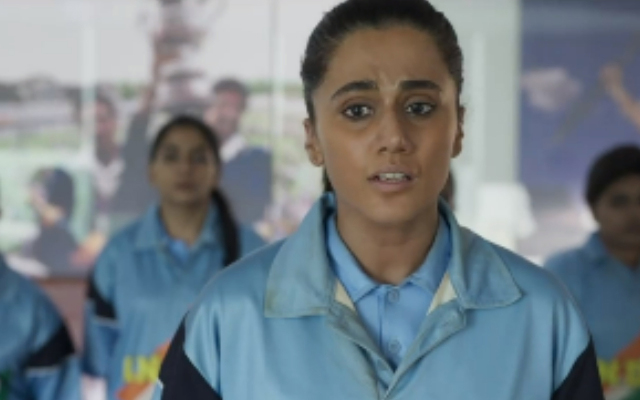 Follow us on Telegram
The upcoming Bollywood film Shabaash Mithu's trailer was released on June 20, Monday. The movie is a biopic based on former Indian skipper Mithali Raj, starring Taapsee Pannu and Inayat Verma, who portray the legendary cricketer in her adulthood and childhood respectively. While Pannu takes the lead role in the film, she is supported by one of the finest actors in the industry, Vijay Raaz, who plays Raj's coach. After many rescheduled dates, the film is set to be released on July 15.
The trailer starts with Mithali speaking to her teammates about how she had always heard about the "Men in Blue" but never about the "Women in Blue", which drove her to do something big and earn recognition for herself. The two-minute-forty-five-second trailer briefly showcases how Mithali's coach discovered her talent and convinced her parents to let her join the academy. It is also shown that she went through a lot of struggles not just during her childhood, but also after joining other senior players at the cricket camp.
Actor Vijay Raaz portrays Mithali during her training as a kid and shows how she developed herself at a young age. From the difficult training sessions to being sledged by the girls during her teenage and facing a hard time at the nets, the short clip surely gives goosebumps.
The movie showcases Mithali Raj's struggle to earn the deserved respect and recognition
Overcoming all the obstacles that life threw at her, the clip shows how Mithali impressed her team members and the selectors to earn her national call-up. She continued leaving strong impressions on the members and finally earned her captaincy but she did not stop there.
In a scene showed in the trailer, the Indian national women's team can be seen receiving their jerseys and realising that it is a men's jersey. The trailer shows how Mithali and her teammates talk to the administration about their basic needs like more matches, better facilities, and jerseys with their names on it.
Hearing their demands, a member from the association calls a peon and asks him to name a few players from the Indian national women's team, which he fails to. That is when Mithali is heard saying "Aisa khel ke dikhayengey ki koi humaari pehchaan kabhi koi bhool na paye" (We will play so well that no one will ever forget our identity).
The film has a strong take on the patriarchal society and the typical mindset of people who feel that women can't excel in sport, and even if they can, they can't do it better than their male counterparts. The misogyny that women cricketers face in India — a society infatuated with the "Men in Blue" and unaware of the women's team – appears to be the focus.
Mithali announced her retirement from all forms of international cricket on June 9, Thursday, putting curtains on her glorious 23-year-long career. In her debut ODI, a 16-year-old Mithali hit an unbeaten hundred, making her one of only six women players to do so. She finished her career with a total of 7,805 runs, the most ever scored by a female cricketer in WODIs. It's no wonder that her life has been turned into a film, given her international cricket career lasting for more than two decades and her 10,000+ career international runs.
Things to watch out for:
Taapsee Pannu and Inayat Verma as Mithali Raj
While Pannu has been a terrific actor in all the movies that she has done so far, child-actor Inayat Verma seems to be an equal competition. Pannu has previously worked in women-centric films and this will be another addition to her cap. Verma, at a very young age, has achieved a lot with her brilliance in front of the camera, that is her acting skills. With a very fine cast, the movie will be raising the bar.
Will there be an episode on the Ramesh Powar controversy?
One of the most talked-about moments from Mithali's career was her dispute with coach Ramesh Powar. After Mithali was left out of India's playing XI against England in the 2018 T20 World Cup semifinals, the controversy flared. India had lost the game, and Mithali and Powar engaged in a verbal spat. Though the trailer does not show any glimpse of that, it will be something to look out for.
How will the BCCI be portrayed?
As it is seen in the trailer, Mithali is fighting for her and her team's place in the cricketing industry, demanding better amenities, equal treatment and more games. While putting up the demands, the administration members ill-treated her and the players. Thus, it would be interesting to see how the BCCI is showcased in the film.
Befitting reply to a journalist during 2017 World Cup 
Towards the end of the trailer, there is a scene from her conversation with a journalist who had asked her who her favourite male cricketer was. The instance happened during the 2017 World Cup as Raj had given a befitting reply to the journalist by counter-questioning him "Do you ask a male cricketer who their favorite female cricketer is?". Mithali's reply was not shown in the trailer as it ended with the journalist's question, but it was one of the most classy moments of her career.
Follow us on Google News