Shahbaz Nadeem optimistic about national call up
Updated - Mar 19, 2017 10:23 pm
58 Views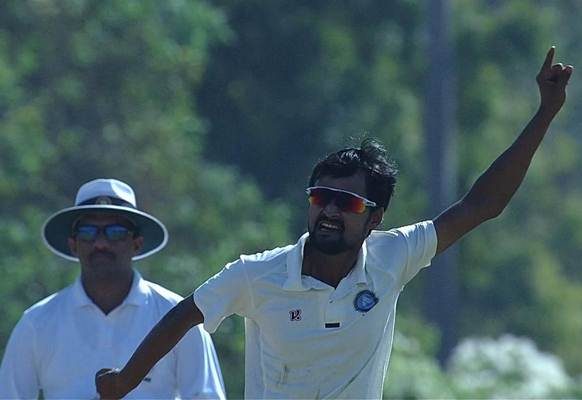 Shahbaz Nadeem is not a new name for the cricket fans. The veteran left arm spinner has been on the fringes of international cricket for quite some time. With over fifty wickets in each of the last two editions of the Ranji Trophy, the premier domestic tournament of India, Nadeem has served a case for himself to be picked in the Indian side.
He has been performing consistently but is yet to be given a national callup. Meanwhile, there have been other tweakers like Kuldeep Yadav, Yuzvendra Chahal and Jayant Yadav, who have bursted on the national scene despite having made a later entry than Shahbaz Nadeem. Things like these can definitely bog down any player as an individual.
However, it is not the case for the leading wicket taker of Ranji Trophy 2016-17. As per the recent quotes in News18, Nadeem is hopeful about his national call up. He noted that with the new selection panel in picture, he is expecting a call sometime soon. This is because of the assurance of the selectors given to him.
"I was very disappointed to be honest but ever since this selection panel took charge, I have started hoping again. All the members including MSK sir communicate regularly. It was not the case earlier. It is a very welcome change. With this approach, at least you know where you stand. They have told me that my time will come so I will just keeping working hard," quoted Shahbaz Nadeem.
The 27 year old left arm spinner has been a key part of the Jharkhand team ever since making his debut back in 2004 as a 15 year old kid. He says that the only thing that has changed now is his maturity. He has learnt the art of reading a batsman's mind. Also, the ability to adapt to different conditions has helped his case, he reckons.
"It is not that I have made too many changes in the last two years and therefore the performance has gone up. It is just that I have matured as a bowler, have started to read the batsman's mind better. There is a lot of difference in match preparation as well. So you can say all these factors have contributed to my growth," quoted Nadeem.
"And I still continue to use variations whenever I can but at core, I will always remain someone who likes to give the ball air and mix it with the odd faster one. The other big change in me is that I have learnt to bowl on different surfaces. I just want to play for India. As you have seen, I have taken wickets in all formats," he added further.
Nadeem has shared the dressing room with MS Dhoni since his U25 days. Currently, he plays with Dhoni in the Jharkhand team. The team made it to the semi finals of the Vijay Hazare Trophy this year under the leadership of the former Indian skipper. Talking about MS Dhoni, Nadeem reflects back calling him a humble person. The players can interact with him whenever they feel like and he does the same too.
"I have known Dhoni bhai for a longtime. We have played U-25 together. He has not changed one bit since those days, remaining as humble as ever despite achieving so much. When players spend time with him, while it's travelling, dressing room or in the team hotel, it gives them a huge push," said the left arm spinner.
"He is available 24/7. Anyone of us can go and talk to him anytime. I too talk to him about the game but I never talk to him about my chances of playing for India. He just says one thing that I must keep improving and leave the rest to the selectors. And that is what I try to do," conceded Shahbaz Nadeem.