Shahid Afridi lashes out at Gautam Gambhir; calls him 'bewakoof'
Shahid Afridi's comments come following Gautam Gambhir's controversial statements regarding India playing Pakistan in the World Cup.
Updated - May 25, 2019 1:38 pm
87.5K Views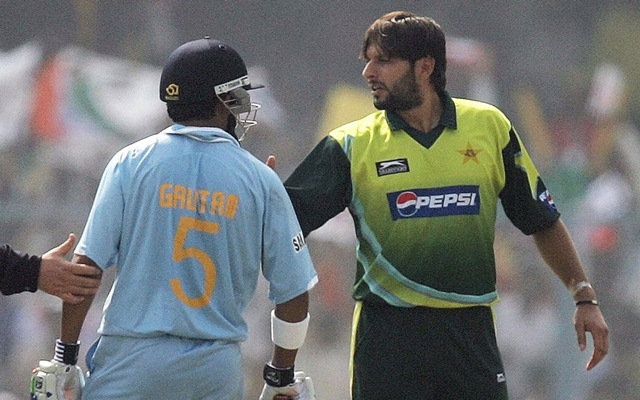 Follow us on Google News
Former Indian opener Gautam Gambhir and ex-Pakistan all-rounder Shahid Afridi have always shared a bitter relationship. Even though these two are happily retired now, they constantly keep taking a dig at each other. Be it the India-Pakistan issues or the past cricketing moments, controversial incidents involving these two keep resurfacing time and again. On this occasion, it was the turn of Shahid Afridi to lash out at the 37-year-old.
Gautam Gambhir recently won the Lok Sabha election from the East Delhi constituency. He defeated some tough opponents in the contest and bagged a victory with a huge majority. After the Pulwama terror attacks, Gambhir has been quite vociferous about cutting down the relationships with Pakistan. On one of the instances, he also said that the BCCI has to take a firm stand on the cricketing relationships with Pakistan.
He noted that there can't be any conditional bans and wanted to either cut off all the relations or stay open to everything. Moreover, he added that India should stop playing Pakistan in ICC tournaments and in the upcoming World Cup. "Gambhir said that India should not play with Pakistan. Even if some points are lost, India shouldn't play Pakistan as the soldiers have sacrificed their lives. India should forfeit the game even if it is the final. What do you think about this?" a reporter asked Shahid Afridi in one of the press interactions.
Shahid Afridi has a harsh response
Reacting to this question, Shahid Afridi had a very harsh response. He had no second thoughts about lashing out at Gautam Gambhir and didn't bother calling him a fool (bewakoof). Afridi said that Gautam spoke as if he is uneducated and felt that these words were thoughtless.
"Do you think Gautam used his wits while talking about this? Does this look like something which a sensible person would say? Do educated people talk like this?" said Shahid Afridi while responding to the question. The duo took a dig at each other quite recently as well. Gautam Gambhir asked Shahid Afridi to come to India to get some treatment for his mental health. In response, the Pakistan cricketer said that Gambhir needed to visit Pakistan.
Shahid Afridi responds to Gautam Gambhir's suggestion that India should forfeit any World Cup matches versus Pakistan "Does this look like something which a sensible person would say? Do educated people talk like this?" #CWC19 pic.twitter.com/wYgtoOMI5k

— Saj Sadiq (@Saj_PakPassion) May 24, 2019
Follow us on Telegram