Shane Warne feels Virat Kohli is matching Viv Richards' level in terms of batting
He also picked the top three batsmen of this generation.
Updated - Apr 8, 2020 10:05 am
283 Views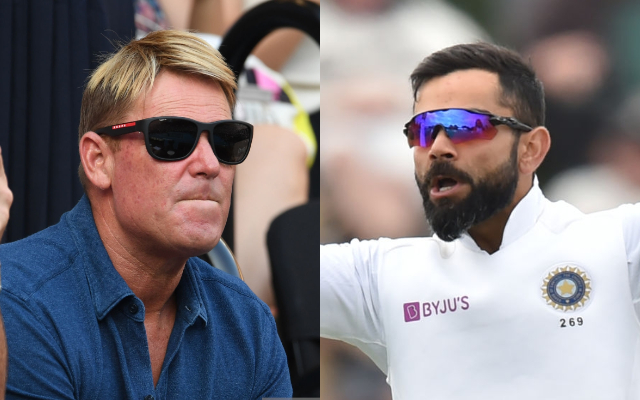 Follow us on Google News
Former Australia spinner Shane Warne has been vocal about his opinion regarding the Indian captain Virat Kohli. He has always praised Kohli and even called him the best in the world quite a few times. With the lockdown going on across nations, Warne has been spending a lot of time on social media. Recently he came out on Instagram and once again had some kind words for the 31-year-old.
During his Instagram live session, Shane Warne said that Sir Vivian Richards is the best batsman he has ever seen. He also mentioned that Brian Lara and Sachin Tendulkar were the two best batters during his time. Further, Warne said that though it's difficult to believe anyone is better than Viv Richards, Kohli is presenting a solid case to beat the West Indian legend.
Shane Warne picks Kohli, Smith and Williamson as top three current batsmen
"Viv is the best batsman I have ever seen. Sachin (Tendulkar) and (Brian) Lara are the two best batters I have played with and now across all formats, Virat is just the best. It is tough to think anyone is better than Viv but Virat is pushing that conversation," Shane Warne said during an Instagram live session.
Shane Warne, then picked up Kohli, Steve Smith and Kane Williamson as the best batsmen from this generation. He also praised the mental toughness of the former Australia skipper and said that he loves watching David Warner as well. "Steve Smith…tough to go past him he is my favourite at the moment. What mental toughness, love watching David Warner too. Top three would be Smith, Kohli and Kane Williamson", the legendary leg-spinner said.
The 50-year-old also expressed his opinion on Smith returning to lead Australia while stating the latter should focus only on his batting until he plays cricket. According to the legend, it's important for him to play without any distractions. He also mentioned that current Australian captain Tim Paine needs to start scoring some runs to continue being at the helm.
"If Tim Paine can make runs, he should continue as captain. I want Smith to bat as much as he can with no more distractions. Paine has to make runs. I feel Steve should be allowed to bat till the rest of his career, not other distractions," Shane Warne further added.
Follow us on Telegram