Shoaib Malik has now played an international match in four different decades
Malik became the 8th player to play international cricket for four decades.
Updated - Jan 25, 2020 4:10 pm
18.6K Views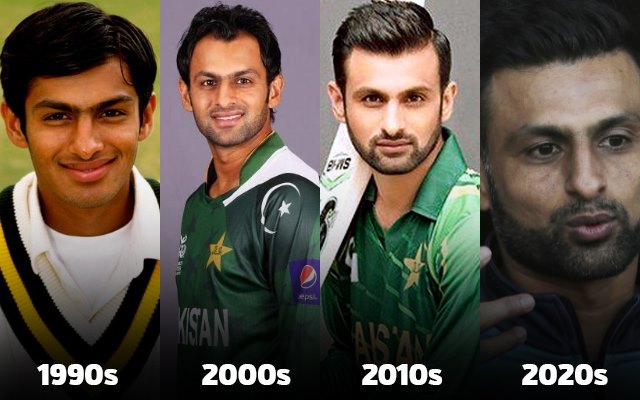 Follow us on Google News
Shoaib Malik has been Pakistan's saviour from a very long time. He proved himself as game-changer and match-winner for Pakistan many a time. He recreated his match-winner feat when Pakistan took on Bangladesh in the first T20I in Lahore. He won the game for Pakistan with an unbeaten half-century and helped his team in taking 1-0 lead in the three-match series.
Malik, while stepping on to the field in the first T20, created a rare feat by becoming the 8th cricketer to play an international match in four different decades. The Pakistan veteran has now played in 1990s, 2000s, 2010s and 2020s. He also became the third Pakistani cricketer to play for the national team for over 20 years. Shoaib Malik made his international debut back in 1999.
Other seven cricketers are England's Wilfred Rhodes' (career spanning 30 years and 315 days), England's Dennis Brian Close (26 years and 356 days), Frank Woolley of England (25 years and 13 days). Sachin Tendulkar takes the fourth spot in the list with 24 years and one day. Jack Hobbs, George Gunn and Sanath Jayasuriya are also a part of the elite list.
Shoaib Malik eyeing T20 World Cup 2020
Shoaib Malik is currently busy with the ongoing three-match T20I series against Bangladesh. He is expecting to continue till T20 World Cup and if his body permits, he will try to elongate his career after the tournament. As a veteran Pakistan player, he wants to continue playing till he feels good about playing the game and doesn't want to hang around just for the sake of it.
"Yes I had said I will retire from ODI cricket after the World Cup (in 2019) and I did that and I also said I might retire completely after the World Cup T20. But right now I think it is about short-term goals when the time comes I will think about it," he said as quoted by New Indian Express.
"As a senior player I have a responsibility and goal and thankfully my body is supporting me in my career and I will continue to play till I feel good about it. I am not someone who will hang around just for the sake of it," he asserted.
Follow us on Telegram