SH*T News of the day: Anil Kumble's interview after the appointment of new coach
Kumble dedicated a song to Virat Kohli.
Updated - Jul 15, 2017 5:49 pm
8.7K Views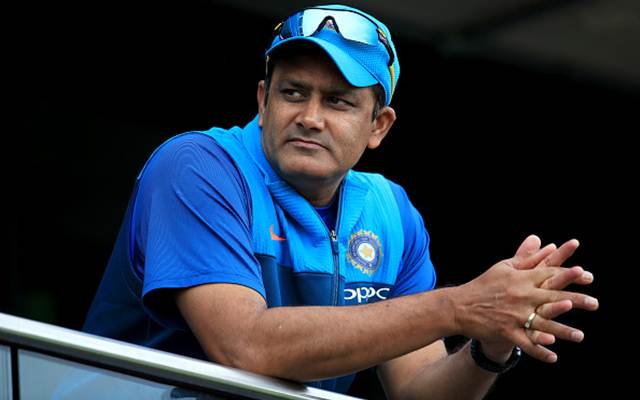 A few days ago, 11th July to be precise, the Cricket Advisory Committee (CAC) appointed Ravi Shastri as the head coach of Indian cricket team for the second time. The three-member panel consisting of Sachin Tendulkar, Sourav Ganguly and VVS Laxman has also appointed Rahul Dravid and Zaheer Khan to guide Shastri in specific tours. Shastri replaced the legendary former Indian skipper Anil Kumble.
Kumble was not on the same page with Indian skipper Virat Kohli. Hence, a "separation was necessary". CAC member Sourav Ganguly was bewildered at the appointment of Shastri. Not only Ganguly but many Indian fans are shocked to see Shastri back at business again.
After Shastri's appointment, many news portals are trying to communicate with Kumble. But as he himself says, Jumbo is a "seasoned" campaigner. No worries, our hard-working SH*T News reporters know some mimicry too. One of them tried to mimic one person because Jumbo would only answer only his call. You guessed it right, it is Sourav Ganguly.
Here is what happened next (The 'Ganguly' here is not Sourav Ganguly but our correspondent):
Ganguly: Hey Jumbo! Dada here.
Kumble: Hi Dada.
Ganguly: I want to take your interview.
Kumble: I am seasoned. You won't get anything from me.
Ganguly: My pizza is also seasoned with flavourings. Yet I always pick the chicken pieces from it first. Let me make an offer you won't refuse. I will invite you in the next episode of my reality show 'Dadagiri'.
Kumble: I stand unmoved.
Ganguly: You know I am playing against Diego Maradona? I will draft you in my team. You can bowl googlies and stuff to Diego with the football.
Kumble: I stand unmoved.
Ganguly: I will punch Ravi Shastri.
Kumble: I stand unmoved.
Ganguly: I will try to create differences between Anushka and Virat by planting affair story.
Kumble: Now we are talking!
Ganguly: My first question is, describe your current state of mind in a single line.
Kumble: Virat Kohli bewafa hain!
Ganguly: Great. What will say about Ravi Shastri's appointment?
Kumble: Can you guess his position?
Ganguly: Of course I can. He is the head coach.
Kumble: Wrong.
Ganguly: Kohli's advisor?
Kumble: Wrong.
Ganguly: Kohli's assistant?
Kumble: Wrong.
Ganguly: Eh, the guy who will hold the umbrella when the skipper is giving interviews in the sun?
Kumble: Right.
Ganguly: Look the conversation is drifting towards another point. Tell me who is your favourite Indian cricketer at the moment.
Kumble: Gautam Gambhir.
Ganguly: Why?
Kumble: Tell me what's common between us?
Ganguly: I can't.
Kumble: Both of hate Virat Kohli and vice versa.
Ganguly: Ok. Time for Rapid Fire round on the show called Gup-Shup with Ganguly. My first question is, what would you do if you woke up as Ravi Shastri?
Kumble: I will resign and ask the CAC to appoint Anil Kumble as the head coach.
Ganguly: What advice would you like to give to Kohli?
Kumble: He knows everything. So I would ask him to become a coach-cum-cricketer-cum-politician-cum-team owner-cum-Wikipedia-cum-google-cum-quora-cum-encyclopedia-cum…
Ganguly: Cum on, stop it now. Ok, what advice would you give to Anushka Sharma?
Kumble: To take proper care of Virat and not indulge him in a debate. If she does so, Virat will appoint Ravi Shastri as his next girlfriend.
Ganguly: Your dearest friend Rahul Dravid will be assisting Shastri in overseas Tests. What would you say him?
Kumble: *sings* Dost, Dost na rahaa. 'Wall' tut ke bikhar gaya.
Ganguly: Suppose Virat Kohl has problems with Ravi Shastri as well. What would you say to Virat then?
Kumble: *sings again* Jo teri khaatir tadpe, pehle se hi, kya use tadpana. Oh 'K'aalima! Oh 'K'aalima.
Ganguly: Oh you are a great singer. One last question- If BCCI asks you to become the head coach of the Indian team again, how would you reply?
Kumble: *turns into Imran Khan* Bhaag bhaag DK Bose DK Bose DK Bose, bhaag bhaag DK Bose DK bhaag.
Ganguly: It was great talking to you. We don't have time on our side now. Bye Jumbo.
Kumble: But what about my hamper?
It didn't take time for him to realise it was SH*T News and we received an angry message from him where he said that the relationship is untenable now and he wouldn't validate any of the quotes recorded with us.
Disclaimer: This is purely a work of fiction created for the sole purpose of entertainment. We do not intend to hurt anyone's feelings or sentiments.