Simon Taufel disagrees with Yuzvendra Chahal's demand for DRS in close wide calls
Former India head coach Ravi Shastri gave a nod to Chahal's demands.
Updated - May 25, 2022 12:04 am
260 Views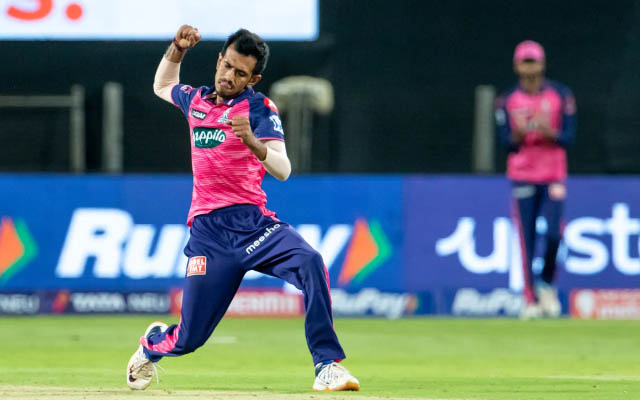 Follow us on Telegram
IPL 2022 has been a success so far, as the tournament reaches its tipping point. But like every other IPL, this season also has not been short of controversies. The latest addition to the complaint box comes from the camp of Rajasthan Royals with their star leggie, Yuzvendra Chahal demanding a helping hand from the umpires in the form of a review option for close wide ball calls.
Chahal was perplexed by the umpire's decision to call a wide in the Royals game against LSG. The extra delivery ended up being severe for Chahal, who was hit for a six on the last ball by Marcus Stoinis. Although Rajasthan won the game, Chahal believes that close calls like that give the batters an extra advantage in a game that is already dominated by the batters. The Rajasthan Royals have been on the receiving end of a few tough calls by the umpires in a couple of games.
"Even umpires are human beings. They can make a mistake, but teams can win by a single run many times. That happened with me against Lucknow when the umpire signaled a wide, but when I saw it on replay it was not wide. But due to that, I had to bowl an extra ball and I even got hit for a six off the last ball. It became a seven-ball over and they could score seven runs. As it is T20 is a batsman-dominated game, so if the bowlers get a bit more help, we can do that," said Chahal while speaking to ESPNcricinfo.
Ravi Shastri and Simon Taufel give their opinion on Yuzvendra Chahal's demand
The former ICC Elite Panel umpire, Simon Taufel, agrees that there is a need for modifications. But, he is not in favor of roping in the 3rd umpire for wide and no ball calls as he believes it will be hard for the TV umpire to judge on something that might be marginal and is still a judgment call. He was also concerned about the time it would take to make such decisions.
"How much time are all these reviews going to take out of the playing time? I remember, only last year, some commentators like the late Shane Warne were complaining about how an ODI finished 30 minutes past the scheduled cut-off. You cannot have a quick game and also analyze every ball – there is always a trade-off," Taufel said.
Ravi Shastri, former head coach of India, batted in favor of referring to the TV umpire for controversial calls on wides and height no-balls. Shastri wasn't concerned about the delay that such an exercise would cause in the game. He believes that it is better to have a fair game even if it costs an extra few minutes.
"I agree because that could be a game-changer. The match could go into the last ball and 12-15 runs needed in the last over, a no-ball at that stage could make a lot of difference. You have the third umpire sitting there, you have the technology, use it."
"You'd rather have a fair game. If it's delayed by a minute, so be it. But rather have a fair game so there are no arguments later. Leave it to the third umpire, let him take the decision, and let that be final."
Follow us on Google News