Slowly, I am getting back to my ways: Umesh Yadav
Updated - Mar 17, 2017 8:53 pm
83 Views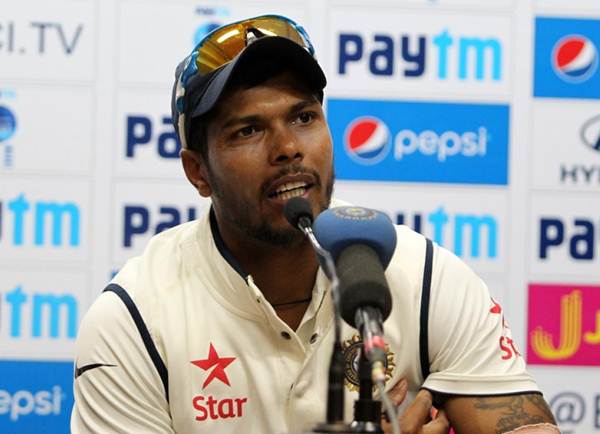 Umesh Yadav has played the most number of matches through the course of the 2016-17 home season. His efforts, however, haven't always translated into wickets. He averaged 54.23 before the Australia series. But halfway into the series, he has taken 12 wickets at 22.00 and at a strike rate of 44.5 – a record better than any other Indian bowler.
Speaking at the press conference, Umesh said better performance in this series is a reflection of the confidence he has gained from being a regular member of the team.
"Actually, I feel it is all the same. I'm doing the same things [through the season], but the confidence from playing matches, and the hard work that I have put in [have begun producing results]," he said at the end of the second day in Ranchi. "Usually, I used to be in and out of the team and so I didn't understand what to do but as I started playing more matches, I was just focusing on my bowling – what I should do and what I shouldn't."
He further went on to say that he has completely discovered himself; his weakness, his strengths, where he must bowl and how he must do it.
"I have figured out what my bowling is, where I must bowl, what my weaknesses are, and what my strengths are. Earlier, there was criticism in the media that I bowled a lot on the leg stump and conceded boundaries on the leg side after building pressure for four balls. I have cut that down to a large extent. Slowly, I am getting back to my ways."
Virat Kohli injured his right shoulder during Australia's first innings yesterday. When asked about Virat Kohli's availability as a batsman, Umesh said that Virat is ready to play, "The bandage will obviously be there because if you have a shoulder injury, you need the bandage to hold it together but he [Kohli] is ready to play," Umesh said. "He has been batting in the nets as well, so obviously he will come back."
Umesh ended Australia's innings with figures of 3 for 106. However, India's most successful bowler was Ravindra Jadeja, who finished with 5 for 124 from 49.3 overs. Jadeja is in the form of his life, the Kolkata Knight Riders fast bowler concluded.