Sonu Sood becomes a 'messiah' for Ashraf Bhai, the person who fixed bats of Virat Kohli and Sachin Tendulkar
Virat Kohli and Sachin Tendulkar are yet to reach out to Ashraf Bhai as of now.
Updated - Aug 24, 2020 10:51 am
3K Views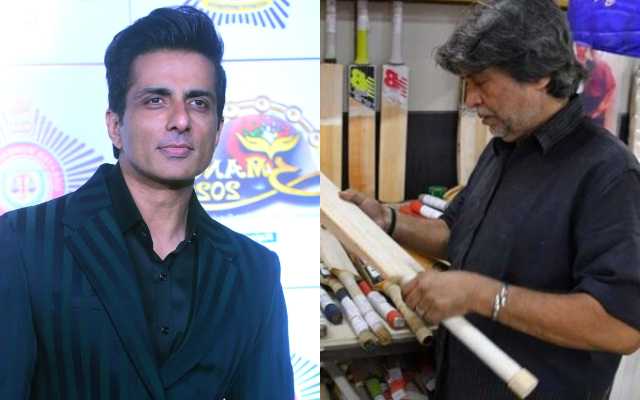 Bollywood actor Sonu Sood emerged as a real hero during the ongoing coronavirus pandemic as he helped thousands of migrant citizens who were stuck due to the lockdown. Not only that, but he also provided financial aid to many people who were in dire need of money. Twitter has acted as a major source of communication for the veteran actor and the needy as he helped many after they revealed their difficulties to him via the social networking site.
Recently, it came to light that the bat repairer Ashraf Chaudhary, who worked for legendary cricketers including the likes of Virat Kohli and Sachin Tendulkar, is in serious trouble. Despite working for such big people, the old man is struggling to pay his hospital bills and doesn't have even a penny to spend.
Ashraf Chaudhary fondly known as Ashraf Bhai runs his ancestral shop near Mumbai's Metro cinema. He has worked for some prestigious cricketers as their bat repairer. The past few months have been too hard on Ashraf Bhai as he recently lost his brother and now he himself is admitted to a hospital in Mumbai due to kidney problems.
In such thought times, Ashraf only has the support of his friend and well-wisher Prashant Jethmalani who is not only taking care of him but is also trying to raise the required money for his (Ashraf's) treatment.
Prashant has also revealed that many cricket players have not paid money to Ashraf Bhai for his services. Out of courtesy and respect, Ashraf has also not demanded money from those cricketers so far but Jethmalani believes that its high time now that they (cricketers) should step forward to help Ashraf in his difficult times.
Sonu Sood comes forward to help Ashraf Bhai
On August 22 (Saturday) a Twitter user named Navin Theone shared the heart-wrenching story of Ashraf Bhai with Sonu Sood via Twitter and urged him to help the needy. The Twitter user shared a poster which states that, "Ashraf Bhai who fixed bats for Kohli and Tendulkar is struggling to pay hospital bills".
Seeing this, Sonu responded shortly saying "पता ढूँढो इस भाई का" (Find the address of this brother)
पता ढूँढो इस भाई का। https://t.co/QiwEoy5vjK

— sonu sood (@SonuSood) August 22, 2020
The Bollywood actor has emerged as a true Knight in Shining armour for Ashraf Bhai in his difficult times.