Sourav Ganguly explains the reason of being late for the toss during the 2001 Test series
After many years of that incident, Ganguly finally revealed his side of the story.
Updated - Jul 8, 2020 12:30 pm
120.6K Views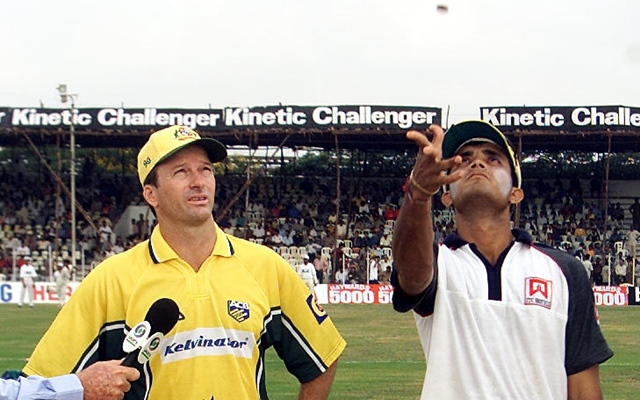 Follow us on Telegram
Former Indian captain and BCCI current president Sourav Ganguly is widely recognized as the person who has changed the shape of the Indian cricket team. Ganguly's aggressive outlook towards the game helped India in winning matches both at home and abroad. He captained the Indian cricket team for a period of five years from 2000 to 2005.
Under his leadership, the Indian team notched a fantastic record of winning in all the formats of the game. The 2001 Test series against Australia is one of the most iconic series for India. The newly-appointed captain Sourav Ganguly led India to victory in the Test series against the number one team of that time. However, then Australian captain Steve Waugh was not very pleased with the Indian captain for being late on the match field during that series.
After many years of that incident, Ganguly finally revealed his side of the story. In a recent conversation with India batsman Mayank Agarwal on the latest episode of 'Open Nets with Mayank', Sourav told Mayank that being late for the toss was not intentional.
"It was an accident actually. In the first Test match, I left my blazer in the dressing room. They were such a good side and I was really nervous in that series because it was my first big series as captain. Last 25-30 years I haven't seen a team as good as Australia in that generation. Initially, I forgot my blazer in the first Test but then I realized that he reacted to it. It was working on them, working on the team, and how they went about their jobs. They were a bit grumpy with all that and it worked for us as we won the series 2-1," Ganguly revealed.
"Having said that, Steve Waugh is a friend and I have tremendous respect for him as a cricketer. It was all in good humour," he further added.
When I played against Sourav, I hated him: Nasser Hussain
Though the Kolkata Starwalt clarified that he had genuine reasons for coming late on the field, he had managed to piss off the opponents. There have been times when Steve Waugh and Nasser Hussain had openly expressed their dislike.
Recently, On the Cricket Connected Show on Star Sports, Hussain had said, "Sourav's like that. When I played against Sourav, I hated him, he used to make me wait for the toss every single time and I'll be like, Ganguly, it's 10.30, we have to toss."
"But now I work with him for the last decade on commentary, he's such a nice, calm, he's still late for his commentary stints, but he is a lovely bloke. And that's the way cricketers should be. When you play with him or against him, you don't like him and when you meet up with him later in life, they're nice people," the former England captain added.
Follow us on Google News