Sourav Ganguly lauds Virat Kohli for being distant with matters pertaining to new coach
Have to give credit to Virat Kohli that he totally stayed out of it (coach selection): Ganguly
Updated - Jul 10, 2017 11:05 pm
4.5K Views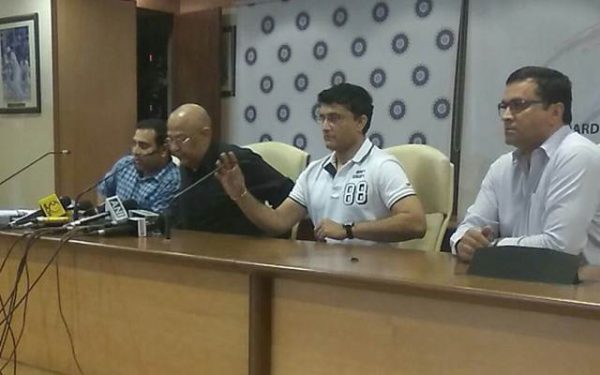 BCCI decided to postpone its announcement of the new coach today in the recent CAC meeting. Sourav Ganguly felt there is no rush to appoint as there is a fair amount of time left for the Sri Lankan tour. Ganguly then explained that he would want to have a talk with the captain first. He lauded Kohli for remaining distant about the matters pertaining to the selection of the new coach.
A lot has been talked about recently about Virat Kohli backing Ravi Shastri and having reservations about Anil Kumble as the coach of Indian team. Ravi Shastri previously had a successful stint with the Indian Team as Team Director. There were also speculations regarding the Board of Control for Cricket in India (BCCI) backing Virender Sehwag for the coveted position due to his cordial relationship with Treasurer Amitabh Choudhary.
"Virat will need to understand how coaches operate. At the same time you have to give credit to Virat Kohli that he totally stayed out of it (coach selection), didn't give any input on names," said Sourav Ganguly according to NDTV, dismissing all reports of Kohli backing Shastri's name for the coveted position. However, it was only then reports emerged about Kohli given a choice between Tom Moody and Virender Sehwag. However, it is still not clear the exact the date of formal announcement by the CAC and BCCI.
The personnel in the race for Head Coach position of Indian Cricket Team are Venkatesh Prasad, Lalchand Rajput, Ravi Shastri, Dodda Ganesh, Virender Sehwag, Tom Moody, Phil Simmons, and Richard Pybus. "Coach should be someone who can help and get the team going. An impressive presentation does not make you a good coach. Various things are needed to make a good coach — like man-management skill, situation-understanding skill." said Ganguly earlier according to ANM News.
"Maybe someone will be better skill-wise but will lack at man-management. You just have to move on. The Kohli-Kumble story was past and should be left behind. We will do whatever we think is good for the Indian cricket. We did the same in appointing Kumble as well. He also gave us results. We played in the final of the Champions Trophy. We will try and do our best," further added Dada in the interview.