Sourav Ganguly was my first hero even before I understood cricket fully: Soumya Sarkar
Sarkar also praised Yuvraj Singh, saying that the latter once called him a game-changer and advised him to have self-belief.
Updated - May 11, 2020 1:16 pm
1.5K Views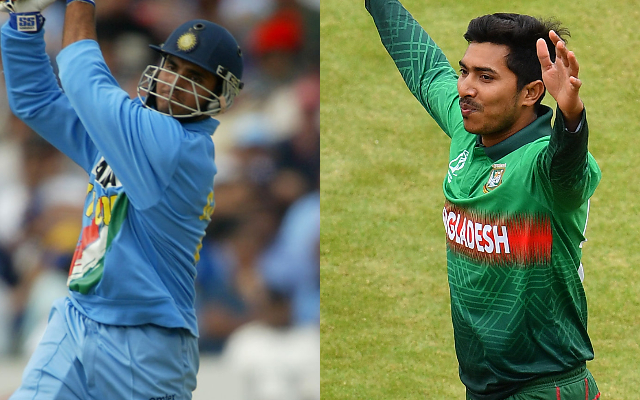 Follow us on Google News
Soumya Sarkar, the Bangladesh batsman, is a die-hard fan of former Indian captain Sourav Ganguly. Like the legendary cricketer, the Tigers' southpaw is also a left-handed batter and right-arm medium pacer. And Soumya adapted to it after some words of advice from his brother, Pushpen Sarkar. The 27-year-old is currently one of Bangladesh's gun top-order batsman across formats.
The Satkhira-born used to watch his hero, Ganguly, and was amazed by how the latter played the cover-drives and the lofted shots over the spinners' heads. During his playing days, Sourav used to give nightmare to the left-arm spinners, dancing down the track with grace and elegance.
I became a fan of his cover-drive: Sarkar
"My life's first cricket hero was Sourav Ganguly. I was a fan of him even before I understood cricket fully. One day my brother said, 'You will be a left-handed batsman like Ganguly and bowl right-arm medium pace'. I'm not a natural left-hander, I started it after my brother's advice. Except batting, I do all my work with the right-hand," Sarkar was quoted as saying in bdnews24.
"I used to watch Sourav play on TV along with my brother. That time, an India-Pakistan game had a separate fanbase. While growing up, I became a fan of his cover-drive. And hitting the spinners by stepping out was incredible," he added.
Soumya had the privilege of meeting Ganguly during an Under-17 tour to Kolkata. However, the Young Turk couldn't gather the courage to speak to him and rather, looked at him with utter astonishment.
I loved his aggressive style of batting: Soumya Sarkar
Sarkar also became an ardent follower of Yuvraj Singh, one of India's greatest all-round cricketers. That Yuvraj trod the attacking route while batting impressed Sarkar to a great extent. Soumya lauded the left-hander for his fearless style of play.
"After growing up, Yuvraj Singh became my favourite cricketer. I loved his aggressive style of batting from the word go. He used to change the course of the game pretty quickly. He didn't spare anyone and was fearless. Even I wish to play like him," Sarkar mentioned.
Soumya said that Yuvraj had the gift of timing and called him a selfless cricketer, who put the team first ahead of his personal goals. He used to like Yuvraj's bowling, fielding, his body language on the field. Sarkar also remembers the day when Yuvraj motivated him to do well.
"When I met Yuvraj, he asked me to have self-belief. He told me that I have the potential to turn the course of any match. He also advised me to not lose faith no matter how bad the situation is," Soumya added.
Follow us on Telegram