Spartan welcomes idea of MS Dhoni using the colored bat
Updated - Dec 24, 2016 2:57 pm
138 Views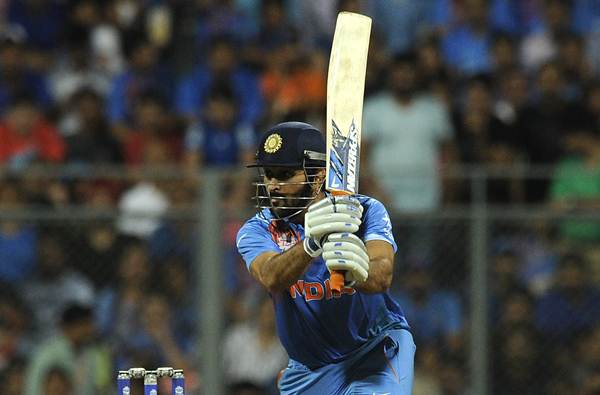 Sports goods manufacturing company Spartan recently said that they would love to have MS Dhoni use the colored bats soon. The company had also signed West Indies all-rounder Andre Russell recently. Russell had then made the headlines during a Big Bash League fixture when he strolled down to bat with a black bat. This did not go down well with the organisers and soon the bat found itself breaching a few ground rules of cricket.
Apparently, the bat was seen leaving the imprints on the ball and thereby discolouring the ball. However, Spartan came up with a modification in the bat to make it comply with the rules. The improvement was made at the Spartan headquarters. An Extratec coating was applied on the ball that would prevent the ball from any damage.
Indian limited-overs skipper MS Dhoni is also the brand ambassador of the Spartan Sports. The cricket manager of the sports company, Mr. Cameron Merchant, expressed that they would like it if Dhoni uses a colored bat too. With the IPL season coming in a few months, it might well soon turn into a reality. Dhoni is the skipper of the Rising Pune Supergiants team in the IPL.
"Dhoni is more than welcome to use a coloured bat (in IPL). He is such an amazing role model, influential cricketer and kids look up to him," Cameron was quoted by DC.
He further cited that the use of colored bats is not a new move. Players have used it in the past. He also revealed that their initial plan was to make Chris Gayle use a golden bat in the BBL.
"Aidan Blizzard (Sydney Thunder) has used a green coloured bat whereas Mitch Johnson (Perth Scorchers) has used orange bat. Spartan Sports originally came up with the idea with Chris Gayle with the original coloured bat of the Golden bat in last years' BBL," he quoted.
Lastly, he conceded that the colored bats are allowed to be used by the players. The only condition to comply with is that the bat should predominantly be of the color that the franchise jersey sports.
"The coloured bat is allowed in T20 franchise competitions around the world. Cricket Australia have allowed it with the colours to be the same majority as clubs, i.e Sydney Thunder are black and green so we can have either a full green bat or black bat," he conceded.
Commenting on the Andre Russell incident, he mentioned that they are doing everything possible to ensure that the color of the bat does not affect the ball by any chance. "We are unsure how Russell's bat had marks on ball but we have gone to precautionary measures and quality control to make sure that it is completely covered so that at no time will the ball come in contact with any colour," he concluded.