Sri Lanka bowling coach emphasizes on execution of plans against India
He believes India's Kuldeep Yadav and Sri Lanka's Lakshan Sandakan are very similar when it comes to their style of bowling.
Updated - Nov 12, 2017 9:41 pm
45 Views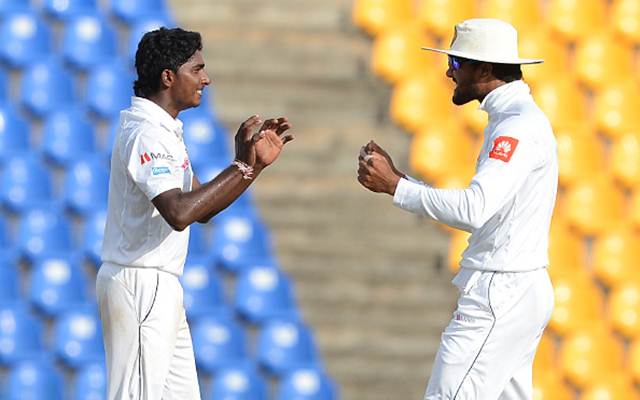 Ahead of series against India, Sri Lanka bowling coach Rumesh Ratnayake today revealed that his team has prepared elaborate strategies for the upcoming three-Test series against the No.1 team. But he also admitted that it would all boil down to executing those plans on the field.
The Lankans suffered a 0-9 whitewash at home across the three formats earlier this year and proved no match to a strong and hefty Indian line-up. Their worries got worse when they toured Sharjah and Pakistan to face the other subcontinental rivals as they ended up on the receiving end yet again. Ratnayake seemed hopeful this time as he emphasized that they have a planned strategy for every Indian player.
"We have done all that we could have to counter attack. Whatever we would expect in the Test series. I hope our strategies will work," he told reporters after Sri Lanka drew the two-day tour game against the Board President's XI here.
"We can only plan but it's about executing them on the field. It's a huge challenge. It's not only skipper Virat Kohli but we have come with specific plans for each Indian player. We always go with plans but can we execute the plans, at what stage and at what point. Hopefully that works to our benefit," he added.
A fresh start
The Test at Eden Gardens on November 16 will be the Islanders' first Test in India since 2009-10. To end their losing streak, they will have to drastically change their rather forgettable record in the country where they are yet to win from 16 appearances, having lost 10 and drawn six in their head-to-head record spanning from 1982 to 2017.
"Even though the immediate past has not been good we are looking for a new leaf to start with. It's unfortunate we have not won a Test here. It's still a healthy rivalry. We have gained a lot from India, we are thankful for that. It would be interesting to win a Test here. We are taking it as a challenge," said the former pacer.
Kuldeep and Sandakan are similar
He believes India's chinaman Kuldeep Yadav and Sri Lanka's Lakshan Sandakan are very similar when it comes to their style of bowling. They are both promising spinners, yet not the first preferences for the Playing XI.
The coach said: "They are quite similar, having learnt from Brad Hogg. But I would still say they are similarly different."
"It depends whether we will play him or not. We will decide to have that extra spinner just a day before the match. Eden has been a good track any way in the past. It seamed in the past. We will see it tomorrow and hope to know what's on offer," he concluded.