Stats: Chris Gayle completes 4000 runs in the IPL
Chris Gayle struck eight fours and four maximums on his way through to a 47-ball 79.
Get every cricket updates! Follow us on
The Indian Premier League (IPL) has played a crucial role in Chris Gayle's career making him the superstar of the Twenty20 format. Gayle wasn't going well around 2011 and failed to attract a bid in the IPL auction. The mid-season signing by the Royal Challengers Bangalore gave the Caribbean batsman a second chance. He never looked back from there with redefined consistency and power-hitting not only in the IPL but also in the Twenty20 format.
In the first game of the 2019 edition, Gayle came up with a brilliant knock against the Rajasthan Royals. The left-hander struck eight fours and four maximums on his way through to a 47-ball 79. Gayle knew his target bowlers perfectly as he scored 26 off 8 balls against Jaydev Unadkat and 23 off 11 balls against Ben Stokes. His knock laid the base for the Kings XI Punjab who finished with 184/4 in their 20 overs.
When on six, Chris Gayle completed 4000 runs in the IPL. Thus, he became only the 2nd overseas player and the 9th player to aggregate 4000 runs in the history of the league. David Warner was the first overseas player to reach the milestone which he did during the 2017 edition. Gayle also became the quickest among the nine players to complete 4000 IPL runs. He needed only 112 innings to achieve this milestone; two less than Warner (114) who was the previous quickest.
Gayle was earlier the fastest to 2000 and 3000 runs in the IPL as he reached the milestones in 49 innings and 76 innings respectively. Among the Indian player, Virat Kohli is the quickest to 4000 IPL runs as he needed 128 innings only. He was the fastest player to breach the 4000-run mark in the IPL. Remaining six players needed 140 and more innings for getting to 4000 IPL runs.
Quickest to 4000 runs in the IPL: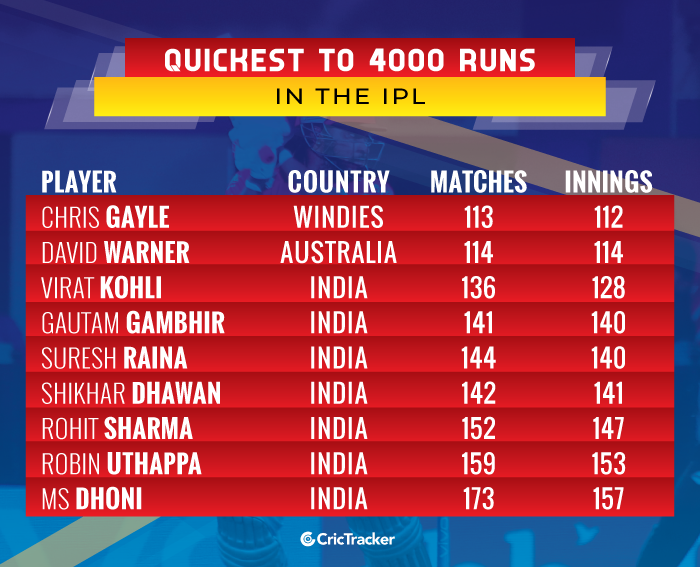 (Stats as on March 25, 2019)