Stats: Most wickets by a bowler in a first-class season in India
Updated - Mar 31, 2017 1:11 am
700 Views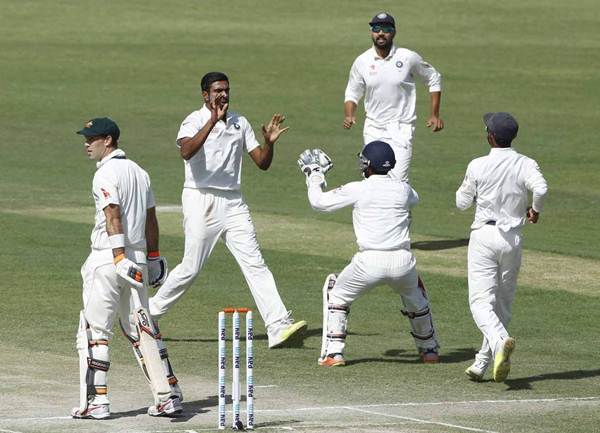 The India's spin duo of Ravichandran Ashwin and Ravindra Jadeja had climbed the ranks in the ongoing season to see new highs in Test history. With their performances, Ashwin and Jadeja managed to replicate a rarest of instances in Indian first-class cricket as the both took over 80 wickets each during the 2016/17 season in first-class cricket on Indian soil, which has been achieved only 7 times in the 125 years of Indian FC cricket.
Ravi Ashwin picked up 82 wickets during the season, he got all his wickets in Test cricket while Jadeja picked 81 including 71 wickets in the Test matches. The other 10 wickets came during the Duleep Trophy final for India Blue which was played before the start of long Indian season.
The record of most wickets in an Indian first-class season is held by England's Maurice Tate, who picked up 99 wickets in 1926/77 season for visiting Marylebone Cricket Club. Bishen Singh Bedi holds the 2nd spot with 88 wickets in two different seasons: 1974/74 and 1976/77. The last instance of a player taking 80 or more wickets in a first-class season in India was Anil Kumble in 1997/98 season where he picked up 85 wickets.
Jadeja sent down 4617 balls during this first-class season which are the 3rd most by any bowler in an Indian FC season. Bedi bowled 5385 balls in 1976/77 season while RG Nadkarni delivered 4905 balls in 1963/64 season.
Most wickets taken by a bowler in the first-class season in India:
| | | | | | | | | |
| --- | --- | --- | --- | --- | --- | --- | --- | --- |
| Name | Teams | Season | Balls Bowled | Wickets | BBI | Ave | S/R | 5WI |
| MW Tate | MCC | 1926/27 | 3791 | 99 | 6/42 | 13.77 | 38.29 | 8 |
| BS Bedi | India, Delhi, North Zone, Rest of India | 1976/77 | 5385 | 88 | 7/52 | 19.53 | 61.19 | 6 |
| BS Bedi | India, Delhi, North Zone, Rest of India | 1974/75 | 3602 | 88 | 7/5 | 14.83 | 40.93 | 9 |
| A Kumble | India, Karnataka, Rest of India | 1997/98 | 3662 | 85 | 7/33 | 16.24 | 43.08 | 9 |
| BS Chandrasekhar | India, South Zone, ROI, Mysore, Dungarpur XI, Board President's XI | 1966/67 | 3438 | 85 | 8/80 | 19.11 | 40.45 | 8 |
| GE Tribe | Commonwealth XI | 1949/50 | 4190 | 84 | 9/50 | 19.83 | 49.88 | 5 |
| R Ashwin | India | 2016/17 | 4430 | 82 | 7/59 | 25.28 | 54.02 | 7 |
| S  Venkataraghavan | India, TN, South Zone, ROI, Board President's XI, Vazir Sultan Tobacco XI | 1972/73 | 3630 | 81 | 6/30 | 18.27 | 44.81 | 7 |
| RA Jadeja | India, India Blue | 2016/17 | 4617 | 81 | 7/48 | 22.12 | 57 | 6 |
| ND Hirwani | Madhya Pradesh, Plate Group B | 2002/03 | 3317 | 79 | 7/129 | 18.22 | 41.99 | 8 |
| Kapil Dev | India, Haryana | 1979/80 | 3528 | 79 | 7/56 | 20 | 44.66 | 6 |
| PK Shivalkar | Bombay, West Zone | 1972/73 | 3334 | 79 | 8/16 | 15.09 | 42.2 | 9 |
| BP Gupte | Bombay ,Vizianagram's XI, West Zone | 1962/63 | 3587 | 76 | 9/55 | 19.18 | 47.2 | 8 |
| George Tribe | Commonwealth XI | 1950/51 | 3552 | 76 | 8/23 | 21.3 | 46.74 | 4 |
| Ron Oxenham | Australians | 1935/36 | 1821 | 75 | 7/13 | 7.4 | 24.28 | 8 |
(Stats as on 27th March 2017)