Stats: Nepal bowls out USA to joint-lowest total in Men's ODI cricket
Here are all the major stats and numbers recorded during the game between Nepal and USA.
Updated - Feb 12, 2020 12:48 pm
4.5K Views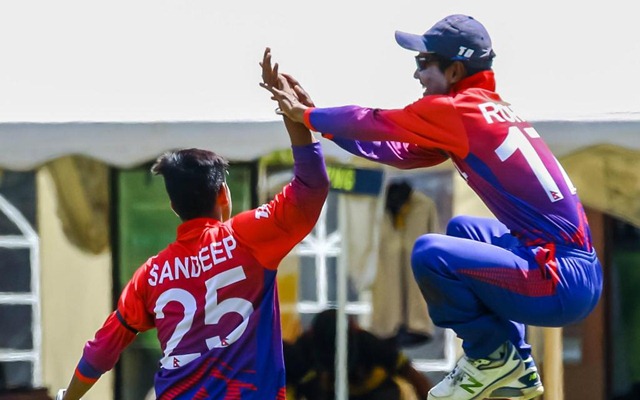 The United States of America finished the Nepal Tri-Nation ODI series winless following a record defeat against the hosts in the last match of the tournament. USA came into this Tri-series leading the ICC CWC League 2 table but have been no match to Nepal and Oman in this competition.
On Wednesday morning, the USA team were rattled by Sandeep Lamichhane who walked away with a 6-wicket haul. Sushan Bhari picked up the remaining four wickets as the USA were limited to just 35 runs in an inning that lasting 12 overs. Nepal lost a couple of early wickets but completed the chase with 268 balls to spare.
Here are all the major stats and numbers recorded during the game between Nepal and USA:
6/16 – Sandeep Lamichhane's 6/16 is now the first-ever 6-wicket haul for Nepal in Men's International cricket. This is also the first-ever 6-wicket recorded for Nepal in List A cricket. Lamichhane's 5/20 against Kenya in 2018 were the previous best List A figures for Nepal.
Lamichhane's 6/16 are also the best figures for Nepal across all formats as he bettered Binod Das' 6/29 against Hong Kong in a first-class match in 2005. Sompal Kami's 5/33 against UAE in the last year's ODI was the only other 5-fer in an official International match for Nepal.
---
6/16 – The bowling figures of 6/16 by Sandeep Lamichhane are now the 2nd best for any bowler in ODI cricket who bowled six or less overs in his spell. Stuart Binny, against Bangladesh, recorded the best figures in this regard (6/4) in the 2014 Dhaka ODI.
---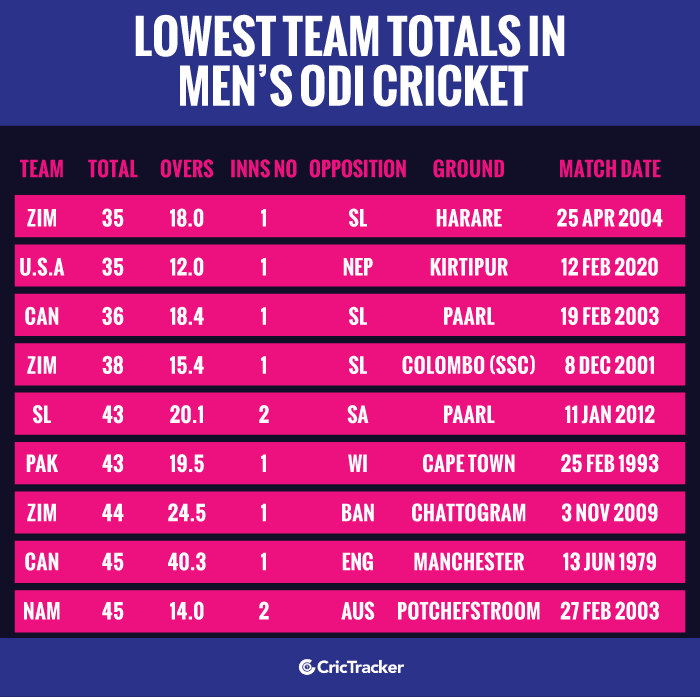 35 – The total of 35 by the USA is now the joint-lowest in Men's ODI cricket. Zimbabwe were also bundled out for 35 in the 2004 Harare ODI against Sri Lanka.
---
72 – The USA innings was wrapped up in only 72 deliveries; the shortest completed innings in ODI history. The previous shortest was 82 balls (13.4 overs) by Pakistan Women during the 1997 World Cup against Australia Women where they were bowled out for 27. The previous shortest ODI innings in Men's cricket was off 83 balls when Zimbabwe were bowled out for 54 against Afghanistan in 2017.
---
104 – This match was finished in just 104 balls making it the shortest completed match in the history of ODI cricket. The previous shortest completed ODI across Men's and Women's cricket was the 1997 Women's CWC match between Australia and Pakistan which was finished off in 119 deliveries where Pakistan were bundled out for 27 in 13.4 overs while batting first.
The previous shortest completed Men's ODI was between Sri Lanka and Zimbabwe in 2001 at Colombo's SSC ground where the visitors lasted 15.4 overs only for their total of 38.
---
268 – Nepal completed the chase in only 268 deliveries; the 4th biggest win in terms of balls to spare in Men's ODI cricket. The highest is recorded by England who defeated Canada by 277 balls to spare chasing 46 but it was a 60-over match. Sri Lanka won by 274 and 272 balls to spare against Zimbabwe while chasing 39 in 2001 and 37 in 2003 respectively.