Stats: Shortest completed innings in T20 cricket
RCB's completion of the innings in 9.4 overs is now second in terms of the shortest completed innings and is the only team from IPL to feature in the top 10 of the list
Updated - Apr 24, 2017 12:12 am
684 Views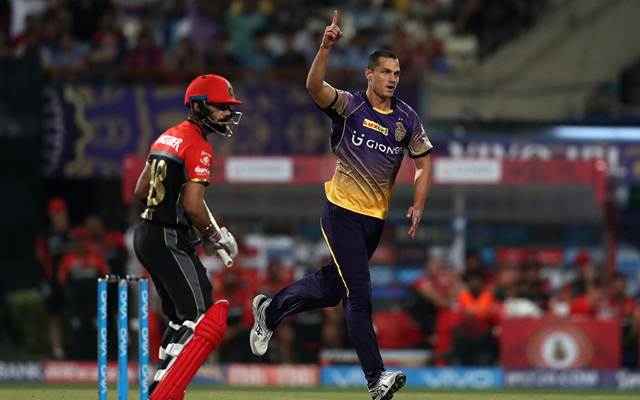 T20 cricket is a game of flashing blades and more often than not, the batsmen dominate. But on a few occasions, the bowlers step up and inflict a collapse in the batting order and within a blink of an eye, the whole team gets out.
One such incident happened in the ongoing season of IPL. Royal Challengers Bangalore were bowled out for 49 in just 9.4 overs against Kolkata Knight Riders at the Eden Gardens Kolkata. It was a shocking incident as the star-studded line-up of RCB fell like nine pins.
KKR, after batting first had put a score of a meager 131 and they were all out in the last over. There was a bit of rain before the start of the game which meant that there was something in the pitch for the bowlers. The target of 132 looked like a walk in the park at the halfway stage for the strong line-up of RCB.
But what transpired in the second innings left everyone in shock. Virat Kohli departed off the third ball for a duck which opened the floodgates and one after the other, batsmen kept following each other back to the pavilion. For KKR, whichever bowler was introduced into the attack, picked up at least a wicket.
None of the batsmen could go past the double figure mark and Kedar Jadhav was the highest scorer with 9 runs. Coulter-Nile, Woakes and de Grandhomme bagged 3 wickets apiece with Umesh Yadav picking up one.
RCB's completion of the innings in 9.4 overs is now second in terms of the shortest completed innings and is the only team from IPL to feature in the top 10 of the list. The shortest ever in T20 cricket was by the team Mohammedan when they were bowled out for 45 in just 8.4 overs against Prime Bank in Sylhet.
Here is the list of 10 shortest completed innings in T20 cricket:
| | | | | | | | | |
| --- | --- | --- | --- | --- | --- | --- | --- | --- |
| Team | Score | Overs | Balls | RR | Inns | Opposition | Ground | Match Date |
| Mohammedan | 45 | 8.4 | 52 | 5.19 | 2 | v Prime Bank | Sylhet | 26-Dec-13 |
| RCB | 49 | 9.4 | 58 | 5.21 | 2 | v KKR | Kolkata | 23-Apr-17 |
| Qalandars | 59 | 10.2 | 62 | 5.7 | 1 | v Zalmi | Dubai (DSC) | 12-Feb-17 |
| Essex | 82 | 10.3 | 63 | 7.8 | 2 | v Somerset | Chelmsford | 15-Jun-11 |
| Netherlands | 39 | 10.3 | 63 | 3.71 | 1 | v Sri Lanka | Chittagong | 24-Mar-14 |
| Namibia | 55 | 10.4 | 64 | 5.15 | 2 | v Scotland | Windhoek | 05-Oct-11 |
| Titans | 44 | 10.4 | 64 | 4.12 | 1 | v Riders | Dhaka | 10-Nov-16 |
| Tripura | 30 | 11.1 | 67 | 2.68 | 1 | v Jharkhand | Dhanbad | 20-Oct-09 |
| Kent | 91 | 11.4 | 70 | 7.8 | 2 | v Surrey | The Oval | 28-Jun-06 |
| Mountaineers | 59 | 11.5 | 71 | 4.98 | 2 | v Eagles | Harare | 19-Feb-10 |