Stats: Tamil Nadu fail to register a single win in Ranji Trophy 2017
They lost one match and had 5 drawn games.
Updated - Nov 28, 2017 4:02 pm
135 Views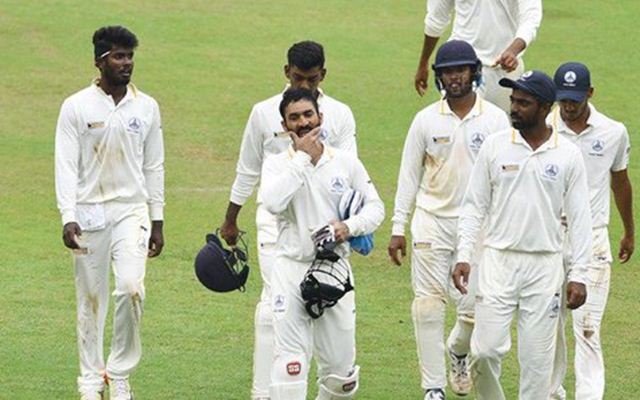 Over the last few years, Tamil Nadu has emerged as one of the dominating forces in the Indian domestic cricket circuit. They have been one of the most consistent sides in the Ranji Trophy in the recent times. However, the 2017-18 season proved to be a big disappointment for the heavyweights. They failed to register a single win this season and are out of the race for the playoffs.
Interestingly, this is not the first time that the Tamil Nadu team has failed to win a single game in the season. This is the 9th instance when they have failed to register an outright win in the premier domestic competition. It is worth noting that the stat becomes way more interesting considering the pattern of their failure.
Their failure to register a single victory this season is the first instance in 61 years when they have failed to win a match in the Ranji Trophy. All the previous 8 instances when they have made an exit from the tournament being winless was in the phase from 1934-35 to 1955-56. Since the 1955-56 season, they had at least managed to win a minimum of one win every season for the next 61 consecutive seasons.
Here are the instances when Tamil Nadu have failed to win a single match in a Ranji Trophy season:
Ranji Trophy 1943/44
Ranji Trophy 1945/46
Ranji Trophy 1946/47
Ranji Trophy 1947/48
Ranji Trophy 1948/49
Ranji Trophy 1950/51
Ranji Trophy 1952/53
Ranji Trophy 1955/56
Ranji Trophy 2017/18
Performances this season
Despite not registering a win this season, Tamil Nadu managed to finish at number 5 position in Group C. They ended their campaign with 11 points to this name in 6 matches. They lost one match and had 5 drawn games. The only other teams to have not won a match in the Group C this season are Odisha and Tripura.
The only defeat for TN side this season came against Baroda in their most recent game. They lost by 102 runs.