Stats: Virat Kohli has scored almost 1000 runs in last ten ODI innings in 2018
Virat Kohli became the first Indian to score hat-trick of ODI centuries on Saturday.
Get every cricket updates! Follow us on :
The way last 12 months have panned out for Virat Kohli, especially in the ODI format, has probably been the best for any player in the history as the Indian captain is yet to even stumble with a minor slump. In the 16 ODI innings that Kohli has played since the start of October 2017, he has scored eight centuries and three fifties. In this span, Kohli's lowest score is only 29 runs and has been dismissed under 40 only twice. In these 16 innings, he has scored 1455 runs at an average of 121.25.
These are easily the best 16 ODI innings for any player as Virat recorded the top six streaks of most runs made in 10 consecutive ODI innings. His previous ten ODI innings have fetched a whopping 995 runs. The record was once held by David Warner who scored a total of 857 runs between 2016 and 2017. The Australian opener had broken Kohli's record at that point. The Indian skipper scored 850 runs in 2012 which witnessed his rise towards becoming an ODI legend.
In the 10 innings up to the Vizag ODI, Kohli scored 934 runs to become the first player to accumulate over 900 runs in ten consecutive ODI innings. The 29-year-old bettered his own record in the very next game and almost became the first to score 1000+ runs in ten consecutive ODI innings. No player has scored over 1000 runs in ten consecutive innings in any International format thus far.
Kohli will have a chance to breach this barrier as well if he scores 165 runs in next ODI innings or 240 runs in his next two innings or even if he manages 276 in his next three outings. In the 16 ODI innings he has played since October 2017, Kohli's lowest ten innings aggregate is 820 runs, a number which has been bettered on only two occasions by Kohli himself and Warner.
Most runs in ten consecutive ODI innings by a player: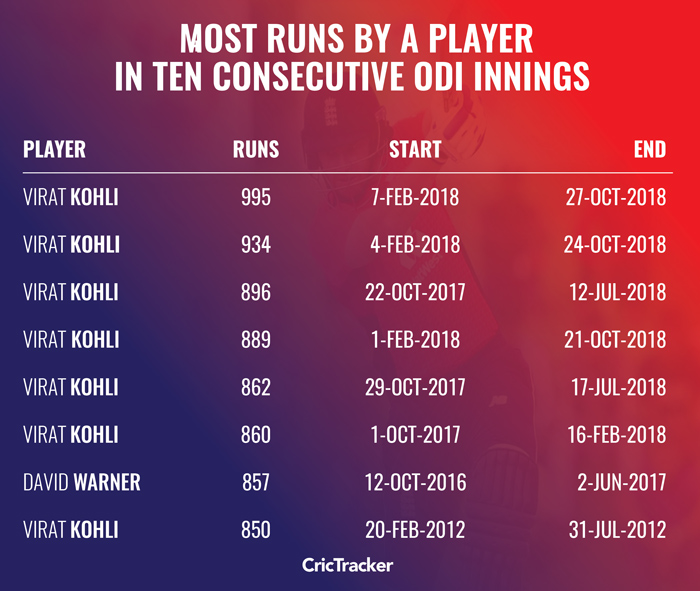 (Stats as on October 27, 2018)