Steve Smith receives outrage from Twitterati for his latest ad
The advertisement certainly didn't go well with most of the fans as they took to Twitter and expressed their resentment.
Updated - Dec 21, 2018 10:03 am
505 Views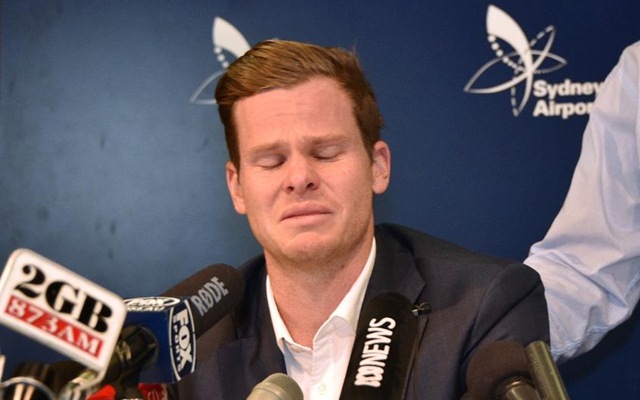 Former Australian skipper Steven Smith is unarguably one of the greatest batsmen among the current lot. The 29-year old had a dream run in Test cricket and deservedly became the No.1 ranked batsman in the world. His stint as as the captain of Australia wasn't bad either as he led the team to remarkable victories over the years.
Things turned topsy-turvy for the right-handed batsman during the tour of South Africa earlier this year. He, along with his deputy David Warner and the other opening batsman Cameron Bancroft, were involved in the disreputable 'sandpaper' scandal. The incident led to the three of them getting banned from playing for the national team. While the ban term for Smith is nearing the end, he featured in an advertisement recently which received wild outrage from cricket fans on Twitter.
Steve Smith's advertisement on his hardships
The Sydney-born recently appeared in an advertisement for a mobile service provider. In the advertisement, Smith talks about his time of tribulation post the infamous scandal. He also suggested in the ad that he would put the best efforts possible in order to reinstate the faith and integrity. The footage also had him playing cricket and talking about the sport to the young players at Sutherland Cricket Club.
The advertisement certainly didn't go well with most of the fans as they took to Twitter and expressed their resentment. They went a step further by lashing out at the mobile service provider for choosing Smith. The most popular conception is that someone who was guilty of doing injustice to the laws of the sport, shouldn't be the right person to feature in the ad.
Here's the video
We all make mistakes, Steve Smith being no exception. Find out how he took ownership and moved forward: https://t.co/tDShP4fv7e @stevesmith49 pic.twitter.com/pwP7AOlVS1

— Vodafone Australia (@VodafoneAU) December 18, 2018
What's ahead for Smith?
As the ban comes to closure in near future, the right-hander has opportunities up for grabs. He earlier participated in the Canada Global T20 League and has been playing grade cricket for his local club in Australia. As far as IPL is concerned, he has been retained by his franchise Rajasthan Royals and is expected to lead the side in the 2019 season after missing out last the 2018 edition.
Here's how Twitter trolled Steve Smith
Appalling – Steve Smith plans to cheat, cheats, gets caught out, continues to lie about it, eventually apologises, and then uses mental illness to try to avoid/excuse/get sympathy for his actions.

— richard (@knutsfordchap) December 20, 2018
I am a Vodafone customer and now that I'm aware that Vodafone is associating and paying money / advertising fees etc. to a cheat I will seriously be considering changing over to another provider. You should be ashamed of yourself @VodafoneAU

— Straight up (@8678John) December 20, 2018
Yes we all make mistakes, however it still does not change the fact that you blatantly cheated. I actually do hope you become bigger and better as you at least showed remorse unlike the others, unfortunately your legacy will not be great a batsman but that you cheated!!!!!

— Straight up (@8678John) December 20, 2018
Good example of polishing a turd. Steven "Sandpaper" Smith gets a golden halo from one of his sponsors.

— Sam Varghese (@varghose) December 18, 2018
It wasn't a mistake, it was deliberate cheating. I object to you pretending that being sad about getting caught is the same as depression. I'm a long term Vodafone customer, deciding if I will continue to be one at the end of my contract.

— Kent Parkstreet the b6th (@kentparkstreet) December 20, 2018
So true. Irony just died rubbing #sandpaper on itself.

— Rajpreet kang (@RajpreetKang) December 20, 2018
Message to kids. Cheat..Get a smack on wrist then exploit the hell out of it, regain position in team and keep exploiting the hell out of it

— Bob (@Bob65931143) December 20, 2018
Are Cheats your heros vodafone ……howany careers must have been spoiled for this cheat to come to top

— Advocate Tanuj lodha ( LLB, CA, ISB) (@TanujLodha) December 20, 2018