Steve Waugh wins 'Wisden Photograph of 2020' for capturing brutal realities of children in Thar desert
Steve Waugh clearly showed that he is a multi-talented person.
Updated - Apr 16, 2021 2:45 pm
5.5K Views
Follow us on Telegram
Australian legend Steve Waugh bagged too much limelight in his cricketing days and his share of the success was also no less. His dominance even continued in India but in the latest turn of events, Waugh has clearly shown that he is one multi-talented person. It's just not only the bat with which he is capable of creating magic but this time, he has wonders with a camera in the hand.
Waugh has been awarded the 'Wisden Photograph of 2020' which added his name to another esteemed list. He was on a three-week trek in India in January 2020 where he captured the winning frame. The winning frame depicted children playing cricket in the Thar Desert in Rajasthan.
The winning shot was one of more than 200 pieces published by Waugh in his book titled- The Spirit of Cricket– India. The book was produced by Waugh with the help of photographer Trent Parke. Waugh described the same town Osian (where he clicked the pictures), in a brutal condition, and playing cricket seemed like every kid's necessity.
Steve Waugh describes his experience of clicking the picture
"You need to appreciate and love the game to endure the climate and conditions, and to prevail in a sport that requires time and patience. Many of the kids we came across in the local village had barely enough equipment to start a game. A battered stump and a perished rubber ball were good enough to get things started. Once the contest began, it didn't matter about the quality of the gear or the harshness of the terrain: it was all about the contest.
"Attitude and intent were etched on the kids' faces as they endeavoured to get one up on their mates and claim bragging rights for the day – exactly as kids do the world over when they come together to play sport," said Steve Waugh as quoted by Yahoo Sports.
Here his winning frame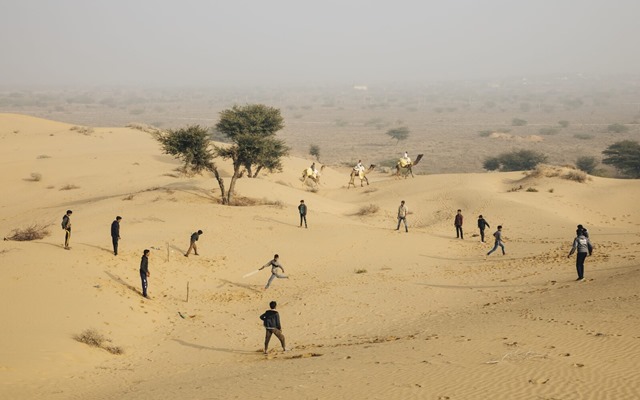 The cricketer added that he went in the morning hours of chilly January to capture these moments and even then, the local children played cricket with all their heart.
Follow us on Google News