Story of the man who changed Indian Cricket – MS Dhoni
Updated - Oct 20, 2014 5:39 pm
490 Views
"Dhoniiiiii finishes off in style" This epic line from Ravi Shastri after Dhoni hit the winning six in the final of World Cup 2011 still resonates in the minds of billion fervent fans of Indian cricket. It is one of the proudest moments for a substantial percentage of our population since the country got Independence. The man solely responsible for this success was our captain Cool Mahendra Singh Dhoni.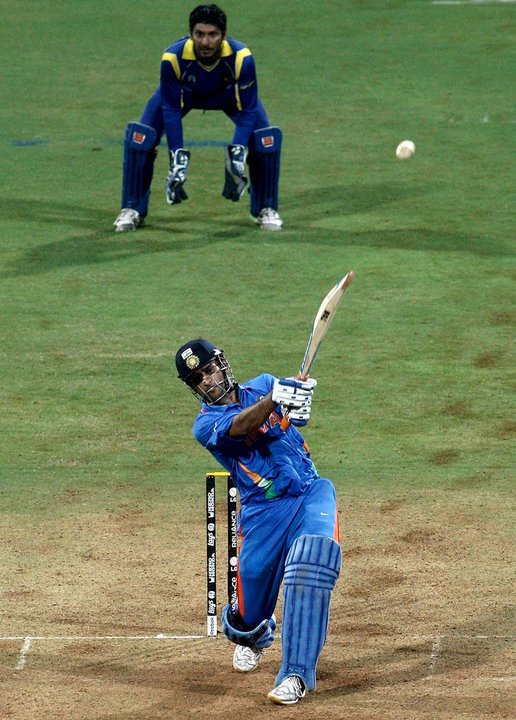 Follow us on Telegram
Trophies Galore in his store room but among all, 50 over World Cup trophy will indubitably be one of the most precious one for the aficionado of cricket in the country.
"From a ticket collector, he has become the collector of trophies now" He has the most decorated trophy cabinet in comparison to any other skipper in the world. Dhoni is the only captain to win all Major ICC events as he has won the 50 over World Cup in 2011, the T20 World Cup 2007 and the Champions Trophy 2013. Also among his big achievements are the IPL and the Champions league T20 which the Chennai Super Kings won twice under his leadership. So this brings me to a pertinent question, is he the best skipper cricketing fraternity has ever seen?
From where this journey started     
Let's turn your attention back to the March of 2007. The highly fancied Indian team was knocked out in the first round of the World Cup 2007 by subcontinent counterparts Sri Lanka and Bangladesh. Indian cricket was in a turmoil state.
Then Coach Greg Chappel's squalid comment questioning the commitment of senior players was the Prime Time focus of the News Channels. Reports indicating the rift in the team were coming out in media and few of the imminent faces of Indian cricket raised their voice against the TRIMURTI of Sachin, Rahul and Sourav asking them to hang their boots.
After 4 months of that debacle inaugural edition of T20 world cup was scheduled to be played in the month of September in South Africa. Indian board was of the belief that T20 cricket might kill cricket's original form i.e. Test Cricket so it was hesitant to send its team to participate in it. However, soon those dark clouds of participation were cleared and announcement was made that Indian team will participate in the tournament with a new skipper leading them.
The new captain was none other than long haired, stolid guy Mahendra Singh Dhoni. Sachin's numerous discussions with Dhoni in the slips convinced him that Dhoni's cricketing knowledge stands him apart from rest. He suggested his name for the all important job and very rarely a SACHIN TENDULKAR suggestion is turned down in Indian cricket. Some recommended Yuvraj with his experience will be the right man to lead but "THE MOST SIGNIFICANT DECISION OF INDIAN CRICKET WAS BEING TAKEN" Dhoni was appointed to lead the Indian team in South Africa.
SUCCESS after SUCCESS
Platform was provided to a natural leader to show its adroitness and what followed next will be written with golden words in Indian cricket history. Not even the most renowned astrologer would have predicted India returning back with a cup from South Africa. Most of the players in the team were young and naïve at the international level and some were making a comeback into the Indian team besides all these adversities Indian cricket witnessed its best 15 days defeating the tournament favorites South Africa, Australia and arch rivals Pakistan to clinch the title under the nifty leadership of Dhoni .From a long haired carefree cricketer he became the Unflappable CAPTAIN FANTASTIC and the hero of 1.25 billion people.
He led the team from front by example. He wonderfully instigated the self belief in the team .Team displayed fearless, audacious and flamboyant cricket as their leader. One thing that caught the eye of and all was his remarkable calmness under the most nerve wrecking situations and hence the name 'CAPTAIN COOL' came into existence.
His instinctive bowling changes, most popular one was giving the final over to rookie Joginder Sharma instead of old fox Harbhajan won India the world cup and simultaneously MSD won the hearts of billion .
After returning home from South Africa soon he got a haircut as 'need of the hour' demanded a more sober and sophisticated look. Some felt loss of hair might mean loss of fortune for skipper but these things were just SPECULATIONS .There was no looking back for this Ranchi lad .Rahul Dravid gleefully stepped down from captaincy and Dhoni became the skipper of ODI side too.
His best Quality
Erudite often tell us "Don't get flatter with your success or disheartened with your failure" this is the mantra to be successful in life and MS Dhoni possess exactly these qualities. Neither we see him jump all over someone on a poor performance nor he shows too much of enthusiasm after triumph,  in fact in the felicitation ceremony he hands over the trophy to younger guys and silently moves into the back row. This has become a trademark of Dhoni which acknowledges he is not only a champion cricketer but also a great human being.
World Cup Triumph
Since Dhoni took charge of ODI team he and selectors had the vision of 2011 WC in mind .Dhoni wanted youngsters in side and selectors provided him .Ganguly and Dravid were dropped from the Indian team to the tour of Australia this decision was hard to fathom for some proficient but very quickly this bold decision reaped in great rewards as India went on to win the Commonwealth Bank Tri Series Down under abashing mighty Australians in their own backyard.
In the past we have seen Indian skipper succumb under the burden of Captaincy and with that their batting get severely affected but none of this happened to Dhoni he took his batting to a different level once he became captain .From a hard hitting batsman he became a more conservative and a responsible one .He became one of best finishers of the game and "Cometh the hour, Cometh the man cricketer for the team".
In 2009 India became the top ranked test nation first time in its history. In 2010, India won the Asia Cup after decades. It also won numerous bilateral series both overseas and at home in this time period.
In 2011 came the litmus test for captain cool , The daunting challenge of winning the World Cup on home soil which no other team has managed to do it ever before. India were favorites going into the tournament but that counted for nothing once tournament began. Success in it would have secured him a place in pantheon.
Men in blue lived up to the expectation of 1.25 billion people and won the World Cup after 24 long years. Dhoni's astute bowling changes were exemplary and under him team had that unique unified spirit which played the influential role in winning the World Cup. He promoted himself up to number 4 in the final and played a bruising knock of 91* that helped India brush Sri Lanka to lift the cup.
After World cup victory Dhoni was hailed as a National Hero he was at his pinnacle and so was the BRAND DHONI. Soon Dhoni overtook Sachin as the most popular Television endorser. In world Cup he was seen in 29% of advertisement handsomely ahead of Master Blaster Sachin Tendulkar who was seen in just 7% of commercial. Almost every big brand wanted Dhoni to endorse their product and for that they were ready to give any amount of money as much as 12 CRORE for a single advertisement .
THE SLUMP
The biggest irony was within 3 months from being a national hero Dhoni turned into a villain as India lost all 8 Test matches which it played in England and Australia.  Question marks were being raised over Dhoni's captaincy. The likes of Sehwag , Gambhir and Harbhajan  who always played a significant role in India's success  were constantly failing to live up to their  expectations.
Then came the 2013 IPL fixing fiasco probably the toughest time in Dhoni's career .Fans were skeptical about his integrity and veracity as Gurunath Meiyappan  (Team principal of Chennai Super Kings and son in law of N Srinivisan  was arrested). The extrovert Dhoni opted to be completely numb on this topic, in spite of the several questions of media.
Statistical Overview
Let's not just talk in words; here are the stats MS Dhoni has achieved in his career so far which speak for him. MS Dhoni's Overall Record in One Day International cricket are 249 matches, 8186 runs at an average of 53.15 at a starring strike rate of 89.26. The highest score for him is 183* against Sri Lanka at Jaipur, where he was un-stoppable. Dhoni has hit 9 tons and 56 half-centuries to date.
Dhoni's stats in successful run chase 62 matches 1993 runs 2 hundreds and 14 half-centuries and averages the highest of 104.89. He is regarded as the best finishers ever in limited over's cricket virtues of this attribute. Dhoni stays as calm as cucumber in most testing of situations MS Dhoni holds his never better than anybody can.
Dhoni in tests has been a little different for him, has not been that big a success in tests as in ODI's. He has played 88 test matches in the Indian whites hit 4808 runs averaging 38.46 and has 6 centuries and 33 half's.
Dhoni is also the most successful Indian skipper ever in terms of number of wins. Under him Indian team has won most number of ODI games as well as in the longer format. T20 cricket since its inception has seen no other man leading Indian team, other teams in world cricket have seen a couple of captains since 2007 but the man is still going strong for India.
Pioneer Response  
A month later Indian team went to England for the Champions Trophy .Team was in a transition phase many of the senior players like Sehwag, Gambhir, Zaheer were replaced by youngsters. Dhoni was under severe stress of IPL fixing fiasco but he silenced all his critics in style by winning the Champions trophy. It was a fitting reply to all those who raised a finger on him.
After defending a modest total of 120 odd to win the champions trophy in a rain affected match. Nasser Hussain in the post match interview asked him what did he said in the hurdle before the first ball Dhoni replied and I quote "I told my players don't look upwards God is not going to help you, fight out on pitch. We are the World Champions and number 1 ranked team in world so let's play like that" These words beautifully summed up how he instigates inspiration in his team mates.
In all these year he has received tons of fame and glamour. He is the trendsetter of Indian cricket but he is still the same stolid, modest, feet on the ground kind of a guy. He is one of the honest players around and that is quite evident in his press conference or post match interview in which he always speaks his heart out telling everything in the most gracious manner.
He wasn't a child prodigy, his batting technique by no means is exceptional and there are better Wicket-Keepers in India than him but what makes him better than any other average player is the all round package of implausible leadership, Finishing + Power Hitting and clinical Wicket Keeping .His determination, exceptionally strong will power, Hitting prowess and immense self belief in the skill he posses makes him a notch better than any other cricketer.
There are people who credit his success to sheer luck but there is a proverb which says "Luck favors the brave". So let's accept MSD is a living legend and a "KOHINOOR DIAMOND "of Indian cricket he is the man who has changed Indian Cricket.
Follow us on Google News