Stuart Broad celebrates victory with his girlfriend and a drink
Updated - Aug 19, 2014 2:15 pm
44 Views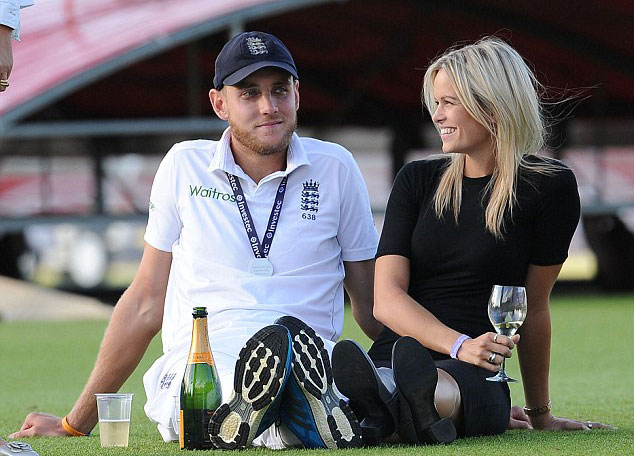 Follow us on Telegram
Stuart Broad who played a real vital role in England's 3-1 win over India in the Investec test series. He proved out to be a brilliant new ball partner to senior pro James Anderson and also ended up among the highest wicket takers in the series.
A win in which he had his inputs calls for some celebration. The team looked on cloud 9 after they were handed over the trophy and the party had just begun at the Oval.England team would exactly know how sweet this victory is after they had suffered two series losses first to Australia in the Ashes and then to Sri Lanka at home.
The mode of celebration was milder this time, as compared to the one they did by urinating on the Oval pitch last time when they won here.
Broad had his female partner his girl friend Bealey Mitchell seated besides him in the out-field of the ground. The two shared the moment of joy and few drinks to celebrate the occassion. Soon after the win Broad was asked by Sky sports for his views about the way this match and the series panned out in their favor. Broad said, 'We knew if we did similar to the first innings and got the ball full enough to encourage the drive, we'd have results,'
He also accepted the fact that they did not expect to win this one so quickly, "Obviously we didn't dream we'd get 10 wickets as quickly as that, but we deserved it. We put a lot of hard work in all summer."This was not an easy series for England and Broad as England first conceded series lead to India after two tests and Broad had to suffer a serious blow on his nose from a Varun Aaron bouncer that almost broke his nose.
Both his team and he himself fraught back hard and mended the game and outcome of the series their way.
Follow us on Google News