Stuart Broad speaks about the dominance over David Warner in Ashes 2019
"I had an added responsibility to try and get their big players out," he said
Updated - Sep 18, 2019 7:10 pm
545 Views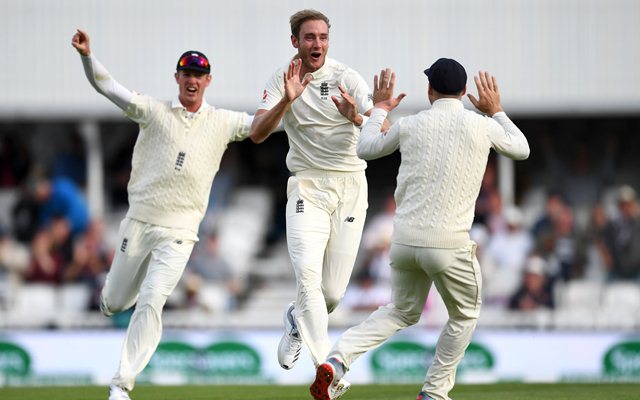 David Warner had a torrid time in Ashes in the whites. After his domination in the World Cup 2019, the left-hander was expected to rule in the longest format as well. However, English pacer Stuart Broad troubled him time and again and also exposed several of his flaws. Warner was left clueless more often than not. He found it particularly hard when Stuart Broad attacked his stumps while coming from around the wicket.
He was either trapped LBW in front of the stumps or had his wickets go for a walk. Overall, the English pacer managed to dismiss Warner on seven occasions in five Tests. As a result, David Warner bagged quite a few embarrassing records. His 95 runs are the least in a series for a batsman who batted in at least 10 innings.
Stuart Broad claims to have done a lot of planning on David Warner
Stuart Broad said that he never dreamt that he'd find so much success against the 33-year-old. He stated that he had an added responsibility to try and get Australia's big players out. Moreover, he even claimed to have done a lot of planning on Warner. He said that both of them would nearly be on par in their numbers are put together over the course of their careers.
Broad said that it went his way this time but even admitted that Warner outdid him on many occasions. "I had an added responsibility to try and get their big players out and that's why I did a lot of planning on David Warner," Broad was quoted as saying in cricket.com.au.
"I never dreamt that I would have the success against him that I've had but, of course, that is just in this series. If we put our numbers together over the course of our careers, with how much we have played against each other, I think they would be quite even. He has outdone me in many a series but this time, it went my way," he added.
Despite Stuart Broad's great success against David Warner, England failed to win the Ashes 2019. While the series was levelled at 2-2, it is Australia who managed to retain the Ashes as they won it the last time. Steve Smith scored 774 runs and was named the visitors' Player of the Series.
Watch: 5 Cricketers who played for two countries