Stuart Clark discloses that Steven O'Keefe is completely distressed with his actions
"I have a big challenge ahead and I am determined to meet it with actions, not just words" says O' Keefe
Updated - Apr 13, 2017 5:05 pm
1.1K Views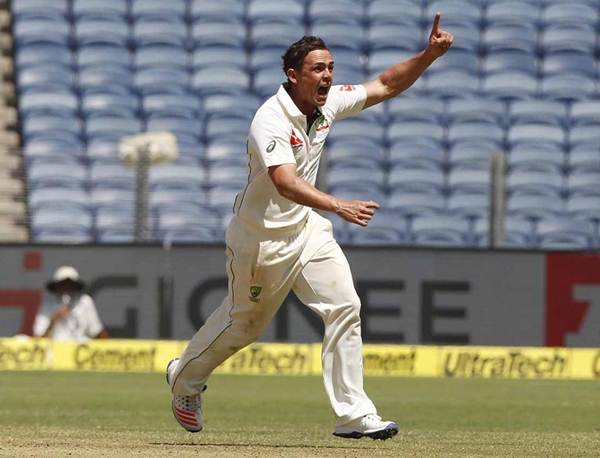 In a recent interview with Fox Sports, Stuart Clark revealed that Australian left-arm-off spinner Steven O'Keefe is completely distraught by his actions after he abused a female cricketer at an award ceremony in an inebriated state. Due to his misdemeanour at the award function, he was fined $20,000 and banned for taking part in the next season of the Matador Cup.
Earlier this year, Steve O'Keefe impressed one and all with his fine bowling performance in the recently concluded Border-Gavaskar trophy. The New South Welsh man was the standout bowler in the Pune Test match as he walked away with 12 wickets in the match.
O'Keefe's long time team-mate and friend disclosed that the left-armer has taken full responsibility for his actions and that he has a persistent alcohol-related problem. Clark also suggested that it's not the first time that O'keefe has been involved with an alcohol related issue. O'Keefe was also handed an Infringement Notice by NSW police for misconduct a few months back.
"He was very, very distressed about what he's done. He's accepted full responsibility. He's not blaming it on anyone else. He realises he may have an issue when he has too much alcohol.He's done this before and when he has too much (to drink) or when he gets intoxicated he gets himself into trouble." quoting Stuart Clark from his interview at Bill and Boz show on Fox Sports 500.
"He's apologised to the lady. He's apologised to all the wives of all the players because apparently, it was in the company of all of them." added the former Australian International. Steve O'keefe went ahead to take full responsibility for his actions and was ready to receive counselling. He further added that he will meet his words with appropriate actions.
"At an official Cricket NSW function, I became intoxicated and made highly inappropriate comments, here is no excuse for this and I take full responsibility and offer an unconditional apology.I accept the sanctions imposed by Cricket Australia and Cricket NSW and welcome the chance to receive specialist counselling.I have a big challenge ahead and I am determined to meet it with actions, not just words." quoting O'Keefe from his apology statement.
"But he's filthy about the 20 grand because he's a massive tight-arse," Clark said. "So don't worry, it's hurting him. It's hurting him a lot." concluded the seamer in his witty ways.
32-year old O'Keefe might have had played his last test match for Australia, as the next prominent series for the Aussies are against South Africa where pace bowlers will get a nod ahead of the spinners.