Superman Shafiqullah plucks the leather out of thin air
Shafiq evaded the scare and the hosts erupted in jubilation.
Updated - Jun 8, 2018 4:29 pm
1.4K Views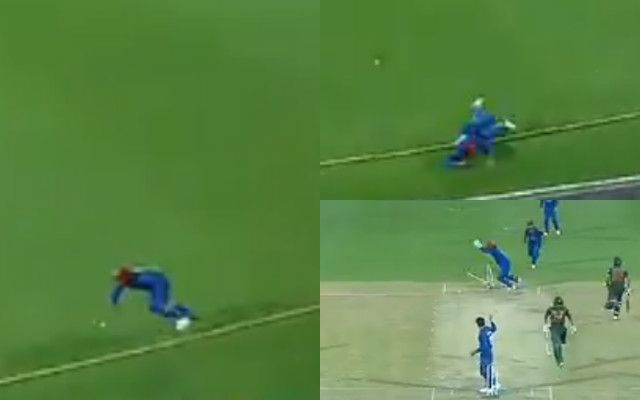 Supernational powers exist only in comics and capture the imaginations, especially of the young generation. They are the figment of one's imagination and a realistic presentation demands something superior to herculean. However, the Rajiv Gandhi Stadium in Dehradun was a witness to a paranormal display of fielding by a jumping jack, it was Shafiqullah 'Superman' Shafiq.
He is no superhuman, but a cricketer made of bone and flesh. Nevertheless, his masterclass at the long-on boundary was titanic. It didn't only halt the projectile of the leather from tracing into the stands, but also helped Afghanistan to a series whitewash versus Bangladesh, captained by Shakib Al Hasan. The hosts required 9 runs from the last over and the onus was on Rashid Khan to defend the total.
Shafiq's brilliance
With four runs required from the last ball, the leg-break bowler bowled a wrong'un wide outside the off-stump. The delivery was wide and hence, Ariful Haque had to fetch the ball. Nonetheless, he played with the turn and tried to clear the boundary downtown. The ball didn't find the middle of the bat but seemed to have enough to end up amongst the crowd.
During the leather's journey over the ropes, one of the commentators shouted 'six'. He couldn't have been mistaken for his words. Shafiqullah Shafiq had other ideas, he arrived out of the blues, stuck his left hand out and palmed the ball into play. His job wasn't done as the momentum of the ball was still towards the boundary. He saved the six and had to save the four to seal his team's victory.
To add to Shafiq's difficulty, he tripped over and most importantly, his impetus took him over the hoardings. He didn't lose his calm and kept the ball in play, but the decision went upstairs as Shafiq's foot looked like touching the ground at the point of his hand's contact with the ball. However, he evaded the scare and the hosts erupted in jubilation.
Here's the video
Just incredible !!!! 👏#AFGvBAN @IndianCricNews pic.twitter.com/ZBvMR6TupI

— Aditya Suman (@cricadi03) June 8, 2018