Suresh Raina made a mistake in his social media post; faces criticism
Social media was abuzz with memorials and celebrations during the day while Raina made a blunder.
Updated - Nov 16, 2018 4:25 pm
1.5K Views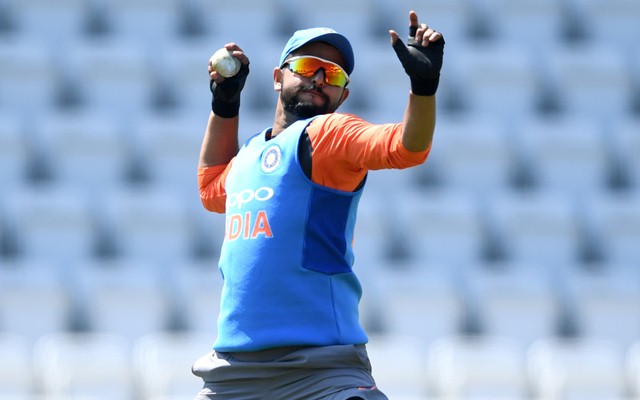 Follow us on Google News
India observed National Education Day on November 11, which marked the 130th birth anniversary of freedom fighter and the country's first education minister Maulana Abul Kalam Azad (1888-1958), this year. The social media was abuzz with memorials and celebrations during the day but one cricketer made a blunder by posting a wrong name to describe Azad and was criticised for the same. He was also asked to rectify the name.
Suresh Raina, one of India's limited-overs specialists, tweeted on November 11 paying tributes to Azad but he called him as "Abdul Kalam Azad" instead of Abul Kalam and the Twitterati was clearly not amused. The cricketer though did not delete the tweet. Maybe Raina, who is busy playing in Ranji Trophy for his state Uttar Pradesh at the moment, messed it up between APJ Abdul Kalam, the late president, with Azad for India's 'Missile Man' is remembered more vividly nowadays.
Education can change the world! Remembering India's First education minister, freedom fighter and educationist #MaulanaAbdulKalamAzad on this #NationalEducationDay! pic.twitter.com/K4926I0E0m

— Suresh Raina🇮🇳 (@ImRaina) November 11, 2018
Raina, a regular in the Dhoni era
Raina, who was once deemed a special talent by Greg Chappell, India's infamous coach in the mid-2000s, was a regular member of India's limited-overs team in the Mahendra Singh Dhoni era. He is not a regular any more in the national side and last represented India on the international stage in the ODI series played in England in July.
Raina did not play in the ODI and T20I series against the Windies at home recently and given the number of players have emerged for the side's middle-order berths, it is unlikely that the 31-year-old will make it to the World Cup squad this time.
The southpaw has played in 18 Tests, 226 ODIs and 78 T20Is since 2005 and scored almost 8,000 international runs with seven hundreds in the three formats. He also has 62 international wickets and is known for his late-innings acceleration and decent fielding hands. The man is also known to be aware of everyday affairs but his tweet on Abul Kalam's birthday was a gaffe he himself would not have wanted.
Here's how Twitter criticised him:
Raina bhai #abdul nhi, #abul hai

— Yogi yogi (@vcaoo) November 11, 2018
Sir thats Abul kalam not abdul kalam… I think you have no clue of him, who he was… Do correct it

— Mrutyunjay Joshi (@MrutyunjayNJ) November 11, 2018
Its Abul Kalam Azad not Abdul

— Nimra Riaz Jajja (@NimraRiaz88) November 11, 2018
I am surprised you haven't been called anti national yet. 😅😂

— Zak Haan (@hanzak95) November 11, 2018
Raina his name is Maulana Abul Kalam Azad., pic.twitter.com/T9W6Rv3bNw

— Syed Atif Yamani Quadri (@atif_yamani) November 11, 2018
It's Abul Mr. Hitter

— SATYAM TRIPATHI (@satyamoffice) November 11, 2018
It's Abul Kalam Azad, Suresh bhai

— Waqar Khan (@WAKhan339) November 11, 2018
Not Abdul Kalam Bro It's Abul Kalam.

— Md. Asraf (@Araf38459419) November 11, 2018
Follow us on Telegram