Syed Mushtaq Ali Trophy Winners List From 2009 to 2021
Syed Mushtaq Ali Trophy has helped many young stars in getting their maiden IPL contract.
Updated - Nov 22, 2021 4:23 pm
12.8K Views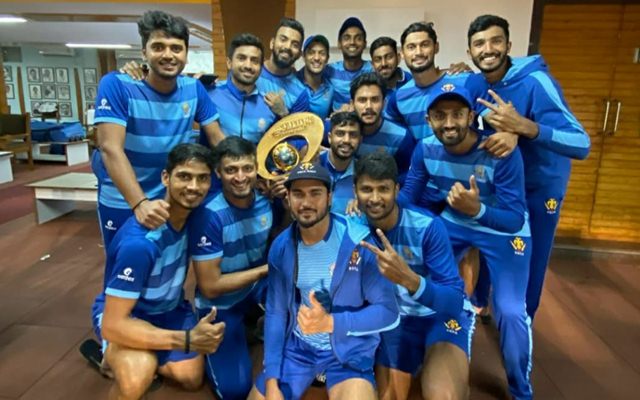 Follow us on Google News
Syed Mushtaq Ali Trophy is the Indian domestic T20 championship organised every year by BCCI. All the teams that take part in Ranji Trophy feature in this tournament as well. It is named after former Indian Test cricketer, Syed Mushtaq Ali. The trophy was inaugurated back in the 2006-07 season with 27 Ranji teams divided in 5 Zones. Initially, it was started with the name Inter-State T20 Championship which was later renamed and relaunched as the Syed Mushtaq Ali Trophy.
The format of the tournament has constantly changed over the years. In the earlier seasons, winners and runners-up of each zone qualified for the knockout stage. In the 2012-13 season, the knockout stage was replaced with a Super League. In this, zonal winners and runners-up were divided into 2 groups and the winners of each group clashed in the final.
In June 2016, BCCI decided to conduct the trophy in a zonal-based competition but reverted to the earlier format from next season. The latest format consists of 38 teams divided into six groups. In this, five are elite groups comprising six teams each, and one plate group with eight teams. A total of six sides from the top-ranked teams in each group make it to the knockout stage. Along with this, the top 2 ranked teams from the 5 elite groups join to make a total of 8 teams.
The Syed Mushtaq Ali Trophy have gained popularity among the IPL scouts in recent years. The BCCI have also tried to schedule the tournament a few weeks before IPL auction in the last few years. This has helped many young stars in getting their maiden IPL contract. In this article, we will be listing out winners of the tournament in each season. The three teams Baroda, Gujarat and Karnataka have won the title three times each.
Syed Mushtaq Ali Trophy winners list
| | | | | | |
| --- | --- | --- | --- | --- | --- |
| Year | Winner | Score | Runners-Up | Score | Result |
| 2021/22 | Tamil Nadu | 153/6 | Karnataka | 151/7 | Tamil Nadu won by 4 wickets |
| 2020/21 | Tamil Nadu | 123/3 | Baroda | 120/9 | Tamil Nadu won by 7 wickets |
| 2019/20 | Karnataka | 180/5 | Tamil Nadu | 179/6 | Karnataka won by 1 run |
| 2018/19 | Karnataka | 159/2 | Maharashtra | 155/4 | Karnataka won by 8 wickets |
| 2017/18 | Delhi | 153/6 | Rajasthan | 112 | Delhi won by 41 runs |
| 2016/17 | East Zone | – | Central Zone | – | – |
| 2015/16 | Uttar Pradesh | 163/7 | Baroda | 125/7 | Uttar Pradesh won by 38 runs |
| 2014/15 | Gujarat | 123/8 | Punjab | 117/9 | Gujarat won by 2 wickets |
| 2013/14 | Baroda | 144/7 | Uttar Pradesh | 141/7 | Baroda won by 3 runs |
| 2012/13 | Gujarat | 128/4 | Punjab | 122/8 | Gujarat won by 6 wickets |
| 2011/12 | Baroda | 149/6 | Punjab | 141/8 | Baroda won by 8 runs |
| 2010/11 | Bengal | 142/7 | Madhya Pradesh | 141/8 | Bengal won by 1 run |
| 2009/10 | Maharashtra | 119 | Hyderabad | 100 | Maharashtra won by 19 runs |
Follow us on Telegram