Team England advertise for hiring new bowling coach after Gibson's exit
"The role is highly likely to involve work during unsociable hours, weekends and school holidays, and will require extended periods away from home on overseas camps and tours."
Updated - Sep 2, 2017 9:34 pm
100 Views
The England and Wales Cricket Board (ECB) have taken to a unique route in their search for new bowling coach for the national side. They recently put on an advertisement on their official website regarding the same. It is not a usual thing for a high profile international team to be advertising a 'we are hiring' template for the role of a coach, or any high authority position for that matter.
While the move from the ECB looks very unique and catchy, it might actually have backfired for them as well. A few people, who would have earlier been interested in taking up the job, might now see this as a very ordinary opportunity for the reason that it is being broadcast in such a way. Also, this could backfire in another way with too many applicants vying for the job – even the ones who might not be totally eligible for the same.
Talking about the advertisement put forth by the cricket board of England, the application states that the candidate will be offered a 'competitive salary'. It also states that the working hours might well be very unsociable at times. The candidate might well be asked to work on the weekends, school holidays and other times as well.
Moreover, it states that the candidate will have to travel overseas and serve for the home tours as well. In all fairness, it looks like a total corporate job that they are offering. The reason why they took this approach remains unknown and largely incomprehensible at the moment. The former head bowling coach of England, Otis Gibson, recently became the head coach of South Africa.
An excerpt from the job description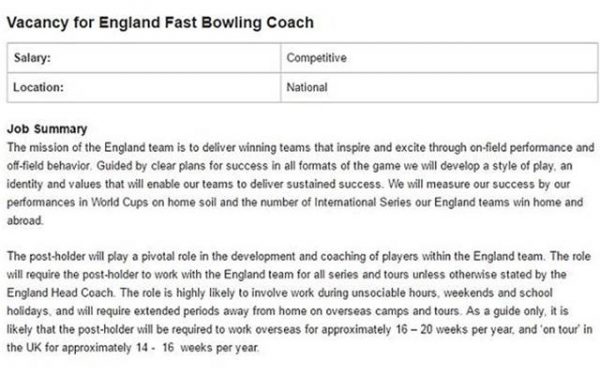 "The role is highly likely to involve work during unsociable hours, weekends and school holidays, and will require extended periods away from home on overseas camps and tours. As a guide only, it is likely that the post-holder will be required to work overseas for approximately 16 – 20 weeks per year, and 'on tour' in the UK for approximately 14 – 16 weeks per year."