Team India sponsorship up for grab, over 500 crore at stake
Updated - Feb 17, 2017 10:42 am
50 Views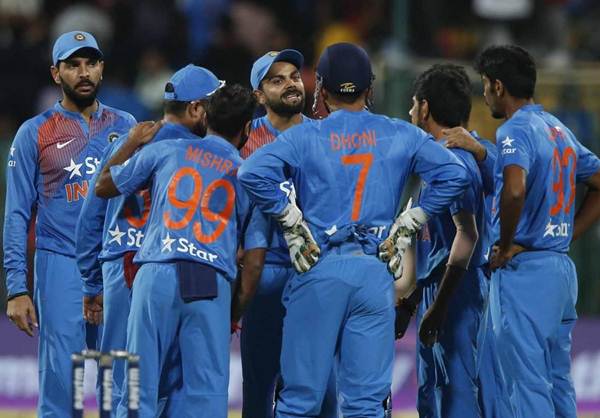 Team India is undoubtedly the most successful outfit in the world of cricket. The sponsorship for the national side is now up for grabs. The Board of Control for Cricket in India (BCCI) is sure to fetch a minimum of INR 538 crore by selling the sponsorship rights for the next five years. The Indian team is currently sponsored by Star India. They have the sponsorship rights till March 31.
The BCCI has thus invited the interested parties to take up the sponsorship for the next five years starting from April 1. In the five years that follows, the national side is expected to play a minimum of 259 matches. This includes 238 bilateral matches and 21 ICC tournament matches.
The major ICC tournaments coming in the next five years are as follows: ICC Champions Trophy in June 2017, 2019 ICC World Cup, 2020 ICC World T20, and 2021 ICC Champions Trophy. The phase for the sponsorship can be summarized as from April 1, 2017 to March 31, 2022. The base price for the bilateral matches has been set at INR 2.2 crore.
At this price, the BCCI is set to earn close to INR 523.6 crore from the bilateral matches. On the other hand, the base price for the ICC tournament matches has been set at INR 70 Lakh. The number of ICC tournament matches is 21 – which is the minimum number of matches that the outfit will play. Considering the 21 matches, it amounts to INR 14.7 crore from the ICC properties.
"We've had a promising start to the tender process with interested parties buying the tender document. We look forward to concluding the process and announcing the team sponsor for the next five years on March 7," a BCCI spokesperson quoted in ET.
"BCCI has delivered the highest value in team sponsorship across all the cricket teams in the world. And it has done that consistently for 20 years," the spokesperson added further.
The sponsorship of the Indian team dates back to 1993 when the BCCI had handed the contract to ITC (Wills). ITC had paid INR 45 crore to BCCI for the sponsorship back then. Later in 2002, Sahara India Pariwar became the new sponsors of the team. It was in 2014 when the current sponsors, Star India, bagged the rights for 3 years.