Team mate Ricky Bhui reveals Mustafizur Rahman's biggest fear
Updated - May 25, 2016 10:41 am
136 Views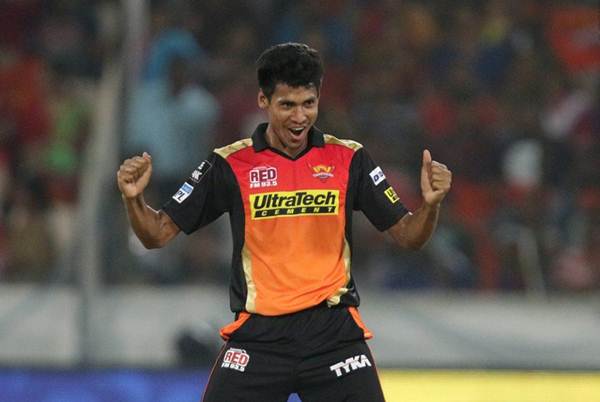 Mustafizur Rahman continues to stay in the limelight with his wonderful bowling spells in the IPL. Batsmen still have not been able to figure out Rahman's tricks and therefore look clueless against him most of the time. The young fast bowler from Bangladesh even stated earlier that no batsman bothers him. But, everyone has some weakness.
Speaking to ESPNcricinfo, Rahman's Sunrisers Hyderabad teammate, Rickey Bhui, shared some interesting things about the 20-year old's personality. Bhui says that Rahman dreads only two things –Speaking English and batting.
Bhui quipped, "Mustafizur Rahman is afraid of only two things – batting and speaking English. Mera aur Mustafizur ka achha banta tha (Mustafizur and I get along very well)."
The Bhopal-born Bhui is well versed in Bengali which made him a translator to Mustafizur. Bhui says that he would explain the Bangladesh cricketer about the team strategies.
He asserted, "The role he would be required to play in the first 10 overs or the latter half, what he had to bowl to each batsman and which field he had to bowl to needed to be explained to him. During the strategic time-out, I would go and translate Warner's instructions and the field set for him."
Having been away from his hometown for three months or so, Mustafizur also has to grapple with homesickness. Bhui affirmed, "He always talks about his background and his family. He keeps talking to his brothers on Skype a lot."
The left-armer apparently uses sign language to communicate with players on-field. Rotation of wrists indicates the slower ball and pointing to the head tells the keeper that a bouncer is on its way.
Bhui claimed, "He says only two words – problem and no problem. Not just on the ground but everywhere; be it a press conference or sponsor event or when he speaks to the manager. If he says 'problem', he is totally clueless. If he says 'no problem', then he knows what to do."
Sunrisers Coach Tom Moody felt that Mustafizur was a huge asset to the team and enjoying the atmosphere in India. The 50-year old said, "Not that our Bengali has got any better but his English has probably got a little bit better. Also, cricket is a pretty universal language."
He disclosed, "As a person, he is a good character around the team. He is quite a funny guy, you can see that he has got a bright personality. And you know, he has added value to the side not only on the field but also off the field."
Mustafizur arrived in the IPL with the reputation of being a wonder kid and has lived up to it with 16 wickets from 14 matches for Sunrisers Hyderabad, at an economy rate of 6.71. SRH fans will hope Mustafizur produces a match-winning spell when his team faces a stern test against the Kolkata Knight Riders in the Eliminator.