Tewatia proves he's no one-time wonder
In hindsight, Smith's overthrow proved fatal. But fortunes favoured Tewatia and the Titans this time, and it favours only the brave.
Updated - Apr 9, 2022 4:04 pm
158 Views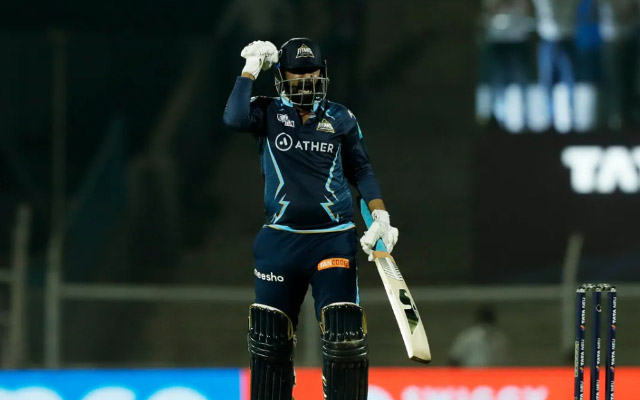 Follow us on Telegram
Not often on the night a batter musters a sumptuous, boundary-laden 59-ball 96 is the narrative dominated by a three-ball 13 not out. But that's the power of this man who finishes games like nobody's business. "What flows in his veins? It has to be ice," Sunil Gavaskar self-answered while he, like many on April 8, stood in awe of what Rahul Tewatia did to – guess who? – Punjab Kings.
As scientifically irrational as Gavaskar's statement was, there are not many better ways to describe the ice-cold finisher Tewatia, who did a Tewatia again. You would ask whether it is fair to sobriquet someone like that, jargonising a surname to define a sport-situation, but Tewatia has himself to blame, having earned the label two IPL editions ago when he transformed a seemingly match-losing knock into a match-winning one to help Rajasthan Royals, his then franchise, pull off one of IPL's most staggering, unimaginable heists.
On that night, millions blundered in writing off Tewatia, who persevered his way to 5 off 10, then 5 off 13, then 8 off 19, and 17 off 23, before miraculously finishing 53 off 31 in a knock that will be emblazoned in cricket folklore until eternity. Tewatia, at one stage, struggled to put bat to ball, and while it might not have attracted such severe wrath on another occasion, on a night he was promoted ahead of established names to keep a daring 224-chase attempt on track, he became an instant villain.
In arguably one of cricket's most remarkable redemptions, Tewatia stormed back in the grandest style possible, whamming seven sixes – five of those consecutive against an ill-fated Sheldon Cottrell – to assist his team script the highest successful chase in IPL history. But once the victory dust settled, a burning question lingered: is he a one-time wonder? Remember, as great a leveller sport is, it can be equally cruel. Many a Tewatias withered without blossoming ever; some of them we know and many we don't.
But Tewatia, it seems, is not the one to wither away. On Friday, he lived up to the expectations again, with another man from the Caribbean – Odean Smith – bearing the brunt of his assault. Gujarat Titans suddenly found themselves needing 19 off the last over despite being in control of the 190-run chase for the most part, thanks to Shubman Gill's 96, a match-winning knock in its own right which Tewatia nearly overshadowed with only a three-ball outing in the middle.
Gill struck a solitary six and 11 fours in his knock, another hit to the fence would have taken him to his maiden IPL century, but he played a wide Kagiso Rabada full-toss straight into the hands of extra cover to fall four short.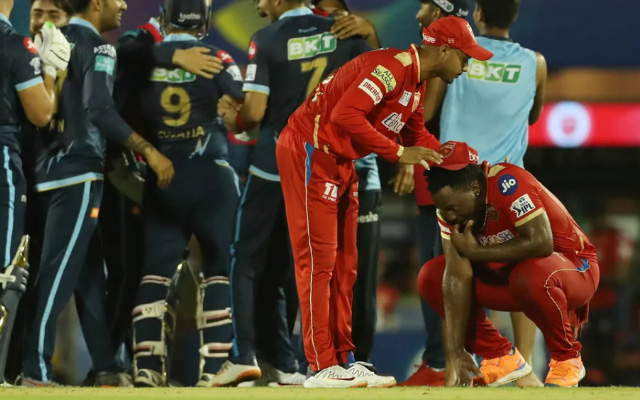 The Titans were now walking a tightrope and the threat of being reduced from a Player-of-the-Match effort to one of the best in a losing cause loomed large on Gill's innings. So, how was the danger evaded? Or rather who evaded it? The man with ice, not blood, in his veins.
With 19 to defend, Smith started with a wide before Hardik Pandya was dismissed run-out for 27. Smith kept Tewatia down to a single on the next but was guilty of delivering a slower one right in David Miller's arc to be thwacked towards deep square leg for four.
The biggest miss, however, was an overthrow while attempting a run-out at his end on the next ball, which did not only cost his team an extra run but also brought the marauder Tewatia back on strike, with the equation distilled down to 12 needed off two. In hindsight, Smith's overthrow proved fatal. But fortunes favoured Tewatia and the Titans this time, and it favours only the brave.
The math, now, was simple, but only Tewatia could have pulled it off so simply. Having got one in his arc, he obliged by sending Smith over deep midwicket where the fielder could not throw the ball back into play despite getting a hand to it. Tewatia then correctly pre-empted the next ball, shuffling across to slog it over long-on from wide outside the off-stump for another six. And just like that, he saw his team home again, bringing back the memories from that fateful night in Sharjah.
He built himself a reputation with that knock, but what he also built was an expectation – the expectation of being able to do such unthinkable again; of being able to do a Tewatia again. A little under a couple of years later, he is still away from being a finished product, but it is clear, he was no one-time wonder.
Follow us on Google News