'Thank you for almost finishing my son's career' – Chris Broad to Yuvraj Singh after his six sixes in an over off Stuart Broad
'You are the future of England, I'm sure you are gonna do great things,' Yuvraj told Stuart after the incident.
Updated - Jun 12, 2021 1:21 pm
26.1K Views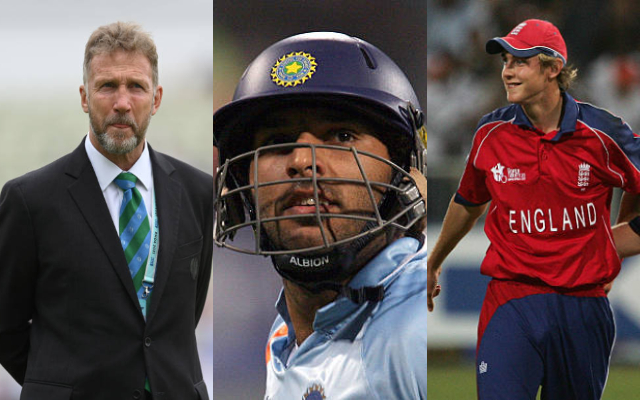 Follow us on Google News
In the 2007 ICC T20 World Cup, Yuvraj Singh smashed Stuart Broad for six sixes in an over. That was Broad's first year in his international career. Though everyone who saw him felt he was talented, his performance in that match had a lot of people doubting his skills. Years later, Yuvraj has revealed how Stuart's father, an acclaimed match referee, and former England cricketer, Chris Broad reacted to this incident. 
During a recent interaction, Singh talked about the semi-final match which India played during that World Cup against Australia. He revealed that Chris Broad was the match referee in that game and he came up to Yuvraj and said 'thank you for almost finishing my son's career.' At the time, Yuvraj said to him that it was nothing personal, but he knows how it feels as he has been hit for five sixes in an over himself. 
A month before that tournament, India was on the tour of England, when Dimitri Mascarenhas smashed Yuvraj's last over in the Oval ODI for 30 runs, which came off five consecutive sixes. The southpaw got his revenge with interest just a month later in Kingsmead, Durban at the world stage. The former cricketer further revealed what Chris Broad said to him. 
Yuvraj Singh gave a jersey to Stuart Broad motivating him after the six sixes
"He was like 'you have to give that shirt to Stuart, the one you wore while hitting six sixes.' I gave him the shirt and wrote 'I know how it feels, coz I have been hit for five.' I said 'you are the future of England, I'm sure you are gonna do great things.' And look where he is today, more than 500 Test wickets," Yuvraj said during an episode of the 22 yarns podcast with Gaurav Kapur. 
On Friday, Broad surpassed Curtly Ambrose to become the sixth-highest wicket-taker ever in Test cricket. He now has 520 wickets, among pacers just behind Glenn McGrath (563) and his teammate, James Anderson (616). Coming back to Yuvraj, the former Punjab batsman, further said that what happened with Broad being hit for six sixes, is something that can happen in cricket, but a person has to bounce back. There is no inch of doubt that Broad definitely has come back. 
"See, it can happen to anyone. You can have a bad day and when you do, only you are a person who can understand what is actually going on. You work hard day in and day out to give the best for your country," Yuvraj added.
Follow us on Telegram