'Thank you Purane, time to move on' – Twitter reacts after Cheteshwar Pujara, Ajinkya Rahane fall cheaply again
Pujara and Rahane were dismissed for 3 and 0, respectively.
Updated - Jan 3, 2022 4:17 pm
9.2K Views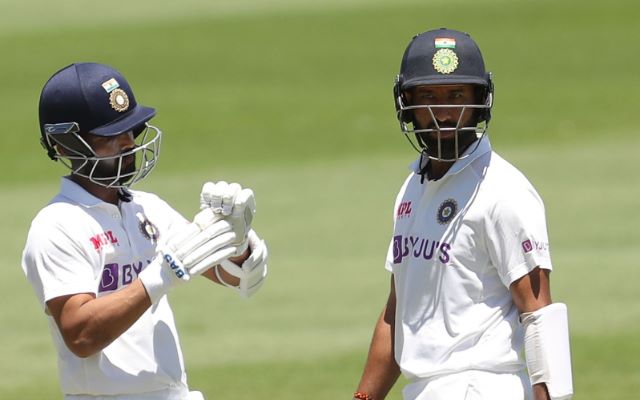 Follow us on Telegram
Having won the first Test at Centurion, India were looking set to wrap up the series with a win at the Wanderers. The bowling attack clicked really well, but there was little concern over the dismal show of India's middle order. Cheteshwar Pujara and Ajinkya Rahane haven't been in the best of forms in 2021 and their places have been in jeopardy for a long time now. The experienced campaigners suffered yet another setback with early dismissals in the second Test as well.
With 0 and 16 in the first Test, Pujara needed a big score under his belt for sure. He came into the crease after the downfall of Mayank Agarwal at 36 for 1 and took his time as he played 33 deliveries for just three runs. But he was dismissed by Duanne Olivier soon. Pujara averages just 28 in 14 Tests in 2021 and his overall average has dropped to 44. He hasn't scored a century since January 2019 now and it does impose a big headache for the Indian side.
Ajinkya Rahane goes for a golden duck
Ajinkya Rahane did deliver to an extent in the previous Test in Centurion, despite being under tremendous pressure. He scored 48 and 20 with a lot of flow in his bat and looked like he was getting his old touch. With Virat Kohli unavailable for the second Test, the onus was on him to show some resilience in the middle order. Coming in at 4, he poked at a delivery which he should have left alone, and was caught in the slips for a golden duck.
Rahane had one of his worst years in 2021 and hasn't played many big knocks since the famous Melbourne century in 2020. He averages just under 21 in the 13 Tests he played in 2021 and doesn't have many numbers to back him on a long rope. He will be under serious pressure in the second innings to get some runs with his career on the line.
Both the senior players have played some splendid knocks in the past, but at the moment, they have been found wanting. Their dismissals have not followed a pattern and it doesn't look good for them at the moment. Shreyas Iyer and Hanuma Vihari will certainly be the contenders to replace them with their long inconsistent performances continuing.
Here's how Twitter reaced:
Test batting average since February 2019:

Mitchell Starc – 30.54
Cheteshwar Pujara – 26.86#SAvIND

— Nic Savage (@nic_savage1) January 3, 2022
At some point, somebody will have the courage to accept Pujara and Rahane must go. Their replacements might fail too, no one can guarantee success but you can't keep picking on two players who have shown no signs of resurgence.

— Saurabh Malhotra (@MalhotraSaurabh) January 3, 2022
I think Pujara & Rahane have become Purane.

— Ramesh Srivats (@rameshsrivats) January 3, 2022
Thank You #PURANE ♥️🤝 pic.twitter.com/YhpIxYKdiO

— Dr Khushboo 🇮🇳 (@khushbookadri) January 3, 2022
Repeat after me:

Thank You Rahane

— R A T N I S H (@LoyalSachinFan) January 3, 2022
Cheteshwar Pujara and Ajinkya Rahane has failed to perform on a consistent basis since 2020. Failures after Failures. 😑

Whole India to Them:#SAvIND pic.twitter.com/wuZclzRPBU

— Nitesh Chauhan 🇮🇳 (@Nitesh_Chauhan7) January 3, 2022
Amazing content pic.twitter.com/6PCGD7fKPB

— MGT ERA🇮🇳 🇿🇦 #PuraneOut (@awkdipti) January 3, 2022
They are calling duo of Pujara and Rahane as Purane. Bhai yaar😭😭🤣🤣 https://t.co/SJcDZLGUES

— Silly Point (@FarziCricketer) January 3, 2022
No score is bigger than friendship. Rahane got out even before we start criticizing Pujara. A true friend shielding another. ❤ #SAvIND

— Silly Point (@FarziCricketer) January 3, 2022
Last legs. Both Pujara and Rahane #INDvsSA

— Vikrant Gupta (@vikrantgupta73) January 3, 2022
Ajinkya Rahane when he meets Cheteshwar Pujara playing in Ranji matches against him after the South Africa series!#SAvIND pic.twitter.com/suy5pEDeKu

— Vishal Verma (@VishalVerma_9) January 3, 2022
Vihari after Sydney. Come on. Been in SA for a period and deserves this opportunity. Pujara and Rahane second innings could be the last opportunity. #INDvsSA was fair to pick them bec you don't just drop players of pedigree but failures continuing. And time running out.

— Boria Majumdar (@BoriaMajumdar) January 3, 2022
Ajinkya Rahane Cheteshwar Pujara and Mayank Agarwal got out on early in 2nd Test match..
Meanwhile me..😔 #INDvsSAF

— Ashutosh Srivastava (@ashutosh_sri8) January 3, 2022
#INDvsSA #SAvIND #SAvsIND #INDvSA

Thank you for everything Cheteshwar Pujara and Ajinkya Rahane but now: pic.twitter.com/4Np5BvxBOY

— Hemant (@Sportscasmm) January 3, 2022
Follow us on Google News