'That was wow for a 19-year-old' – Dwayne Bravo remembers Kieron Pollard's fruitful signing by MI
Kieron Pollard goes down as one of the best overseas buys of Mumbai Indians.
Updated - May 13, 2021 12:42 pm
2.3K Views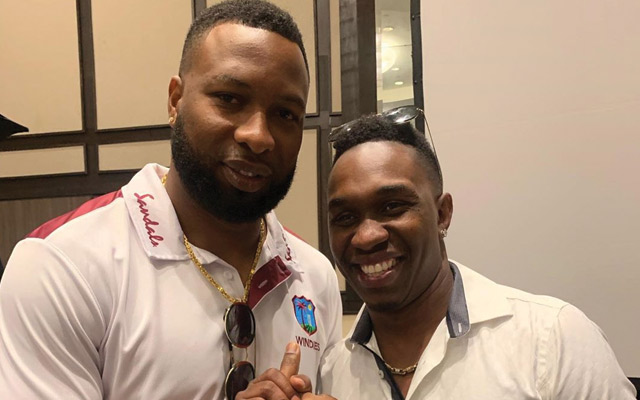 Kieron Pollard is regarded as one of the main components of the Mumbai Indians team. The five-time champions cannot imagine their team without the services of West Indies superstar Pollard as of now. He is one of their best overseas buys in the history of the T20 league but not many would know how he landed in the Mumbai team around a decade back. The Trinidad man has starred for his franchise on innumerable occasions.
Talking about the same, his West Indies teammate Dwayne Bravo recently opened on how Pollard was roped by MI. Bravo also added the role he played for Mumbai to sign the great all-rounder. His signing as a 19-year-old on such a whopping amount was purely a magical moment.
"When Mumbai Indians needed a replacement for me, I gave them Kieron Pollard's name. When they tried contacting him, he was playing for a club, so I recommended Dwayne Smith and he became my replacement.
MI came with a contract of 200,000 USD for Kieron Pollard
"The following year, when it was the Champions League, I called Rahul (Sanghvi) and told, Pollard, he's here. Come and sign him now before the tournament starts. Rahul and Robin Singh left Mumbai and came to Hyderabad, I'll never forget they came with a contract which at that time was 200,000 USD. I called Pollard, who came downstairs, and met them both in the lobby. He saw the contract. Now for coming from Trinidad, as a 19-year-old, that was wow. He said, 'Dwayne are you serious?" said Bravo as quoted by Cricbuzz.
Bravo also added that the same year when Pollard was signed up, he showed his class and everyone applauded him. While all the people wondered who is this kid, a voice came out that he has already been signed by Mumbai Indians. In the mini-auction that year, IPL had put up a clause that no franchise can pay more than USD 750,000 to acquire the service of West Indies superstar and the bid was ultimately bagged by the Mumbai Indians.