The Number Nut: Why Steve Smith can go past Sachin Tendulkar's tally of 51 Test hundreds
After all, records are meant to be broken. Isnt it?
Updated - Jul 10, 2020 11:06 am
6.1K Views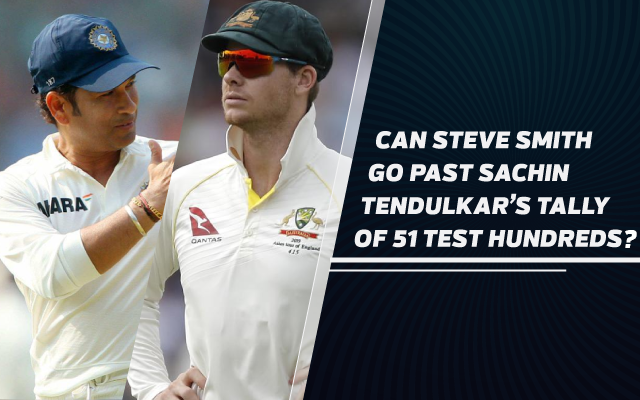 16th November 2013 will not be forgotten easily by cricketing aficionados across the world. As the delivery from Narsingh Deonarine took the outside edge of the maestro's willow and Darren Sammy completed the catch, there was a massive hush at the Wankhede stadium.
And, Sachin Tendulkar walked back for the last time in Indian colours in front of his adoring home crowd in Mumbai. While the emotion was oozing out between Tendulkar and his legion of fans on that day, what was hard to overlook were the numbers that the batting icon had generated. Sachin retired from the longest format with virtually every single batting record to his name, including that for the most runs(15921), most hundreds(51), and the most fifties(68), to just name a few.
There was one question that remained. Can any mortal batsman go past the gargantuan numbers that he generated? Can any man surpass any of his batting records in Test cricket?
Enter Steve Smith
Fast forward 7 years to 2020. The new 'Fab Four' of Test cricket are Virat Kohli, Kane Williamson, Joe Root and Steve Smith. But then, if you have to pick the best out of the four, then Smith edges out the others. The Australian legend averages a colossal 62.84 in Tests, the most by a batsman with a minimum of 50 Test innings played, after the incomparable Don Bradman. Also, what makes Smith a special attraction is his penchant for big scores.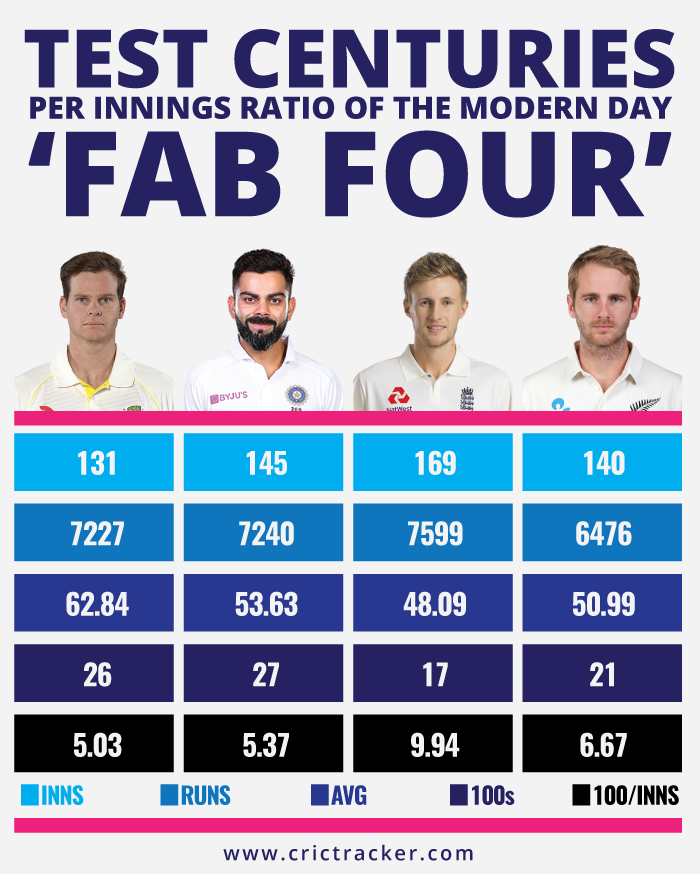 How is Smith compared to the Master Blaster?
From the aforementioned numbers, we can see that Smith has the best innings per hundred ratio, and scores a century in every 5.03 innings in Tests. And, in spite of playing as many as 14 innings fewer than Kohli, he has scored just 1 hundred less than the Indian skipper.
Now, let us go ahead and have a look at Smith and Tendulkar. Tendulkar scored a whopping 51 hundreds from 329 Test innings, which translates to 6.45 innings per hundred.
Smith and Tendulkar after 131 Test innings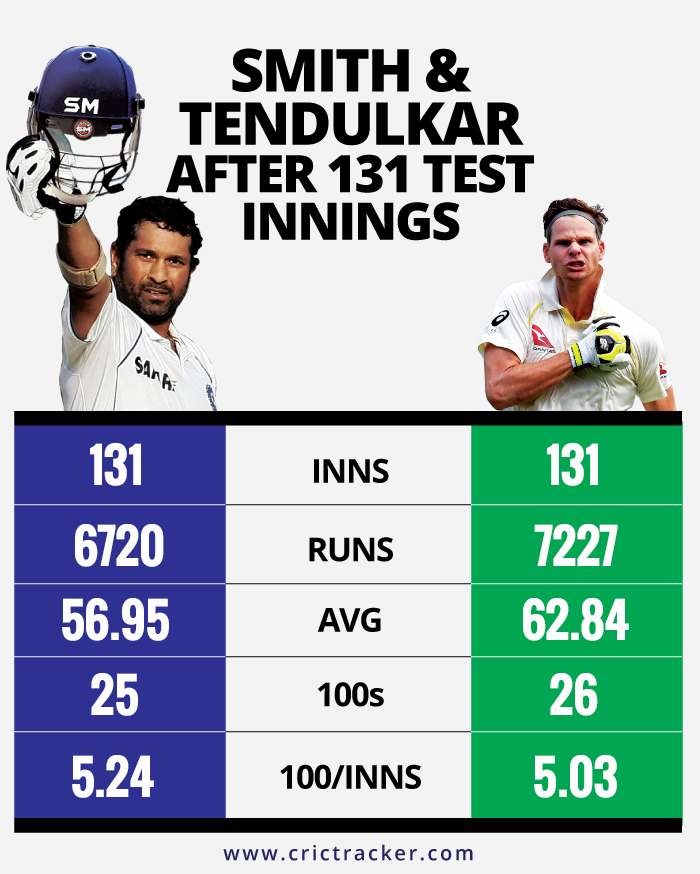 While Steve Smith leads Tendulkar in every single parameter in Tests after 131 innings, as far as the centuries are concerned, the two almost stand neck and neck. While Smith has an innings per century ratio of 5.03, Tendulkar's stands at 5.24. But then, due to the fact that the 'Little Master' could not score a single Test hundred in the last two and half years of his Test career, it has pushed his overall number to 6.45.
Why Smith can go past Tendulkar?
Steve Smith has been in stunning form in the last 3 years in Test cricket. In fact, in his last 50 Test innings, the former Australia skipper has scored 11 Test hundreds, which means he has been amassing centuries at an even quicker pace, as compared to his overall ratio. And, there is also no doubt that he has emerged as the greatest Test batsman of the modern era.
Even if he can continue scoring his hundreds at his career rate of 5.03, he would need to play 256 Test innings to cross Tendulkar. That would mean that he would have to play another 125 innings to eclipse the master. 125 innings would roughly mean 65 Tests, and given that he is just 30 years old, Smith can happily push his body.
After all, several batting greats continued into their late 30's. Ricky Ponting retired only at 38, Steve Waugh played on till 38, Dravid pushed on till 39, and Tendulkar continued playing even into his forties.
Smith's hunger for runs coupled with his intense desire to keep improving makes him a gladiator of modern day Test cricket. And, if there is one man who can go past the Himalayan centuries tally of the legendary Tendulkar, then it has to be the batting dynamite from Australia.
After all, records are meant to be broken. Isnt it?