The respect that I get outside is because of Mumbai Indians: Jagadeesha Suchith
Updated - Apr 20, 2016 1:27 pm
83 Views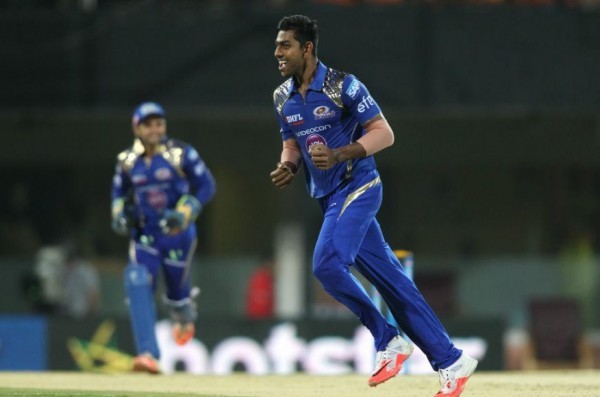 IPL has a strong reputation of putting the limelight on domestic cricketers whom nobody has ever heard about. Ever since its inception, numerous cricketers have emerged out of the blue and gained attention and respect with their performances.
One such name which emerged most recently is Karnataka left-arm spinner Jagadeesha Suchith who struck gold after he was picked by Mumbai Indians in the 2015 edition; much before he made his first-class debut for Karnataka. The franchise showed faith in the 22-year-old including him in 13 games last season. Jagadeesha Suchith, who entered as the unknown commodity last year, is now a very well-known guy in the Mumbai circles, considering his exploits for the Mumbai Indians in the 2015 edition.
In a candid chat with Cricbuzz, the Mysuru-born cricketer speaks about his time in the Indian Premier League till now.
Describing his time with the MI camp, he said that initially he didn't expect to play in the main XI as the team already comprised of heavyweights. He says that he tried to give his best when in nets , whether batting or bowling.
"When I went to the (MI) camp, I started bowling well from day one. Whoever was playing there – Rohit (Sharma) or (Kieron) Pollard – I was bowling really well to them. I was also hitting the ball well when I got to bat."
Suchith also shared his experience of interacting with legends of the game like Ricky Ponting, Sachin Tendulkar and Jonty Rhodes. He says that all played a big role in developing him as a cricketer.
"Obviously, you know we have a lot of legends in our dressing room – (Ricky) Ponting, Sachin (Tendulkar) sir, many of them – and they used to talk to me, they spoke to me about what my role would be in Mumbai Indians. That made me comfortable and with each and every practice session, I started getting better and better. Jonty (Rhodes) as well, I started fielding better. The intensity I showed during the practice sessions was pretty good"
"Anil (Kumble) sir used to be with us, he helped me a lot during the course of IPL. Whatever time he spent with the team, I used to talk to him, he used to give me ideas, areas to bowl and how to go about. He has helped me a lot. Rahul Sanghvi, who is also part of the management, he also helped me a lot with my bowling. As always, Robin Singh and Ricky Ponting used to talk to me about batting. They used to help me with the areas I needed to target when I'm batting. Shane Bond also used to help me with the tactical aspects – the field to keep for particular batsmen, what better I can do with my field placements or the way I think when I'm bowling."
IPL, as we all know, has been a life changing factor for most of the cricketers, especially the newbies. So, when asked about how IPL changed his life, he said,  "In terms of fame, I've got a bit (of that). People recognize me and people say 'this is Suchith who plays for Mumbai Indians,' and they take pictures. Having that kind of popularity is good. As far as lifestyle is concerned, it has not changed much but yeah, I bought a car now, I didn't have a car and was able to buy it because of the IPL contract money. Wherever I go, I get this respect probably because of what I have done in cricket or what Mumbai Indians has got me. The respect that I get outside is probably because of Mumbai Indians as of now. I'm pretty glad and happy as long as I am getting it."
Suchith also spoke about the kind of challenges he faces as an all-rounder in T20 cricket.
"Bowling in the powerplay in the IPL is the most challenging. Bowling to batsmen like (AB) de Villiers and Virat (Kohli) is also challenging. Whenever I bowl I have to be bowling a lot of effective deliveries to stop the batsmen coming after me. As I said, the most important thing is (bowling in) the powerplay and bowling to quality batsmen like ABD or whoever it might be."
"When it comes to batting, my role is pretty clear – I have to go at a Strike Rate of 150-180. I got limited opportunities (with the bat). One game when I got an opportunity. It depends on what situation I go into bat when it comes to T20."
Bowlers these days have to cope with the different formats as the role change keeps changing. Suchith explained how he adjusts to different formats and concluded that the most important thing as a bowler bowling in all three formats is to have a clarity of thoughts.
"In T20, the margin of error is really less. In One-Dayers, you get a little more space, you have 10 overs (as a bowler) and you can plan. In the four-day format, you need to be very patient for eight or ten overs to get a wicket. It changes according to the formats and it only depends on how you think. You have to be patient in the four-day format, you need to be balanced in the One-Day format – patient as well as going for wickets – and in T20, you need to do things what is required to stop the batsmen. For all three formats, you need to have a lot of clarity of thought."
Outside cricket of cricket Suchith describes himself as a fun-loving guy who likes to spend time with his family.
"I am a fun-loving guy who hangs out with friends when I get free time. I cherish quality time with my family. I stay in Bangalore and my family stays in Mysore so I get very little time to spend with my family. I probably don't go out much and if I go out it will be with my friends or family. Spending quality time with my family and cherishing those memories."