The Rise of Fantasy Cricket as Esport in India
How and Why Esports (Fantasy Sports) have Evolved?
Get every cricket updates! Follow us on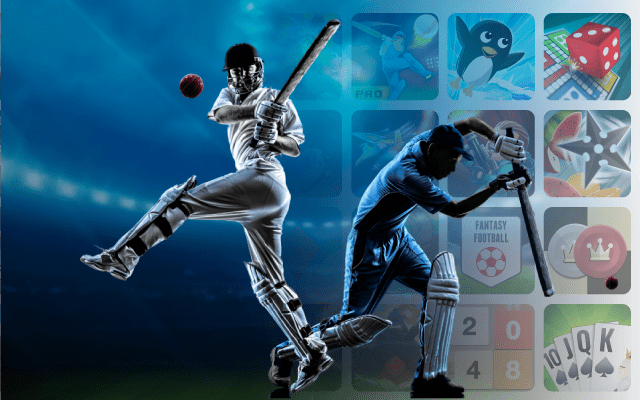 Indisputably, India's online gaming industry has evolved into an ever-growing platform by taking over 3/4th of the gaming market. Fantasy sports or esports, in particular, is a prominent sector, growing tremendously with no further signs of slowing down. It is, by far, one of the most popular genres in the gaming world and is estimated to bag $5 Billion by 2021. From just a couple of fantasy sports gaming platforms in 2016 to 60+ developers at present, India has seen a remarkable transformation in this industry.
The demand for esports is expected to rise rapidly, and the Federation of Indian Fantasy Sports (FIFS) estimates that over 100 million gamers will be into playing fantasy sports by 2020. Moreover, in the year 2019, Dream11 became India's first gaming unicorn, giving a positive indication of the rise of other esports unicorns in the country. With platforms like the Mobile Premier League game, enthralling millions of gamers every day, the future seems to witness a surge in India's gaming unicorns.
Let's look at how esports has evolved so much over the years. And, what gaming platforms in India are in-line to be among the gaming unicorns of the country.
How and Why Esports (Fantasy Sports) have Evolved?
While fantasy sports have been there for a long time around the world, it was in 2008 when the Indian Premier League took the cricket world by storm, which, in turn, led to the popularity of 'Fantasy Cricket.'  Since then, the area of fantasy sports progressed faster, and its reach spread to other games such as hockey, football, basketball, rummy, kabaddi, badminton, carrom, etc. However, the most famous arena, until now, remained fantasy cricket.
We can give the credit for the surging popularity of esports to the increase in internet accessibility. The trend of affordable data prices started by Reliance JIO and the emergence of several low priced mobile phone brands had a tremendous impact on the mobile gaming industry, particularly the fantasy sports genre.
Additionally, the rise of Dream11 as a gaming unicorn of the country kindled hopes in the other gaming platforms to steam up as the next unicorn. Mobile Premier League is one such gaming brand that seems to bag the position of gaming unicorn in India.
List of Top Fantasy Sports Gaming Platforms
Gaming platforms, in general, are one-stop destinations for all genres of games. From fantasy sports and action-based games to casual puzzles and card games, these platforms have them all. What's more interesting is their unique reward scheme of offering cash prizes to the winners; which may also be considered as one of the factors why more and more gamers are inclining towards fantasy sports.
Here are some of the best gaming platforms for esports in India
Mobile Premier League (MPL)
Emerging as one of the country's leading gaming platforms, Mobile Premier League game or MPL was first launched in 2018 with Bengaluru as its headquarters. In just a short span, MPL has built a user base of over 60 million players. Currently, MPL bags the first position for casual games and is considered as the fastest growing gaming platform.
It is a one-stop destination for tens of skill-based games and fantasy sports with real cash rewards and other exciting prizes. Online Ludo, chess, rummy, fantasy cricket like the World Cricket Championship (WCC2) game, fantasy football, basketball, pool, etc. are some of the top-rated games on MPL.
Due to the seeming potential to stand as the next unicorn in the country, MPL is earning investments from top local and international investors. As of 2019, MPL successfully raised $35.5 Million funding from Sequoia Capital, Go Ventures, and Times Internet. In the same year, following the massive success of IPL 2019, Virat Kohli, the Indian Cricket Captain, became the brand ambassador of MPL.
Gaming Monk is a platform started by  two Amity University graduates based in Delhi. It started in the year 2014 and primarily focused on catering PCs and gaming consoles. Later on, in 2017 it took to the online gaming concept and became the center for fantasy sports and a surfeit of other games. Serving both the online and offline gaming population, founders of Gaming Monk claim that their user base has increased by 500% in the last six months.
Recognizing the potential of the platform, Stellaris Venture Partners, Smile group, Rajan Anand, and Japan's Incubate Fund, invested around $5 million and as a recent investment, GameWink, a Japanese gaming company, funded $100,000 towards Gaming Monk. With a constant surge in the number of users, it is undoubtedly along the lines of entering the unicorns' list in India.
A Delhi-based gaming platform, Balle Baazi, was developed in January 2018. With a sole aim to redefine and revolutionize the field of esports, the founders of Balle Baazi came up with the concept of unique fantasy themes viz. Classic, Batting, and Bowling, where each one allows you to select 11 players, 5 batsmen, and 5 bowlers respectively. Players get the advantage of choosing their virtual team and can also enjoy leaderboard challenges to compete for bonus points.
Balle Baazi serves all the cricket, football, and kabaddi fans with various fantasy competitions and fantastic cash rewards. Baazi games, the parent organizer of the gaming platform, invested $1 million for improvising different verticals of the game. Moreover, Indian Cricketer Yuvraj Singh took to Balle Baazi as its brand ambassador.
Launched in the year 2017, HalaPlay, an esports platform, caters specifically to fantasy cricket, kabaddi, and football. Founded by four BITS Pilani Alumni, this Mumbai-based gaming start-up has bagged the attention of over 4 million gamers. Initially, in series A round, the two prominent names in the mobile and casino gaming industry, Nazara and Delta Corp, funded nearly $5 Million.
HalaPlay claims to provide an effortless, quick, and exciting gaming experience and immediate cash rewards to all the cricket, football, and kabaddi enthusiasts. With three different league versions, i.e., Public, Private, and reverse Fantasy leagues, it has a plethora of gaming matches to choose from. Moreover, with the usage of data analytics and machine learning, players can quickly form teams, track their game progress, and evaluate their skills. In contrast, the game is sufficiently widespread in regular times as well. During IPL, HalaPlay witnesses nearly 100 million cricket enthusiasts playing fantasy cricket.
Tracing the recent growth trends of the various gaming platforms in India, there is a very seeming opportunity to witness more gaming unicorns in the future. With the likes of high-end cricket games such as the World Cricket Championship (WCC2) partnering with well-known online gaming start-ups like the Mobile Premier League, it is evident that the mobile gaming arena has evolved tremendously in India.