The stuff and strut of Marlon Samuels
He averaged just about 33 in ODI and Test cricket, which speaks of a batsman who did not quite work out the dynamics of international cricket.
Updated - Dec 11, 2020 3:46 pm
220 Views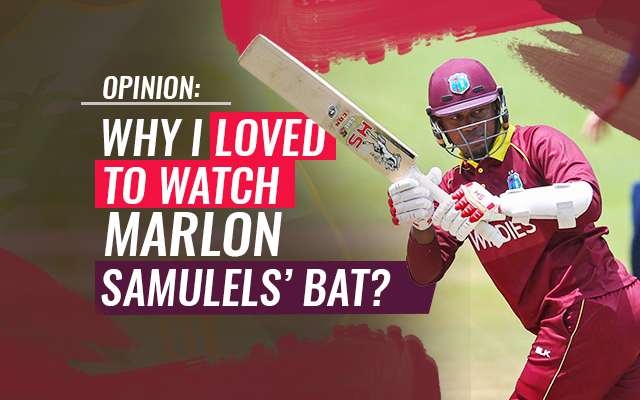 I loved to see Marlon Samuels bat. On his day, he was right up there with the finest drivers of a cricket ball. His cover-drives particularly bespoke great timing, which made him an original in this era of Caribbean cricket, whose other prominent stars have embodied power. It is his timing too that I will miss most, now that Samuels has called time on his playing career.
There are two ways to look at the international career of Marlon Samuels, who looked like a million bucks whenever he batted and for however long he stayed at the crease. From a statistical perspective, it appears ordinary, especially when juxtaposed with his obvious talent.
He averaged just about 33 in ODI and Test cricket, which speaks of a batsman who did not quite work out the dynamics of international cricket. His T20 average of 29.29 is more respectable but loses some of its gloss when seen alongside the strike rate of just over 116 runs per hundred balls.
As an impact player, though, Samuels made telling contributions. His title-winning batting masterclasses in two World T20 finals obviously spring to mind in this connection. So does the subdued but effective role he played as Chris Gayle's partner in the world record ODI stand of 372, which came against Zimbabwe during the 2015 World Cup.
As for his career-best Test score of 260 against Bangladesh, it may be held up as a testimony to his aptitude for big innings. He has also made two fine hundreds against India in India – 104 in a Test match at the Eden Gardens as a twenty-one-year-old rookie, and 126* in an ODI at sapping Kochi as a thirty-three-year-old veteran – which is always a tough proposition.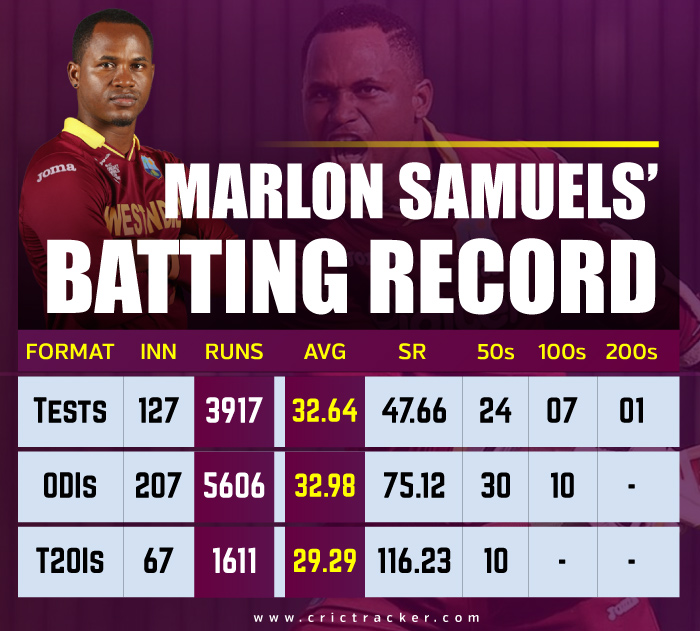 Marlon Samuels' best knocks
Samuels' annus mirabilis was 2012, a year during which 386 tough runs flowed from his bat in just five Test innings against England in England. A few months later, Samuels tore into Lasith Malinga and made a peerless 78 in the low-scoring final clash of the World T20 in Sri Lanka. He ended the year with his only international double hundred—the aforementioned 260.
Unfortunately for West Indies cricket and himself, Samuels' best innings stands out like odd beacons in an otherwise dimly lit landscape. Whether his achievements on the cricket field have vindicated his considerable batting talent is a question only he can answer, but it is easy to see that his career could have been much better.
For example, if he had not got himself mixed up with bookies circa 2007, when he was 26 and probably reaching his peak as a batsman, he would not have been banned for two crucial years and might have retired with much better numbers.
Also Read
Samuels' strut and straight-talking
There was also about Samuels a strut which was easy to perceive as arrogance. Nor did his straight-talking, though admirable in an age of predictable press conference narratives, win him too many friends. Still, one wonders if he might not have been seen as less of a problem child in a more consistently successful outfit than the West Indies teams for which he played.
At the end of the day, Samuels has left cricket as a batsman whose long-levered elegance issued from the simplicity of his batting. He did not feel the need to get 'cute' with his stroke play probably because his uncomplicated cricket shots usually did a fine job for him. They were also more than enough to delight me as a cricket fan.
~ Written by Srinivas S