The tale of Ruturaj Gaikwad's MMCC College team which created history by winning their fourth RBCC title
Though Ruturaj Gaikwad didn't play in the 2021 edition, he had been at the core of the team's success during their title hat-trick in 2016, 2017, and 2018.
Updated - Oct 30, 2021 9:30 pm
25.7K Views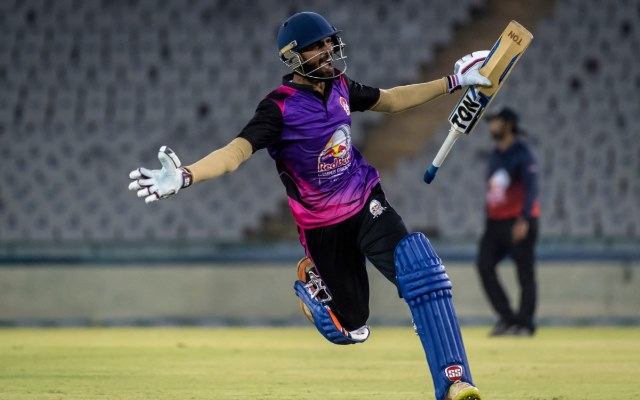 Follow us on Telegram
Marathwada Mitra Mandal's College of Commerce (MMCC) from Pune is not just another college. It arguably has the best college cricket team in India. The word arguably could've been skipped as they have won four of the ten editions of the Red Bull Campus Cricket. They had a title hat-trick winning spree as they won the national India finals in 2016, 2017 and 2018. At the core of this team, was one batter, who in 2021 has found a lot of recognition. Ruturaj Gaikwad. 
In case someone needs an introduction, he recently won the orange cap for the leading run-getter in the Indian Premier League 2021 playing for Chennai Super Kings. However, before he went on to win accolades at the biggest T20 league in the world, he was honing his skills at the Red Bull Campus Cricket, playing for his college. But, the success of this college is not just defined by Gaikwad, it is the hard work of a lot of players and a supremely modern coach, Nilesh Nangare, which has taken them till here. 
After not having a good tournament in 2019 and 2020, their team came back strongly with an even better side. At the national finals of the 2021 tournament in Chandigarh, MMCC Pune was clinical, to say the least. Their approach was pretty much simple, bowl first, restrict the opposition to mediocre totals and then chase it down like a boss. They went unbeaten winning all five matches during the national finals, even when two of the matches were played on the same day. 
The players who made MMCC the champions of RBCC in 2021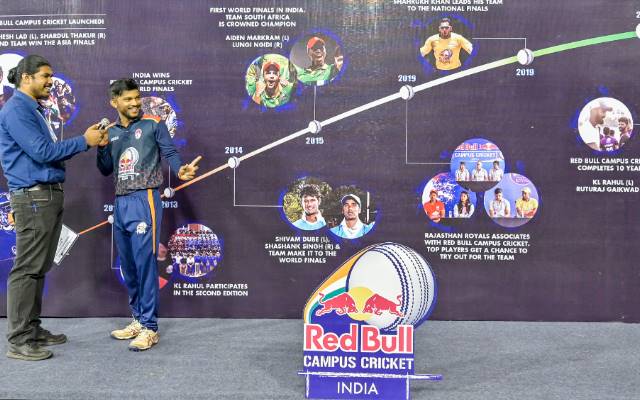 Their toughest challenge in fact came in the final itself. Against the New LJ College of Ahmedabad in the final, MMCC followed a similar plan. They restricted them to 140 for 7 and then chased it down. However, during that chase, at one point, they were 90 for 7 and in deep, deep waters. It was a calm and composed knock of 42 runs from 32 balls by Atul Vitkar and Sanket Chavan's 10-ball 22, which took them to their fourth title. 
Vitkar didn't just do that, he also bowled a spell of 2 for 25 in the final and was adjudged as the player of the match. Then there was Sachin Bhosale who scored 23 runs from 18 balls and also ended with figures of 2 for 30. He also won the award of player of the tournament. His teammates call him Sam Curran for his incredible ability to bowl left-arm in-swingers, two of which got wickets in the final. 
They also have an extremely good bowler, Sanket Pharate, who we discovered is also a great fielder as he inflicted a run out in the final which shifted the momentum in his team's favour. Opening batter Omkar Khatpe also impressed everyone with the runs which he scored throughout the tournament. Then, there is the captain, Yash Kshirsagar, who is not just one of the better players in the team but also has a calm and collective head on his shoulders, just as his close friend, Ruturaj. 
The success of this team is quite unparalleled and whether we will see any other college team dominate the RBCC in future is quite uncertain. But, in their unique way, MMCC Pune has learnt to bounce back. After a couple of seasons of missing out on the trophy, they came back strongly in 2021. In fact, in the final itself, they kept coming back each time the New LJ College Ahmedabad pegged them down.
Coach Nilesh Nangare inspires the team with his tactics and aim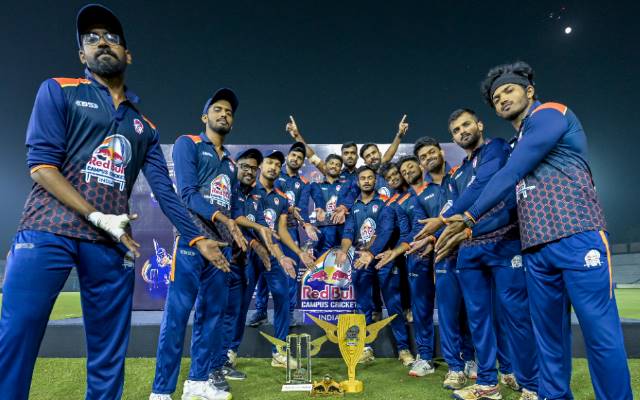 The head coach Nilesh Nangare explains his tactics and strategy in building a successful team. "Nothing happens when you just practise. You need to be mentally strong. MMCC is a different team than everyone else because the players don't think too much. They only think about the match, they only want to play cricket and enjoy it," Nangare says. 
The team even went to the international finals in 2018 in Sri Lanka where they just lost in the final match. Nangare's vision has been quite clear since then. "In the international match, the trophy that we lost in 2018, we want to win that back. Winning that is the biggest dream of MMCC College," he says. 
Most of their players don't just play for their college team. They play for Maharashtra senior team as well as the age group teams. A lot of them have made their debut in the Ranji Trophy or Vijay Hazare Trophy or the Syed Mushtaq Ali Trophy. Some are looking for their opportunity and the coach believes that his players have even potential to reach greater heights. Ruturaj Gaikwad's growth as a player can be associated with his team and the tournament which gave him wings. 
It was the perfect platform: Ruturaj Gaikwad on Red Bull Cricket Campus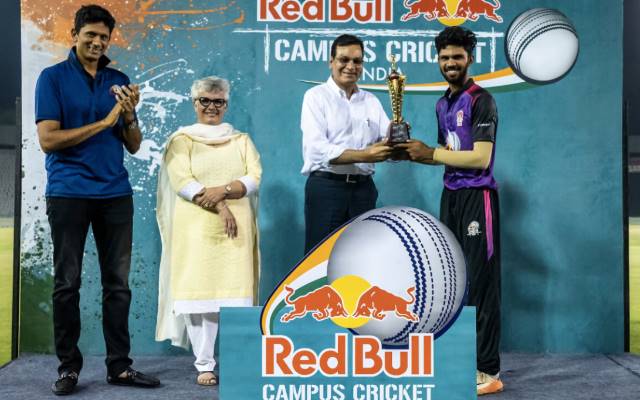 In a candid chat, he opened about his experience of winning the RBCC tournament three times. "I've played at least 10-12 games in Red Bull Campus Cricket at a state and national level. It was a wonderful experience where I got the chance to meet great players and compete against good teams. It was the perfect platform for an upcoming player like me at a time when I needed to establish myself in cricket," Gaikwad said. 
He was the highest run-getter for MMCC College in the 2018 edition and also won the award for the best batter in the tournament. He explained what the tournament helped him learn. "When you come into a team as an established and famous player, there are a lot of expectations riding on your shoulders. When I played Red Bull Campus Cricket, there were a lot of expectations and everyone was relying on me to perform well.
"I had to contribute more than 30-40 runs each match and put in efforts in fielding as well. Red Bull Campus Cricket was the perfect platform to learn about pressure and it boosted my confidence. I'd also not played a lot of T20 cricket on a big platform before this, and playing Red Bull Campus Cricket helped me gain that experience," Gaikwad said. 
More than just being a champion team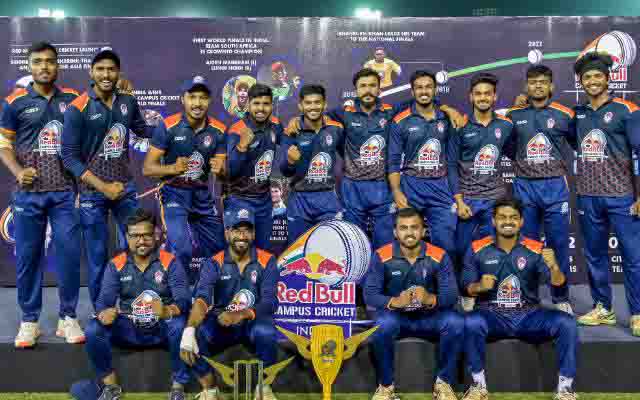 Their ability to bounce back and compete day in day out gives them an edge over every team. Some players have expressed that they have played several close encounters in the last few years, which has given them the confidence to stay calm under pressure. But, there is more to this team than just a winning mentality. As they won the 2021 tournament and celebrated their success on the dance floor, the DJ played a Gujarati Garba song. 
The Ahmedabad players screamed as they had a local song and went ahead inviting everyone from their team to join. Standing in the middle, confused, the young men from Pune initially didn't appreciate that a local Gujarati track was being played. Captain Yash Kshirsagar then came forward and joined the players of Ahmedabad on the dance floor.
As the Garba song continued, soon the rest of his teammates of Pune joined in. For the next few minutes the two teams, one the champions and the other runners-up went round and round, celebrating the night, cheered on and danced. At that very moment, the god of the 'spirit of cricket' looked down, smiled and blessed each of these young men. 
Follow us on Google News