The uncanny similarity between Ishant Sharma's Perth spell of 2008 and his journey to 100 Tests
If you breakdown that Perth spell of Ishant Sharma, there's a telling tale of a boy who didn't want to give up, a quality which has made him what he is today.
Updated - Feb 23, 2021 1:49 pm
279 Views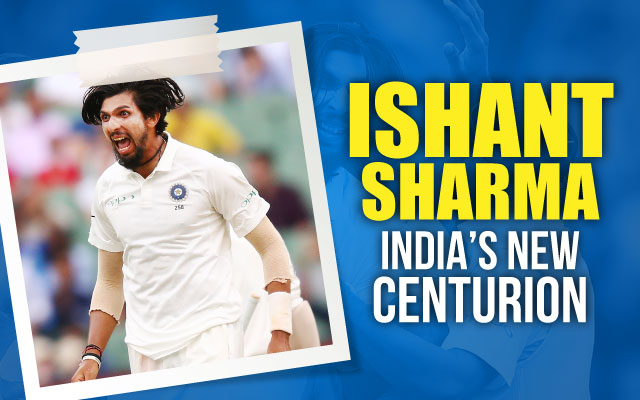 "Got him! What a wicket! What a performance by this 19-year-old! He persisted, he persisted and he has got the great batsman out." Bill Lawry exclaims with joy during the Channel9 commentary. In the Star Sports' commentary box, there was Ian Chappell saying, "that's magnificent bowling, he really has kept it straight, he could've had Ponting out half a dozen times. But the thing is he didn't get frustrated, he didn't lose the plot, he just kept bowling well which is what you have to do." A moment later, Harsha Bhogle says, "He has produced one of the finest spells of quick bowling I've seen by an Indian bowler in a very very long time."
In case you haven't got it yet, they are talking about Ishant Sharma. It's the 2008 Perth Test between Australia and India and Ishant is just a 19-year-old rookie. As India looked to defend 413 runs in the fourth innings, Australian captain Ricky Ponting was battling it in the middle against Sharma, who was what some would say 'on song.' Through the morning session, Ponting struggled to get his bat on the ball or was lucky enough to not edge one behind. 
Ponting, by now, is not just the Aussie skipper but also one of the best batsmen in the world. And it's not like Punter had difficulties scoring on the fastest pitch in the world, as many recall the old WACA as. But, it was Ishant's line, length, purchase from the pitch, swing, and bounce which was troubling the great man. Basically, all attributes that make a good fast-bowler. 
The 19-year-old who didn't give up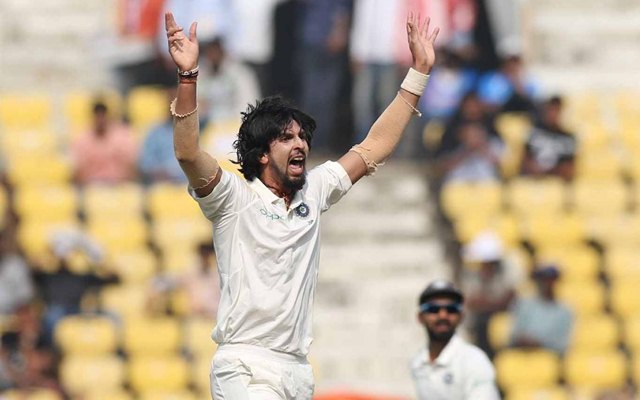 13 years later, Ishant is about to play his 100th Test. He will be the only second fast bowler from India and 10th overall to achieve this feat. The reason why I tell this story is because there are elements in it that we have seen throughout the career of Ishant Sharma. That Test match and his efforts have some similarities to what Ishant stands for as a fast-bowler. 
People remember Ponting edging the ball as it flies to the ever-dependable slip fielder, Rahul Dravid, and the sight of the young Ishant running with his hair flying all over the place. But, what transpired to that moment is worth noting. 
Ishant Sharma had bowled seven overs on the trot. He troubled the Aussie skipper as no one did. Ponting looked comfortable to the other Indian bowlers, but it was Ishant who was troubling him. The Delhi pacer had got him out in the first innings as well. That time, the ball bounced a little more than the liking of Ponting and an edge to the slips had him sent back. But, he had bowled seven overs on the trot and should have been given a rest. 
As Indian captain Anil Kumble was going to hand over the ball to someone else, there was an urge to let the young lad have another go at the great batsman. Virender Sehwag, who was Ishant's Delhi teammate and one of the senior members of the team, walked to Kumble and asked him to give the ball to Sharma.
Years later, Sehwag in a candid chat revealed that he had seen Ishant run in all day and bowl long spells, which made him think that the 19-year-old can go for another few overs before tiring himself. Sehwag's recommendation led to Kumble tentatively asking Ishant "ek aur daalega?" (Do you want to bowl another over?), to which the lanky pacer replied, "Haan ek aur karunga (Yes, I will bowl another over)."
Becoming a captain's bowler
Sehwag's knowledge of Ishant Sharma was something that Indians figured out in some time. To answer the question of what was or has been his greatest strength, we have to look at more than just the stats. Because the stats, especially before 2017, doesn't have a happy reading as far as Ishant is concerned. But, he was never looked at as the bowler who would rip apart oppositions and take wickets for fun. His job was to keep things tight, put pressure on the batsmen, and get wickets if he can.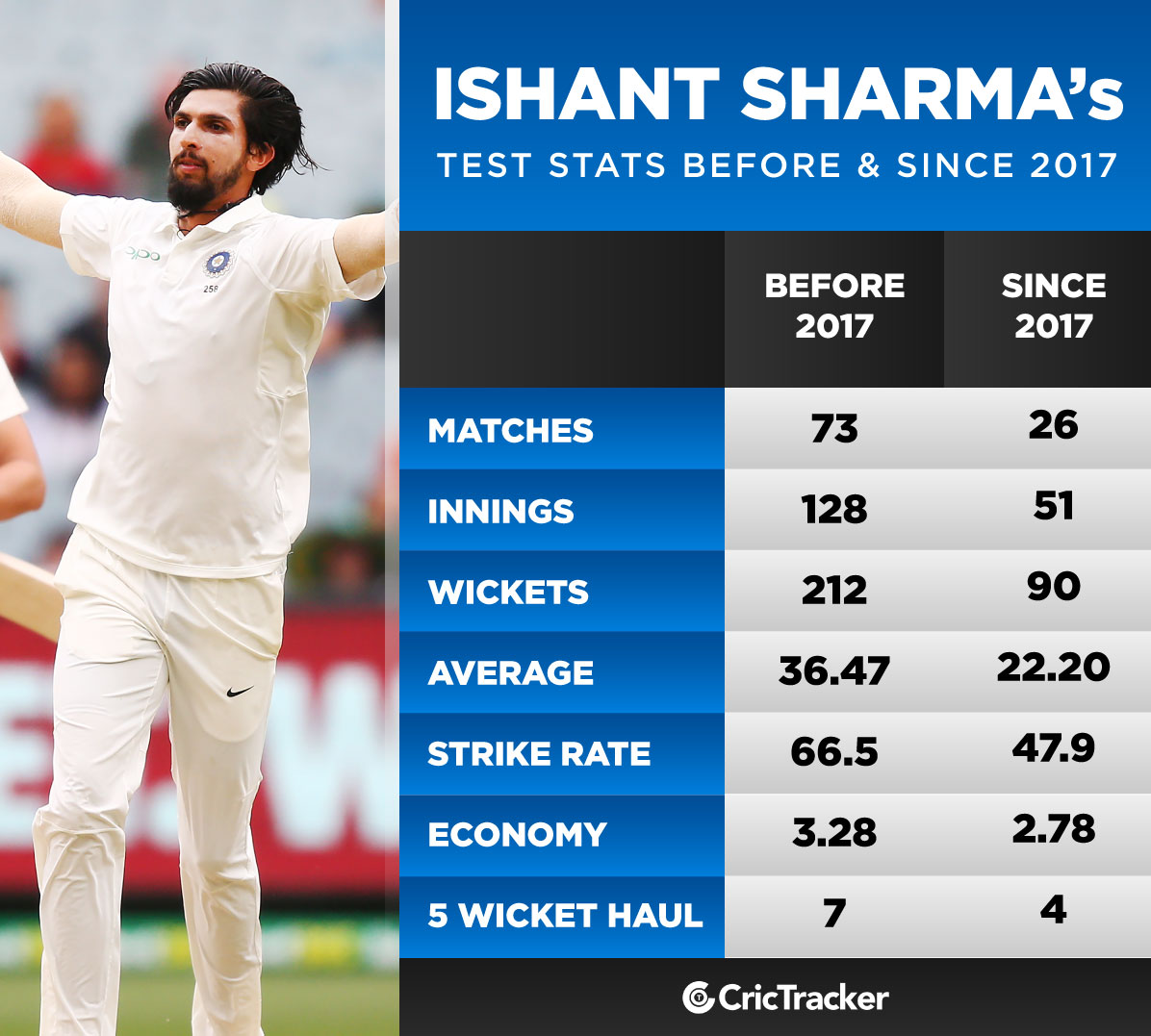 But, that is Test match bowling. There will be days the ball will do all sorts of things, in the air and from the pitch, and batsmen would be seen jumping on the crease. On other days, the wicket will be flat and the bowlers need to tighten the screws and keep bowling tight lines, as much as possible.
Ishant Sharma saw many of those days and not on all days did he get wickets. But, he was doing the job he was assigned by his captain. One of his greatest qualities has to be the fact that he knows how to stick to the plans. Some days they come off, he looks like a champion and on other days, it seems like a bad ploy. 
Maybe, that's why he got the backing of his captains for all these years. He was someone who would bowl according to the plan and field set by his captain. For one example, his career-best performance of 7 for 74 which came at the Lord's happened when he listened to MS Dhoni and started bowling bouncers, on a track that was as English as it can get. But, that's the story for another day. 
Coming back to the spell of fast-bowling at Perth, a lot of people who watched any of the clips of that spell, might think that Sharma ran through the Aussie batsmen, considering he got the great man in trouble, wobbling and jumping on his crease. But, the scorecard reveals that was the only wicket that he took in the innings. This brings us to the second most effective thing about Ishant Sharma – the fact that he is one of the best support bowlers you can have in a Test match. 
To put it into perspective, let's recall what happened in Centurion during a 2018 Test between India and South Africa. The hosts won the toss and were looking for a really big total on a flat track. Sharma managed to keep things tight from one end. His economy was barely 2 and he was not allowing the Proteas to pile on the runs. Eventually, a run-out helped India to make a comeback in the match, bowling out Proteas for 335.
Ishant ended with the figures of 3/46 in 22 overs. His economy was 2.09. Had it been 3.09, no one would have complained. But that would add 22 more runs to the South African total. And dare not say that in the context of a five-day match, these runs won't hold. Because it does. Ask Brett Lee and Michael Kasprowicz in case you have a doubt. 
The reward for persistence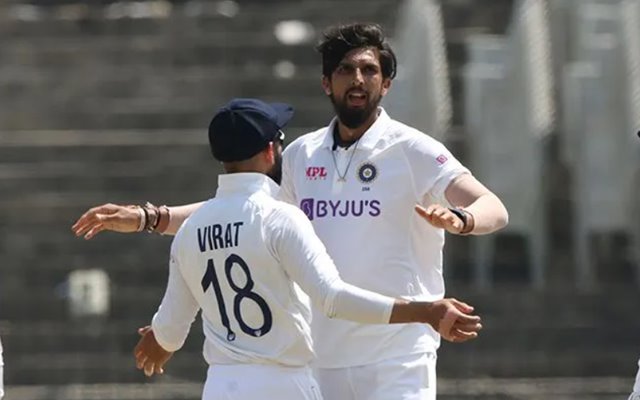 But, supporting the bowling attack and then chipping away with the wickets has been the new norm for Indian pacers. Between Zaheer Khan's slide in form and injury and his eventual retirement, Ishant Sharma experienced very tough days. He kept doing what he was told to do, but his bowling partners kept letting him down. Stats of Indian pacers before and since 2017 reveal that Ishant, more than anything needed to be in an attack that takes wickets as he puts the pressure from the other end or vice versa. 
It shouldn't be ignored that Ishant's work with Jason Gillespie at Sussex during the 2018 county season made him bowl a lot more fuller than earlier. A few tricks from the Aussie great, made Ishant look a different bowler. Or is it? Because if you look at his stats, you might think, he just became a better bowler. But, in reality, he just got good bowling partners and he became a lot more consistent, more than anything.
His focus became better and he didn't lose motivation through the tough times when he had to see Alastair Cook or Michael Clarke or Brendon McCullum score runs with ease as he kept searching for his line. 
This brings us to the last element from that Perth spell. Bill Lawry rightly said, "He persisted, he persisted", because Ishant's story of becoming one of the greatest fast-bowlers from India is a story of persistence. Whether it was in approach on bowling on flat pitches with not much assistance from the other end, or in fine-tuning himself into making him a better bowler each day. Ishant Sharma is not the second-best bowler after Kapil Dev to have come out of India, there might have been better bowlers than him, who had way more to offer. 
But Ishant Sharma is the only one who didn't want to give up. He is the only one, who has got fitter, got better with each and every spell. He has lived to learn, learn and learn only to find his mojo. He ran day after day and kept bowling well. Eventually, the outcome had to come.
Just like that day in Perth when he got Ricky Ponting out finally with the first ball of his eight over. Had he decided to give up and let the great man win by thinking, "he is great and I am tired", he wouldn't have got the reward.